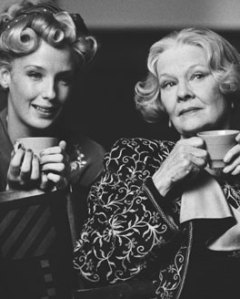 When 2005 is over, the movie I will remember that gave me the most pure and unfiltered joy is Mrs. Henderson Presents. This upscale revelation—brilliantly written by the accomplished playwright Martin Sherman (Bent), meticulously directed by the great Stephen Frears, and stylishly acted by a marvelous cast headed by Judi Dench and Bob Hoskins—is a diamond-sparkling, Kleenex-grabbing jaunt down memory lane about London's legendary Windmill Theatre, the only theatrical venue in the West End that remained open day and night when the rest of England went dark during the war years. While Hitler's bombs fell in Blitz-battered London, the street outside the Windmill was jammed with sailors, soldiers and Air Force pilots waiting to get in. What they saw was a never-ending musical nudie revue dedicated to the belief that entertainment was the key to survival, and the show must go on. It was a philosophy echoed by Winston Churchill himself. This is an enchanting motion-picture experience about some of the most wonderful people you will ever meet onscreen, a show-business troupe that defied—and survived—everything, including bureaucracy, censorship and even World War II. Every word of it is true.
It all began in 1937 with the death of a distinguished diplomat who left his rich, larky and charmingly eccentric upper-class wife, Mrs. Laura Henderson (Judi Dench, in the performance of her life, which is really saying something!), at odds and ends, with too much money and too little enthusiasm to play the role of rich society widow. "I'd rather drink ink," snarls Mrs. Henderson. She donates money to a home for unmarried girls but finds the work unfulfilling. She has no interest in mundane philanthropic causes and simply abhors needlepoint. Bored with hobbies, ill-suited for charity work and always turned on by the challenge of a gamble, she impulsively invests a chunk of her considerable fortune in an abandoned cinema marked for demolition in Great Windmill Street with the hope of reviving vaudeville, hiring a crude, boorish, seasoned but unemployed Dutch manager named Vivian Van Damm (irascibly played by Bob Hoskins with such panache that his temper tantrums grow on you) to run it. With his foul cigars and her prim, caustic interferences, it is hate at first sight, but their famously explosive partnership became the stuff of British show-business history. He had the radical, revolutionary ideas, she had the money—and when their early success was diminished by imitators, it was Mrs. Henderson who decided the only way to beat the competition was to make all the chorus girls naked. Flighty, unflappable, crusty and hilarious, Dame Judi is like an urbane, refined case of the hiccups. Auditioning nipples for the top attractions and hiring a barber to camouflage everything down below, the relish she invests in the role of Mrs. Henderson will undeniably catapult her to a lead position in this year's awards competitions. In my opinion, she's a shoo-in for an Oscar.
To maintain a modicum of taste for her productions, Mrs. Henderson encourages the cast to study Botticelli, but the gay choreographer (played with enormous charisma and musical savvy by Will Young, a British pop sensation who is making his acting debut) has a better idea. When the showgirls turn shy and petulant during their first nude rehearsal, he shames everyone in the joint to join in. When Mrs. Henderson pops in unexpectedly just as the hairy, rotund Mr. Van Damm drops his pants, then exclaims, "Why, Mr. Van Damm, you are Jewish!" … well, you just have to be there.
Throughout the war, the Windmill performed six sellout shows a day, and when the Lord Chamberlain (a dry, bemused Christopher Guest) threatened to close it down, Mrs. Henderson just took him to lunch, ridiculed his prudishness, and convinced him that disrobing chorus girls striking poses from museum paintings was proper and artistic. The Windmill flourished. Public menace or public service? When Hitler's bombs fell on London, Mrs. Henderson's nudes became patriotic distractions for the exhausted military and nervous populace. Since the theater was below street level, the casts moved in and lived in the dressing rooms below. There's a great scene of Judi Dench on the roof, looking out at London in flames—the perfect embodiment of British resolve.
The actual tableaus, production numbers and musical arrangements from the old Windmill shows, carefully and wittily restaged by Eleanor Fazan, are major contributing factors to the film's authenticity and fun. The songs are so melodic and warmly nostalgic that you find yourself humming along without knowing it; the costumes are colorful and zany; the stylized makeup, hairstyles, period cars and even vintage German World War II planes have all been awesomely researched. And yet, with so much to look at and with so much going on, nobody connected with Mrs. Henderson Presents forgets the somber spirit of the times or loses track of the human elements playing out backstage. Frivolity gives way to empathy and compassion for human life when the Nazi invasion of Holland finally forces Van Damm to accept his ethnic roots, Mrs. Henderson reveals her most personal secret sorrow, and her attempt to play Cupid for a lonely soldier and the most popular girl in the show (a spectacular newcomer named Kelly Reilly who is destined for stardom) leads to tragic results so unexpected that they will knock you right out of your music-hall tap shoes. These stories, relationships and currents of friendship, heartbreak and love under dangerous duress, told against the terror of air-raid sirens, would enhance any movie—and, in fact, the book that Vivian Van Damm wrote about the Windmill (on which much of the material in this film is based) was previously used before, as the basis for Tonight and Every Night, a 1945 Hollywood musical starring Rita Hayworth. But nothing captures the total canvas of life in wartime London like Mrs. Henderson Presents. The always-reliable Stephen Frears, a master of symmetry and narrative coherence, has come up with another jewel. It is almost two hours of relentless, heart-pounding pleasure. Different strokes for different folks, I guess, but trust me when I tell you this is a movie for everybody.
The Depp of Despair
I didn't think I could see a worse move this year than Elizabethtown. I was wrong. I have now suffered through the agonies of a toxic disaster called The Libertine. This tub of swill would be repellent under any circumstances, but the added horror of Johnny Depp staggering through the brothels of 17th-century London with an accent so phony it's hilarious, covered with oozing sores and mumbling archaic filth in what sounds like iambic pentameter while dying of syphilis, is not my idea of holiday entertainment.
Why this junk pile of lunkheaded pretentiousness was made in the first place—or for what audience it's intended—will remain among the century's unsolved mysteries. But perhaps some background is required before you read on: In 1996, Chicago's Steppenwolf Theatre Company performed The Libertine, a dreadful play by Stephen Jeffreys that starred John Malkovich in the leading role of the scandalously depraved John Wilmot, Second Earl of Rochester. When deadly pretentious obsession rears its ugly head, Mr. Malkovich is very often found chasing its ambulance. It was 10 years before he managed to produce this load of scrap for the screen, adapted by the playwright, ineptly directed by first-time amateur Laurence Dunmore, a graphic designer turned commercial director, with the hopelessly and tragically miscast Johnny Depp in the starring role. (Mr. Malkovich whines his way through a lampoon of King Charles II.) They should all be fried in pig fat.
Here are the gritty, stinking, steaming bowels of mid-17th-century London two centuries before Queen Victoria and the Industrial Revolution, a hell of rotten cabbage, horse urine and human debauchery in the imagination of an overzealous set designer that makes Sweeney Todd look like a vacation in Ocho Rios. It is 1660. Charles II has been restored to the throne to begin a new era of sexual perversion and bad plays. Enter Johnny Depp as "Johnny," the court's amusing part-time actor and writer of pornographic sonnets, and full-time bisexual outlaw, who tells the audience: "You will not like me." He's right. He prances and whinnies like a wounded stag, reciting poems about his "flaccid member rising to action"; when the king requires his presence, he says, "Freeze my piss if the royal finger ain't beckoning me." Samantha Morton is Mrs. Lizzie Barry, a bad actress he decides to train onstage and in bed. And Mr. Malkovich, posing and posturing in Maria Montez wigs, talking lugubrious nonsense in Vincent Price's old voice, is a king who acts more like a queen. Commissioning "Johnny" Wilmot to write a play for the visiting French ambassador, he finds himself and his guests outraged by an orgy scene played by talking dildos. In his best moment, Mr. Malkovich stares down his victim, flares his Susan Hayward nostrils, and tells Wilmot: "I was going to send you to the Tower. I was going to put your head on a spike. But I've decided on something worse. I'm condemning you to be you—for the rest of your life!" Banished from London, slogging through pig-infested mud and depressed beyond measure, Wilmot dedicates the rest of his life to total debauchery, destroying his wife and all of his whores, drinking himself into the final stages of venereal disease, his face covered with pus and sores, his teeth rotted to black stubs, his blind eyes glazed with what his makeup man clearly intends to be a cadaverous state but what actually looks like white contact lenses.
As an actor, Johnny Depp coasts along on instinct, with no knowledge of his own limitations. But as a bankable personality, you gotta give him credit for fearlessness. I mean, he'll do anything! In a deathbed cry of remorse, he writes one more speech that saves the monarchy, but it's too late. He's 33 years old, and his nose falls off. The film is bathed in a low-level candlelight that is supposed to give it both a period feel and a dark, brooding atmosphere. Instead, it all looks photographed through dirt.
This is the kind of self-indulgence actors crave, and another of those gruesome movies about libertines (de Sade, Casanova & Co.) that have always been flops. No reason why this one should be any different. It gets the filth and the decadence right, but forgets to tell a story. These are worthless people who neither do nor say anything to make you give one fig about them, and since the movie has no plot, there is nothing to sustain interest for two hours of tedium. Great chunks of it are completely incomprehensible because the actors are so inarticulate. Arch and superficial as it is, the dialogue is rendered as pointless as the rest of the movie. It's bathed in a low-voltage candlelight that is supposed to give it a period feel and a dark, brooding atmosphere, but instead it just looks like they ran out of money and couldn't pay the electric bill. Everything about this lumbering bore backfires. The Libertine is a rancid brew of fetid and noxious nothingness.
Michele, My Belle
On a happier note: Regardless of the weather, beauteous, bigger-than-life Michele Lee is toasting Feinstein's at the Regency with California sunshine in her long-awaited cabaret show, Catch the Light. After too many years in Hollywood (14 of them spent on the nighttime soap Knots Landing, making enough money to guarantee she'll never have to work again), the star of such Broadway musicals as How to Succeed in Business Without Really Trying and Seesaw is back where she belongs—in the center spot on a New York stage. She hasn't forgotten a thing. The voice is big and brassy as a Macy's parade, the figure is slim, the self-assurance is unbridled. But in addition to her power, her taste in music and a carefully honed autobiographical "act" that doesn't look and sound mechanical or over-rehearsed, the thing that I find utterly captivating about Michele Lee is the warmth and candor with which she brings her audience into her heart. You feel less like you're watching an "act" and more like a privileged guest spending some quality time in her living room while she's making lasagna. She reads notes written by her son throughout his life and stuck to refrigerators and doorknobs. She brings out a tape recorder and plays the electrifying finale to Seesaw the way the late, great Cy Coleman first played it for her the night before she played her first preview on Broadway. She had 24 hours to learn it. She knocked a hole through the roof. Just listen to the recording, baby. You'll hear what I mean. You laugh, you feel the pain, the frustration and the joy of what it's like to be Michele Lee, up and down, warts and flaws and all. (I'll give you money if you ever find either.) Sure, she stops the show all over again with the 11 o'clock numbers from her shows, turns standards like "You'll Never Know" and "I'm Beginning to See the Light" upside down, and moves forward with a little Joni Mitchell and one of the last heartbreakers written by Mr. Coleman shortly before he died. But mainly she shares bits, pieces and shards of light from the life of a woman you're glad to know and want to know better. She can invite me over anytime.