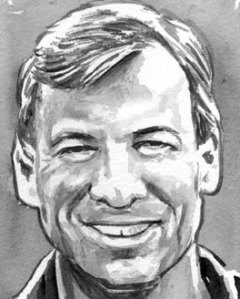 Tom Suozzi thinks he's ready for Broadway—or so it would seem by his performance on the Long Beach boardwalk after an early-November political rally.
The Nassau County Executive, clad in the standard politician's uniform of blue suit, red tie and American-flag pin, riffed buoyantly for a scrum of reporters and supporters, showing the trademark brio with which he's conquered the county's fiscal problems—and which he's about to take on the road in a bid to win the 2006 Democratic gubernatorial nomination.
A reporter asked why Mr. Suozzi had helped a certain store locate in the business district of Glen Cove.
"When you're alone and life is making you lonely, you can always go—downtown!" Mr. Suozzi sang, channeling Petula Clark on the importance of a vibrant town center.
One of the candidates Mr. Suozzi had come out to support at the rally pushed his mother, named Stella, into Mr. Suozzi's arms.
"Stella!" Mr. Suozzi brayed, à la Brando, as he kissed the woman. The lady beamed, as might any woman while being embraced by a man who looks a bit like Tom Cruise.
"Two kisses!" exclaimed Senator Charles Schumer, who was looking on, having lingered to do some politicking after the rally.
The boardwalk banter illustrated Mr. Suozzi's considerable retail political skills, his easy relationship with Mr. Schumer and his theatricality, which some don't appreciate. (In endorsing Mr. Suozzi for re-election, Newsday indicated displeasure with his "performance art.") The scene, however, also was a sign of something more: that the 2006 Democratic gubernatorial primary is already in swing.
Mr. Suozzi coyly deflected reporters' questions about whether he was running for Governor, but the campaign operatives from Texas and Missouri who scurried about on behalf of his re-election—he wound up crushing his opponent with 59 percent of the vote last week—certainly weren't assembled simply to secure Round 2 of the "Miracle in Mineola," as Mr. Suozzi calls his work in bringing Nassau County back from the brink of bankruptcy since 2001.
Mr. Schumer's presence on the boardwalk—and at a Nov. 9 Washington breakfast at which Governing magazine honored Mr. Suozzi as an "Official of the Year"—also indicated a desire to cultivate ties with a politician who might be going places.
Suozzi supporters at the rally appeared gung-ho for a gubernatorial run—and sanguine about the fight with the state Democratic Party that will come with it. New York's most powerful Democrat, Assembly Speaker Sheldon Silver, long ago anointed Attorney General Eliot Spitzer as the Democrats' 2006 gubernatorial standard-bearer. Mr. Silver, with some justification, believes that Mr. Suozzi's campaign against corruption and dysfunction in the state capital, "Fix Albany," is really code for "Neuter Sheldon Silver."
Many Democrats, therefore, think that Mr. Silver won't let Mr. Suozzi amass the number of delegates he would need at the New York State Democratic Convention to contest the primary—thereby necessitating a time-consuming and costly petition drive to get his name on the ballot.
Mr. Suozzi's supporters aren't scared. Asked on the boardwalk about the difficulties of such a venture, the chairman of the Nassau County Democratic Committee, Jay Jacobs, sounded bullish as he explained the mechanics of getting 15,000 signatures in half of New York's 29 Congressional districts.
"People said Mario Cuomo didn't stand a chance against Ed Koch [in the 1982 gubernatorial primary]," Mr. Jacobs said. "I don't remember a Governor Koch. Do you?"
Some Democratic strategists see an opening for Mr. Suozzi in the strapped financial condition of many counties.
"Tom has a reservoir of discontent he can tap into: that's Medicaid," said Michael Tobman, a former Democratic aide in Nassau County. "In some counties, you either meet your Medicaid obligations or you hire police officers. I don't know if Eliot appreciates that."
New York Democrats, eager to reclaim the Governor's mansion after 12 years in the cold, may not relish this scrimmage, but they should—because for once it would put them at the center of national Democratic politics. Last month, New Republic senior editor Noam Scheiber argued in The New York Times Magazine that Democrats nationally should embrace "Spitzerism"—defined as a prosecutorial zeal in protecting investors from corporate malefactors—as a way back into the hearts of middle-class men.
While it's true that consumer and investor protection represent great issues for the Democrats, in politics, the candidate himself is often the message. Should a party with a reputation for being over-lawyered and anti-business, for resorting more to the courts than to the ballot box, elevate a prosecutor (essentially a trial lawyer) to a key executive mansion? Or do the Democrats need more "Suozzi-ism," defined as strong executives who know how to mix it up with legislatures in order to enact fiscal reforms? It would pay to ask the question.
In any event, Democrats should get ready to rock and roll. Rest assured: Tom Suozzi is getting his Broadway run.