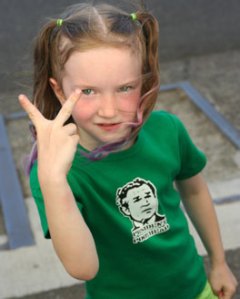 This week, Fairchild Publications is introducing a horrifying new magazine called Cookie—a sort of Lucky for the sandbox set, featuring $900 strollers and hair gel for 3-year-old boys ("have him rub no more than a quarter-size dollop").
But could this be the very magazine that New York City parents deserve? Have you noticed how parents are increasingly using the bellies of innocent babes as their own personal billboards?
Take David Moore, 37, a creative director at Publicis Advertising, who likes to dress his 2-year-old son, Conrad, in a T-shirt stenciled with the classic image of Marxist revolutionary Che Guevara. "It seems like pretty much all parents in Brooklyn have something similar," Mr. Moore said. "If it's not Che, it's a Pixies T-shirt, which Conrad also has," he added—along with one that reads "I Already Know More Than the President," which has also been spotted on the young spawn of Jon Stewart, host of The Daily Show on Comedy Central.
Actress-mommies Jennifer Connelly and Kate Hudson have both bought the Che tees, which are distributed by Appaman.com, an online supplier to stores like Sam & Seb, the bustling children's boutique in Williamsburg, and Lolli's in Park ­Slope. "I don't think many of our customers are Communists," said Harald Husum, Appaman's founder, a Carroll Gardens resident with a 2-year-old daughter. According to Mr. Husum, he's sold nearly 6,000 Che products since his company was launched in 2002, despite a smattering of protests from Cuban-Americans. "The whole idea behind the company was to put traditional grown-up images on babies," Mr. Husum said. "This is not at all a political statement, it's a fashion statement. Che's image has a rock 'n' roll edge to it that we're looking for."
Mr. Moore's wife, Francesca Castagnoli, a writer, wearily estimates that one in 10 kids in her 'hood own the Che shirt. "Some people probably think it's an icon of what's cool," she said, adding (without apparent irony): "Also, you sort of want that independent spirit for your child."
KID VICIOUS
If Mr. Guevara's image isn't "rock 'n' roll" enough for New York City parents, they have plenty of other options. At Sam & Seb on Bedford Avenue the other day, Anker Heegaard, a father of two who said he was in his mid-30's and consults on real-estate financing for low-income housing, was sorting through the racks of baby tees bearing decals of bands from his youth: Blondie, Rolling Stones, the Sex Pistols, the Ramones.
Mr. Heegaard's blond, blue-eyed, 4-year-old daughter, Annika, tugged on the sleeve of his beat-up suede windbreaker. "Daddy!" she hollered. "Daddy, daddy, daddy, daddy! I want to wear this outside!" She made a grab for one of the ubiquitous red Che T-shirts.
"No, honey, not him," Mr. Heegaard said. "He's just a pop icon!"
Little Annika's attention eventually shifted to a short-sleeved black-and-white T-shirt with Sid Vicious on the front. The price tag: $37.50. "If you tell me who that is, you can have it," her father told her sadistically.
"I want to try this on now!" pouted the child, whipping off her blue sweater to reveal a shirt bearing the famous photograph of Marilyn Monroe dousing herself in Chanel No. 5.
Mr. Heegaard eventually relented. "It's what was cool … when I was into cool," he said, pulling out his wallet.
The shop's owner, a square-faced native of Sydney, Australia named Simone Manwarring, said that she was among the first to produce rocker tees for tykes, and that she's currently selling about $5,000 worth of them per month. "It's a rebellion against what's currently available on the baby market," said Ms. Manwarring, 34, who opened the store shortly after the birth of her 4-year-old son, Sam. "There was nothing really edgy around, and it seemed fitting. We lived in Williamsburg, and we wanted clothing that reflected the neighborhood."
Before Ms. Manwarring got spooked by a messy legal battle with the Bob Marley estate, Sam & Seb also carried shirts with Nelson Mandela's silhouette. She has also mulled Mao shirts.
What's going on here? What kind of unresolved adolescent anger are New York parents trying to express by plastering images of angry rockers and political revolutionaries on their tots? Could it maybe be anger at the pressure to acquire a baby, now, as if it were the latest Marc Jacobs handbag—cramming it into your closet of an unaffordable one-bedroom?
"Children were always dressed in a way that would allow parents to convey to other people what their identity was," said Tory Higgins, a professor of the psychology of business at Columbia University. But registering for a ribbon-trimmed layette at the late, lamented Peck & Peck, as one might have done in the 1950's, is one thing; forcing one's tots into what looks like the miniaturized garb of disaffected collegians is quite another.
'My Parents Think I'm a Badass'
Down on the Lower East Side, Stephanie Dolgoff likes to dress her twin 2-year-old daughters in T-shirts bearing flippant slogans like "President Poopyhead" and "Bush Is a Tush." During the family's regular perambulations around their neighborhood, the incongruous sight of the tots in their special shirts often inspires hearty guffaws or approving nods from the few remaining political radicals that live there. "I don't want to make them out to be like walking posters," said Ms. Dolgoff, 38, the health director at Self magazine, defending the fashion choices she makes on her kids' behalf. "Really, it's just funny. The old folks in the neighborhood think it's funny. They agree Bush is a shithead … and I tell them not to curse in front of my children."
These shirts are produced by Baby Wit, a Portland, Ore.–based online company run by a woman named Andrea Frost (slogan: "You may not be cool, but your baby can be.") They are two of her hottest sellers—particularly among the large population of liberal parents in New York City.
Like Ms. Manwarring, Ms. Frost started Baby Wit two years ago when her daughter, Ava, was 4 years old. In a phone interview, Ms. Frost admitted that she doesn't really want her daughter to idolize the Sex Pistols. "I certainly wouldn't take my child to a show; she would have to be a lot older to go to something like that," she said. "But the Sex Pistol shirt on a baby means something different than it does on an 18-year old kid. On a baby it says, 'My parents think I'm a badass.'"
Stores selling this kind of merchandise are multiplying at an alarming rate in New York City. The Slope is home to the flippant children's boutique Babybird, while the Village has two locations, East and West, of a place called Lucky Wang, carrying shirts imprinted with the words "L'il Goddess" and images of the Buddha. The East Village is a veritable hotbed of similar shops, including Exit 9, while the Lower East Side is home to Funky Fresh.
Manhattan parents defend their patronage of such establishments, saying that putting their kids in "edgy" clothes is preferable to engulfing them in the blander, more conventional messages of mass-market society. "It's no better or worse than wearing an Old Navy shirt," said Ms. Dolgoff, the Self staffer. "If you put a corporate logo on your kid—which many people do—it's advertising a belief."
And, of course, some parents aren't actively shopping for the shirts, but rather receive them as well-meaning gifts from that New York staple: childless hipsters. Arthur Schellenberg, a 32-year-old bachelor living on Sutton Place, recently bought a Sonic Youth T-shirt for his 14-month-old nephew, adding to a collection that includes "President Poopyhead" and "I Already Know …. " The gesture was meant as a slight dig at his sister, who lives a comfortable suburban life with her husband in Westfield, N.J. "It's just a little something saying, 'Your kids will probably end up being cooler than you are,'" Mr. Schellenberg said.
"I wouldn't put my kids in that," Ms. Marwanning said disdainfully, speaking of the "President Poopyhead" tees. "I don't do 'poopy' shirts. It's too derogatory." Appaman.com's Mr. Husum, meanwhile, doesn't approve of the most blatantly anti-Bush shirts. "It's not offensive," he said, "but I wouldn't necessarily put it on my own kid. I don't think it's so funny."
Miranda Purves, a Park Slope mom on maternity leave from her job as the lifestyle editor at Elle magazine, expressed general dismay at the idea of using one's baby as a billboard. "It just doesn't seem fair, when they can't even roll over by themselves, to force them to be little signposts for your opinions," Ms. Purves said.
Patrons of the chic Upper East Side children's store Jacadi, where knit bonnets and lace-trimmed dresses tend to sell for over $60 apiece, also find the vogue for infant signage oh-so-gauche.
"That would not be my cup of tea," said a woman named Linda shopping at the store the other day, a former Upper East Side parent who recently moved to another New Jersey suburb. "They're not babies for very long. Let them be babies!" Her sentiment was echoed by Ellie Jones, who manages Jacadi's midtown location. "I think kids should look like kids," Ms. Jones said. "It's just not classic, and they're growing up too fast."
But Ms. Dolgoff plans to impose her sassy sartorial will on her offspring for as long as she is able. "You do your thing when they're young, and they'll do their thing when they're older," she said. "They're going to dress however the hell they want to dress."