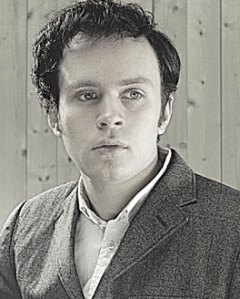 If, in recent years, the U.S. has suffered a trade deficit in hyped rock acts, blame Canada—and the U.K., of course—but don't overlook Sweden, a country that's lately been exporting plenty of shaggy-looking dudes with guitars. Many of the Swedes who've made it to our shores offer strident, amped-up rock 'n 'roll, but there are also some introspective crooners. Two of these, Jens Lekman and José González, like their louder compatriots, made the charts at home before reaching the ears of American audiences.
Jens Lekman—from Gothenburg—is an endearingly eccentric character: handsome devil on the outside, outsider artist on the inside. On the one hand, he's charming, witty and romantic (last year, Swedish Elle ranked him No. 15 on a list of the country's sexiest men); on the other, he's an obsessive record collector strange enough to have composed an EP inspired by Rocky Dennis, the disfigured main character in Mask. Pity the impressionable young ladies of Gothenburg.
His great theme is the love harbored by a young guy (who happens to be named Jens). Mixed in, unsurprisingly, are misunderstandings and disappointments. A collection of some of Mr. Lekman's past EP's and other odds and ends, just released by the Secretly Canadian record label, is titled "Oh you're so silent Jens." It plays like a series of clever, bittersweet diary entries, self-consciously self-obsessed.
Mr. Lekman's baritone falls somewhere between Stephen Merritt's moans and Morrissey's sighs, and he also makes use of their sometimes droll, sometimes exaggerated delivery. He has a gift for writing pop melodies that make a comfortable home for themselves in your head. He also likes to share snippets of other songs that have stuck in his memory: His unorthodox way of pasting samples—from 60's baroque-rock to British new wave and beyond—onto his own tracks results in an appealingly lo-fi sonic scrapbook. On "Black Cab," he appropriates a punchy harpsichord riff from the Left Banke and layers over it drums and jangly guitar lines. On "Maple Leaves," he throws together an echoey hodgepodge of drum and string loops, sampled fragments of flute, xylophone, bells and backing vocals.
Mr. Lekman's lyrics are confessional, tempered with absurdity and bathos. In "Sky Phenomenon," a pensive piano ballad, he writes: "It's like someone spilled a beer / All over the atmosphere." And in "I Saw Her in the Anti War Demonstration," all he can think about is the "sweet sensation of love" aroused in him by a girl at the march, and the "lukewarm English beer and vegan pancakes" he imagines sharing with her.
"Black Cab" is an interior monologue set after a soirée ruined by Mr. Lekman's gloominess. It's not a new subject—Lesley Gore cried if she wanted to, and John Lennon didn't want to spoil the party so he left—but Mr. Lekman gives it a fresh spin. By the time the song opens, he's cursing the tram he just missed; he's hailing a cab, despite urban legends about psychotic drivers. Riding through the streets, he sums it up in plain words: "I feel like going home, / But at the same time, I don't."
I suspect he's aware of the entertainment value in wallowing. Let's hope that he remembers, too, the solace his songs give. In a journal he keeps on his proudly amateurish Web site, the young Mr. Lekman (he's in his early 20's) has been increasingly despondent of late. A recent entry announced that he's taking an extended hiatus and shelving some unfinished recordings. Don't be silent too long, Jens.
José González is another young singer and guitarist from Gothenburg (though his parents are Argentinean). He's appeared on stage with Mr. Lekman, and last year, the two of them released a split single, each turning in a love song. Mr. González's contribution was a version of "Hand on Your Heart," an old Kylie Minogue track; he transformed a gaudy dance number into a spare, implausibly pretty acoustic ballad.
On his debut LP, Veneer (released here this fall—after a long delay—on the Hidden Agenda label), he performs a similar trick with "Heartbeats": He took the song—by a campy Swedish electro-pop duo—and gave it the pensive classical-guitar treatment. Both cover songs have been praised for their exquisite beauty (his "Heartbeats" provides the soundtrack for a Sony ad that's airing in Europe), and Veneer has prompted comparison with two greats in the mopey singer-songwriter pantheon, Nick Drake and Elliott Smith—enough acclaim, anyway, so that last month he scored a North American record deal with Mute.
Mr. González has a nice voice, and he's certainly a talented guitarist. His playing mingles flamenco and bossa nova with rock, and his fingers are adept at coaxing from his instrument a bass line, a melody part and a complex rhythmic gallop—all at once. He can do a hushed ostinato or an urgent climax. Aside from some subtle percussion and a trumpet on one track, there's no other accompaniment—but his guitar is assured and inventive enough so that one never feels a lack of instrumentation.
But there is a lack: not enough of the melodic hooks and compelling words that keep people coming back to Nick Drake and Elliott Smith. The cover of "Heartbeats" is by far the most tuneful track on the album. Many of the other songs rely heavily on droning guitar figures and repetitive, mantra-like lyrics.
This is not to say that Mr. González's debut isn't promising. (It's worth keeping in mind that he recorded it two years ago.) When he synthesizes his penchant for dark, minor-key romanticism with the more accessible melodic sense of the love songs he likes to cover—as he does stunningly on "Crosses," a song in which he promises to guide a friend or lover through difficult times—the effect is powerful. A follow-up is due in March, and if the best moments on Veneer give any indication of what's next, watch out for more flattering comparisons.