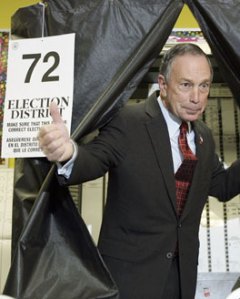 Michael Bloomberg is not a man who confuses the trappings of power for power. But on the eve of his re-election, as he stood on the observation deck on the Empire State Building, at the top of the city, the symbolism of his mastery was irresistible. The new Bloomberg L.P. tower stood out behind him; his city was sprawled around him. But after a single glance, the Mayor turned away from the view. With his left hand across his waist and his right stroking his chin, almost blending into a group of young women, he seemed to be reserving his energy, forcing a brief, almost embarrassed burst when Channel 2 cut live to him at 11:03 p.m.
Early returns showed Mr. Bloomberg well on his way to the sizable victory foreseen in the pre-election polls. At press time, the incumbent had more than 60 percent of the vote, suggesting a landslide of historic proportions.
The landslide ratifies what may be the most powerful Mayoralty in New York City history and anoints Mr. Bloomberg as the city's first true Imperial Mayor. Not since Ed Koch's victory on both Democratic and Republican lines in 1981 has a Mayor emerged from an election with no coherent opposition. Pre-election polls indicated that besides Puerto Ricans bound by ethnic pride to the city's first Puerto Rican Democratic nominee for Mayor, the only people voting against Mr. Bloomberg were that peculiar New York demographic: people whose arms would fall off if they pulled the lever for a Republican.
But unlike Mr. Koch, Mr. Bloomberg steps into a Mayoralty re-engineered for power by a 1989 reform of the City Charter that removed the "upper house" of New York's legislature—the Board of Estimate—and with it most of the checks on the Mayor's power to set budgets and make policy.
"The Mayor is unrivaled. It's total primacy. There are no competing centers of power," said Fred Siegel, a historian at the Cooper Union. "If you have someone who seizes the power inherent in the office, they can be a hegemon."
Mr. Bloomberg is the first Mayor since 1989 to fully harness that power. David Dinkins and Rudy Giuliani each faced coherent, vivid, ethnically rooted opposition. Mr. Bloomberg's mild manner, professed belief in compromise and aversion to public quarrels has resulted in lukewarm—but widespread—support. More important, his style has failed to inspire passionate opposition, while allowing him to quietly amass an unprecedented mastery of the city's affairs, relegating his enemies to the margins of civic life.
And in any event, the garrulous Mr. Koch—who didn't give up his rent-controlled place in the West Village when he moved to Gracie Mansion—is hardly the appropriate comparison for a Mayor who is wealthy beyond the dreams of your average Upper East Side society millionaire. Mr. Bloomberg is more like a latter-day Nelson Rockefeller, who added the tools of a private family fortune to his power as Governor. Rockefeller hosted dinners at the Metropolitan Museum of Art, augmented the salaries of valued aides, and flew in a private jet before it was a standard C.E.O. perk.
"He had the power to summon," said Joseph Persico, the late Governor's chief speechwriter and biographer. "Rockefeller could get virtually anybody to come to him, to take his call, and this was power that extended even beyond the Governor of the state."
But Rockefeller was also known for his common touch: scarfing knishes on street corners and greeting voters with a gravelly "Hiya, fella." The Daily News christened him "Rocky."
"Bloomie" hasn't caught on in the same way. But Mr. Bloomberg has also been careful not to play up his wealth. He works in a bullpen with his aides in City Hall, takes the subway to work and uses the word "anyways" freely.
But like Rockefeller, he benefits from a private infrastructure of power. The leader of one prominent city nonprofit told associates that his group wouldn't criticize the Mayor on a policy on which they disagree because they couldn't afford to forgo his private charity, which rose to $139 million in 2004. Mr. Bloomberg's close aide Patricia Harris—who is also responsible for choosing the cultural institutions that benefit from his personal donations—called some of those groups and appeared to threaten them, according to some of their staff members, after their leaders gave modest contributions to the Mayoral campaign of City Council Speaker Gifford Miller, as The Observer reported earlier this year.
What's more, Mr. Bloomberg's wealth literally silenced some of his sharpest critics. While his opponent, Fernando Ferrer, had to fend off a New York Times report that the city had settled, for $15,000, an allegation that he had defamed a former staffer, Mr. Bloomberg's settlements—assumed to be worth many times what Mr. Ferrer's accuser won from the city—come only on the condition of silence. So voters in 2001 heard only bits and pieces of a handful of sexual-harassment suits against the Mayor before he took office. And The Village Voice reported before this year's election on the outlines of a race-related complaint against the Mayor. The former Bloomberg employee involved referred the reporter's calls to his lawyer, a specialist in workplace discrimination, and the details of the story went untold.
No Flaunting
Mr. Bloomberg doesn't flaunt his power. In the days leading up to the election, when the gap in the poll numbers between the Mayor and Mr. Ferrer widened instead of narrowed, the Mayor peppered his speeches with words like "humble" and "modest."
"I just want to thank you for the honor you have given me over the last four years," Mr. Bloomberg said, emphasizing his appreciation if voters would give him another four.
But there have been a few hints that Mr. Bloomberg sees running up the electoral score as a way to accumulate political capital.
One moment came on the eve of the election, when the Mayor spoke at the Robert Couche Senior Center in South Jamaica. After being introduced by Democratic Councilman James Sanders of Queens, who is running unopposed in his upcoming election, Mr. Bloomberg said, "It would be great for him to get a big turnout and people to say thank you. It gives him more muscle to keep fighting for the causes he believes in if there's a strong vote."
Opinion-makers and politicians are also becoming conscious of the extraordinary power that Mr. Bloomberg now wields. In the days before the election, The New York Times editorialized that he could be "one of the greatest Mayors in New York history."
That was hardly strong enough for his supporters. At the dedication of a new park on the site of the old Elmhurst gas towers in Queens on Friday, the Mayor stood on a temporary stage next to a potted maple tree, characteristically rocking back on his heels while Parks Commissioner Adrian Benepe looked up at the blue sky and joked, "It seems like every time the Mayor comes out, there is beautiful weather."
On Monday morning, Republican State Senator Martin Golden introduced the Mayor to a room full of Italian-American senior citizens and declared, "This city has turned around because of his greatness—because of his vision."
Yet for all his power and high approval ratings, for all the remarkable visibility he has achieved with millions and millions of dollars' worth of television, radio and print advertisements, Mr. Bloomberg still suffers from a distinctly unapproachable air.
It's not that he is aloof. On the contrary, he is warm and cordial with the people who do come up to him. On Monday, he chatted with couples in a Bronx diner during a short gap in his exhausting campaign schedule; on Tuesday, he gave children high-fives outside a Lexington Avenue subway station. He donned bowling shoes at the lanes on Staten Island and a white baker's coat to inspect pita at a Brooklyn bread factory—all the while mugging for his staff and the press.
Yet despite the flickers of his own personality, the shell of power around the Mayor is only growing thicker, and at times it can seem like a buffer between him and the city he governs.
On Friday night, after attending a benefit dinner, the Mayor stood on the sidewalk of Madison Avenue. His arms folded, he was talking seriously in a huddle with his longtime press secretary, Ed Skyler, and Ms. Harris. About a dozen people walked by, inches from him. Not one person stopped to introduce himself; not one so much as called Mr. Bloomberg's name or did a double take. They told a reporter they didn't want to intrude.
Caution: Bumps Ahead
Observers of City Hall generally pose two questions about Mr. Bloomberg's second term: One is what he intends to do, and the second is how he will, in the tradition of second terms everywhere, screw it up.
In answer to the first question, Mr. Bloomberg's recent behavior offers a few hints. He has courted members of the State Assembly, most recently Brooklyn Assemblyman Vito Lopez, who is the borough's new Democratic boss and a symbol of the old-school politics that Mr. Bloomberg professes to scorn.
"Vito is an Assemblyman who we need to bring home the bacon from Albany," Mr. Bloomberg said at the dedication of the Queens park. "I will work with anybody that can help do things for New York City."
One close aide to Mr. Bloomberg said he thought the city's relationship with Albany might be the Mayor's second-term target.
"I think there's been stuff that's been gnawing him over the last four years that he'll think about addressing," said the aide, adding that the city's dependence on the whims of the state government was at the top of that list. "He's very much believed the city should control its own destiny, and he doesn't understand why the city should need permission from Albany to get red-light cameras installed."
The next year will be full of opportunities for Mr. Bloomberg to take advantage of a time of change in Albany. What, for example, would endorsing Democrat Eliot Spitzer's campaign for Governor win him in a possible Spitzer administration?
But Albany, as the Mayor learned most clearly in his fight to build a football stadium on the West Side of Manhattan, is also full of traps. And even his extraordinary power has a fixed expiration date—because of term limits, he will depart City Hall in four years.
"He will have more power than any Mayor in recent history for the next couple of years," said Hank Sheinkopf, a veteran Democratic operative. "And after that people will stop playing attention to him, because politicians are always looking to the next move."