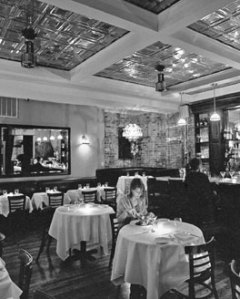 HQ
Two Stars
90 Thompson
(Between Prince and Spring streets)
212-966-2755
Dress: Casual
Lighting: Low
Noise Level: Moderate to high
Wine List: International, under two dozen bottles, moderate to high prices
Credit Cards: All major
Price Range: Main courses, lunch, $10 to $26; dinner, $18 to $25
Lunch: Monday through Friday, 11:30 a.m. to 3:30 p.m.
Dinner: Monday to Saturday, 5 p.m. to 2 a.m.; Sunday, 6 to 9 p.m.
Brunch: Saturday and Sunday, 11 a.m. to 3 p.m.
When Simone de Beauvoir visited New York just after the war, she outraged her host, who was a fine cook, by consuming the steak she was served without removing a Gauloise from the side of her mouth. She then went back to France and wrote about the awful food she'd received in New York.
I thought of her recently as I sat down to a steak at HQ, a new bistro on Thompson Street. It was late on a Saturday night, and some friends and I had just been to a French gangster movie at Film Forum (Classe Tous Risques). The characters in the film, including a very young Jean-Paul Belmondo, never removed the cigarettes from their mouths either. So when I looked around HQ's dining room, which has a zinc bar where those Frenchmen would have felt right at home, it felt odd that not a single person was smoking.
But HQ is not, of course, a bistro in Paris. It's in New York, and its cuisine is modern American. My steak didn't come with a pile of pommes frites. It came with white polenta. And foie gras was served with an all-American toast laced with cranberries, walnuts and raisins.
HQ's chef and owner, Terrence Cave, previously cooked at the Cub Room, and before that he worked at Aureole, Metrazur and Blue Ribbon Brasserie. His food is up-to-the-minute—without being over-the-top. It's sophisticated, but as accessible as bistro cooking should be.
You can begin with pork belly (a name I've always associated more with commodity brokers than food on the table). The meat, like a slab of bacon, is from Niman Ranch, marinated in brine with herbs and spices, and pan-seared so it's crisp, chewy and deliciously fatty. It comes with applesauce.
If you're a vegetarian, there's a pavé of grilled vegetables—squash, eggplant, peppers and spinach—piled up like a lasagna, surrounded by a bracing, peppery romesco sauce and topped with Manchego cheese. The bread here is great: a thin, pale-crusted ficelle sliced on the bias, served with a flowery olive oil and sweet butter.
HQ stands for "headquarters," as in the headquarters of Thompson Street, which is named for William Thompson, a Revolutionary War general. The small dining room, which seats 60, is warm and convivial (and at times rather noisy). It has bare brick walls, chocolate-brown banquettes, blue French doors, large mirrors, and tables set with white linen and votive candles. A copper panel on the back wall and an antique pressed-tin ceiling give the place a patina that belies its youth—it opened just over a month ago. In the corner, on a raised level, one table has its own chandelier made of upside-down wine glasses that glint in the lights. The restaurant doesn't take reservations, and it feels like a casual neighborhood spot. But the food adds up to more.
Nantucket Bay scallops ceviche—12 tiny pillows arranged like a checkerboard—are served raw with a dash of lemon confit, chives, shallots, sea salt and aged balsamic vinegar. Very simple and quite delicious. Roast duck, pink under a crispy skin, comes with a lovely, smooth parsnip purée, caramelized Brussels sprouts and orange sauce. Parsnips show up again in a soup that's more like a purée, thick and creamy, seasoned with cayenne and honey, and sprinkled with bacon crisps. And the roast chicken from Whispering Hills Farm, served with buttery mashed potatoes and glazed carrots, is comfort food on a high level.
One night, I only ate half of my tuna tartare because it tasted rather flat. The waiter returned from the kitchen a few minutes later. "The chef wants to know if something was wrong," he said. "He looks at all the plates when they come back."
I can't remember when a chef last took the trouble to ask what the problem was when a half-finished plate was cleared from my table. A few minutes later, by way of compensation, the waiter brought us a round of the house cocktail. It was a nice gesture, but not quite the drink I craved halfway through dinner. Served in a martini glass, it was made with café tequila, vanilla liqueur and milk.
Mr. Cave's organic Irish salmon made up for the tuna tartare. It was perfectly cooked and came with a tart Meyer lemon beurre blanc embellished with salty beads of salmon roe. The halibut was good too, with smoked mussels, Yukon gold hash browns and a mussel cream sauce with arugula.
Mr. Cave serves wilted spinach with a thick, boneless rib-eye steak, along with red onion marmalade and cognac mustard sauce. He pours hot olive oil and garlic over the leaves so they don't get watery, like they do when they're sautéed. I wonder if he got his inspiration from Joan Crawford: "When I make wilted spinach salad, I pour hot bacon grease and vinegar over the leaves until they sag …."
HQ's wine list is peremptory and, for a bistro, surprisingly short on cheaper wines. There's nothing under $30 and only three reds for $40 or less, including a Côtes du Rhône for $40. But the cocktails, made by a pretty young woman with dreadlocks, are very good, especially the sparkling cosmopolitan, not too sweet, made with white cranberry juice.
Desserts include a coeur a la crème made with goat cheese that had the texture of slow-drying cement, a wonderful vanilla crème brûlée and a fine apple cobbler made with heirloom apples. The Valrhôna chocolate pudding had a burnt taste one night; on another, it was terrific—dark and rich, topped with chocolate shavings and caramelized banana.
Mr. Cave's hangar steak, which gets a pinot noir sauce and sautéed asparagus along with its polenta, is so good that Simone de Beauvoir might even have been tempted to remove her Gauloise while she ate it. Of course, at HQ she wouldn't have been allowed a cigarette in the first place. This is, after all, an American bistro that we're talking about.