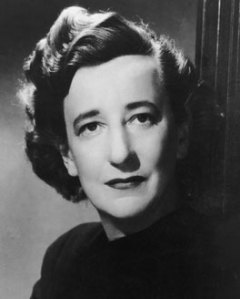 On top of her many overlapping sex and love affairs, Lillian Hellman also once got married—and when she did, her biographer Deborah Martinson writes, "As was the custom, she left work to become a full-time housewife." A stunning line, especially in light of Hellman's extraordinary unconventionality, entertainingly detailed in Ms. Martinson's new biography. Custom? This is the woman who would later—after the divorce—encourage three on-again, off-again lovers (including, of course, Dashiell Hammett) to spend a summer with her and her ex-husband, all under the same roof.
Could it have been that Lillian Hellman, grande bitch, brilliant playwright, political agitator, sexy fashion icon (according to Walter Matthau, "she kind of saw herself as the Catherine Deneuve of the literary set"), alleged liar and notorious lover of the compulsively drunk and whorish Dashiell Hammett, actually longed for a life of security and fidelity, a life of marriage?
Again and again—after another of Hammett's violent binges, or the dissolution of Hellman's relationship with the much more dashing and sane State Department official John Melby—Ms. Martinson suggests that Hellman "hoped a man could fulfill her romantic ideals of marriage and family." If so, she had a funny way of showing it. In her 50's and 60's, the footloose Hellman even seduced men 25 years her junior. They loved her. (And, as her enemies gleefully note, she was far from pretty, though by the end of Lillian Hellman: A Life with Foxes and Scoundrels, the photos of her take on an undeniable allure—the enviable beauty of iconoclasm.)
Decoding her romantic life, it seems, is just one of the hardships her biographer faces. Hellman was truly liberated and freethinking, and to Ms. Martinson's credit, her way of living is neither judged nor romanticized—but at times the biographer almost seems confused.
Although Ms. Martinson can't help but allow criticism of Hellman to seep into the narrative—although she necessarily includes bits of nasty dialogue spoken by the woman herself—she's enamored of her. In an unnecessary introduction, the biographer confesses to an obsession with her subject—which has troubling consequences when Ms. Martinson attempts to deal with Hellman's politics, or to gauge her honesty and her kindness. A certain default admiration kicks in whenever the going gets rough—when Hellman goes on a lusty binge, or breaks yet another man's heart—and with it comes the refrain about longing for a husband. (My hunch is that, every once in a while, Hellman simply got tired of all the fun and mess.)
But this is a great read—a gossipy, passionate book. Hellman grew up in New Orleans, the product of a rich, greedy family (on her mother's side) and a poor one (on her father's). She disdained her "lovely, passive southern mother" and longed to imitate the sexual voracity of the "boyish" adventurer-men in her family, the relatives who served as her preferred role models. Her clamorous, contradictory brood would naturally become the basis for her greatest dramas, The Little Foxes, Toys in the Attic and others.
The Hellmans moved to the Upper West Side when Lillian was a preteen, and there she suffered from the inevitable intellectual inferiority complex particular to New York. Not surprisingly, she hid in books. Even as a young girl, she went to the movies by herself. Slowly, the "witty, intellectual milieu" of 1925—The New Yorker, Vogue, Margaret Sanger, D.H. Lawrence—became her own, or at least what she aspired to. A combination of insecurity and innate frankness made her a force of nature early on. She spent her youth at Chumley's in Greenwich Village by herself, smoking. She dropped out of N.Y.U. after getting C's and D's in her theater classes. There's a clear sense that Hellman was irresistible to her peers, and a hint that she was also unbearable.
She got a job at a publishing house and married Arthur Kober, a successful playwright who adored her. They moved to Paris, then in its expat heyday, but the experience was alienating, unsuccessful socially and professionally, and their next stop, Hollywood, was almost worse. She found marriage unfulfilling; she couldn't get published. It was her love affairs that freed up her mind: "She could and did love men simultaneously, for who they were and what they did for her thinking, her creativity."
In fact, her intellectual development isn't explicitly chronicled here. It seems to have been suddenly ignited by Dashiell Hammett. They met in Los Angeles in 1930 and launched an ugly, wonderful affair that lasted a lifetime, terrorizing her marriage and much of her life. Hammett was abusive, though Ms. Martinson doesn't make clear how much he hit Hellman, and she knew he'd never be faithful to her. She, of course, couldn't be faithful either, and yet his promiscuity threw her into jealous despair—until it didn't. Once Hellman started working, she made an uneasy but necessary peace with her personal life: Not working was the true source of her desolation. "It was not Hammett the man," Ms. Martinson writes, "but who she was under Hammett's gaze and influence that became the mythic center of her life." As for Hammett, he'd finally found a girl who liked "Pushkin and fishing."
Her marriage dead, Hellman and Hammett moved into New York's Sutton Club Hotel (run by Nathanael West, with whom she had a "half-hearted" affair), a nasty place "run-down and peopled by suicides … tennis bums and prostitutes." After finishing The Thin Man (his beloved Nick and Nora inspired by the banter he enjoyed with Hellman), an even messier Hammett, distracted by alcoholic sprees with the likes of Faulkner and O'Hara and Thurber, convinced his girl to start writing drama.
"Many Hammett fans blame [Hellman] for the 'coincidence' of their relationship and the cessation of Hammett's writing," Ms. Martinson writes. She portrays Hammett as the quintessential generous editor, someone who enjoyed great satisfaction as he watched his student scratch out the pages of her first play, The Children's Hour. She drank gin, coffee and smoked a hundred cigarettes a day. He was tough on her, and it's obvious she couldn't have done it without him—Hellman credited him for her success for the rest of her life. The Children's Hour was an enormous triumph, and Hellman, age 29, was famous.
This first half of Lillian Hellman is more pleasurable, if only because it traffics in the recklessness and promise of youth. The second half is perhaps more important, as politics takes over Hellman's life, nudging aside romance (just a bit) and even the theater.
Back in Hollywood, slaving for Samuel Goldwyn and wrestling with the demands of the Hays Code, Hellman's affinities for leftism and the worker sharpened. She took off for the Spanish Civil War; 1937 to 1940 were her most radical years, during which she briefly studied alongside Marxist intellectuals. (This would later haunt her.) In the wake of her anti-fascist play Watch on the Rhine, we're told, "She was so prestigious, the men deferred to her." The play, which debuted some months before Pearl Harbor, was prescient about the true nature of fascism. Still, according to Ms. Martinson, she "naively believed that Soviet communism worked toward a better world." Though she "was wrong about Stalin's oppression," for Hellman and others, "he held the best hope of stopping the Nazis." Ms. Martinson often attributes Hellman's blindness to a characteristic naïveté; she could have just as easily called it a characteristic self-righteousness. Either way, it's hard to believe that we've gotten the full evaluation of her beliefs.
During World War II, Hellman made anti-fascist films with F.D.R.'s encouragement and was even sent to the Soviet Union as an emissary (which is where she met her longtime love, John Melby). Hellman's later foes—those who vilified her during the Red Scare—would conveniently forget that the outspoken playwright did some of her political work in service of the President of the United States. Hellman's years of HUAC and the Hollywood 10 and Hammett's jail sentence tore her apart even as they made her a hero; Melby's career was eventually destroyed because of his relationship with her.
Hellman, of course, did hold onto her "illusions" about the Soviet Union for quite some time after the war—but here and elsewhere, Ms. Martinson is reluctant to criticize with any force or clarity. The fact that Hellman "never gave Hammett's daughters what was due them financially or morally" is mentioned in passing. When assessing the charge that Hellman lied in her four best-selling volumes of memoirs, Ms. Martinson suggests that Hellman had ventured into a new form of memoir-autobiography. (She prefers Hellman to her most famous foe: Mary McCarthy, Ms. Martinson suggests, was not Hellman's kind of woman because she was Catholic and cold.) Ms. Martinson's treatment of these controversies is almost dismissive; instead, her memoirs are so heralded that readers will probably run to their computers and order them up on Amazon.
Even in Hellman's most colorfully awful moments, we're left short. She was an impossible, absurd, crazy-person nightmare during play production—this is someone who possessed the cruel ingenuity to call her best friend Dorothy Parker's husband a "fairy-shit." From Ms. Martinson's account, we can tell she was a terror—we hear that she made actresses cry and gave men nervous breakdowns—but Ms. Martinson, our interpreter, stays out of it. And she really doesn't seem to mind much.
There are larger questions, too, that go unanswered: Does anyone read Hellman anymore? Is she an influence on young playwrights? Deborah Martinson isn't saying. Although she does offer a well-written and entertaining tribute to a woman and artist shockingly unlike any other, the reader is left wondering whether Lillian Hellman herself would ever have let anyone so easily off the hook.
Suzy Hansen is a senior editor at The Observer.