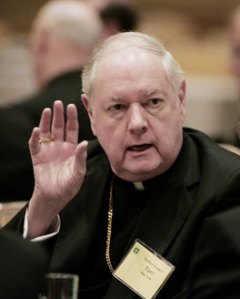 As tourists packed the pews, Cardinal Edward Michael Egan stood under the vaulted ceiling of St. Patrick's Cathedral on Sunday morning, celebrating Mass in his thick Illinois accent.
The cardinal's Sunday mass used to be a press event when Cardinal John O'Connor was Archbishop of New York. New Yorkers never knew what the press-friendly O'Connor might say, either from the pulpit or in an offhand remark to reporters after the final blessing. But under Cardinal Egan, the Sunday buzz is gone. It's not his style.
Like many of the faithful in the cathedral that day, the 73-year-old cardinal also appears to be just passing through, and many think that while his home address says Madison Avenue, his heart lies in Rome. After being in New York for more than five years, he has, by most accounts, failed to capture the imagination of the city—even as it has endured a good deal of crisis and soul-searching.
Instead, the cardinal has all but disappeared into the enormous public space carved out by his predecessors, who expanded the position of archbishop into the de facto spokesman for the city's entire religious and spiritual community. Many priests and church observers think he is eager to move on.
Before he leaves, though, the achingly erudite and waxen-skinned cardinal is, for better or worse, reshaping and redefining the role of the Archbishop of New York. His supporters say that he is quietly repairing an archdiocese gutted by the financial negligence of his predecessor, Cardinal O'Connor. But his many critics inside and outside of the church say that he is aloof, sometimes to the point of reclusion, and that his resulting invisibility is stripping one of the city's oldest and most venerable institutions of its heft.
"The archbishop has been the religious leader in New York for a very long time. I wonder if the cardinal really appreciates the value and importance of that position," said the Rev. John Duffell, a Roman Catholic priest at the Church of the Ascension on the West Side. He added that the role of the religious community is to make room for a moral dimension in the public debate. "In my opinion, that role has been somewhat diminished in recent years."
Several priests said that the tall and burly cardinal is counting the days to his 75th birthday, when he is required by church law to offer his resignation as archbishop. While the maxim that the church "thinks in terms of centuries" may be true when it comes to questions of doctrine and theology, it is decidedly not the case when it comes to personal ambition. Years and months matter, and age is a determinant in who exercises power in the Vatican hierarchy. A bishop must tender his resignation to the Pope at 75—although the Pope may choose not to accept that resignation, as John Paul II refused to accept Cardinal O'Connor's. However, at age 80 a cardinal forfeits his all-important vote in the conclave that selects the pontiff.
When Cardinal Egan was 53 (sprightly in cleric years), he was already an accomplished scholar of canon law who had served as a judge on the Sacred Roman Rota, a Vatican Court, for 14 years. Before that, he taught theology at the Pontifical North American College in Vatican City and served as a priest in his native Chicago. He plays the piano, speaks several languages and is generally seen as a tenacious man who conquers adversity, a trait that some attribute to his beating a bout of polio at age 10.
In Rome, he moved in the right circles and befriended Pope John Paul II, who, in 1985, sent him to New York as an auxiliary bishop. After a short stint in Bridgeport, Conn., he triumphantly returned to New York as archbishop in 2000, after O'Connor died. He was elevated to cardinal shortly thereafter.
More recently, however, many church observers have concluded that he is pining to return to Rome. Joseph Zwilling, the spokesman for the archdiocese, countered that the cardinal "has repeatedly said that he has no desire to go back to Rome. That portion of his life is finished. He is looking very much towards doing what the Holy See wants him to do."
There is disagreement among priests and church observers about the cardinal's true intentions. (Cardinal Egan declined to be interviewed for this article.) Some suspect that he feels like he is wasting time here; others applaud him for doing the valuable but unheralded work of securing the financial future of the archdiocese. Others still believe that he views the job as a final stepping-stone to a coveted post on the Vatican's Supreme Court.
In any case, there is consensus that his goal is to get back to Rome.
"His home is Rome," said one prominent priest, who said that he required anonymity to speak freely. "Even on public occasions, he sometimes rhapsodizes how wonderful it is to be in Rome, and I cringe and think, 'You are talking to your parishioners in New York.'"
That inability to connect with New Yorkers was painfully evident in the weeks following Sept. 11, when, instead of consoling his grieving city, he led a bishop's conference in Rome. "I lived here for almost 23 years and love the town," he told The New York Times at the time in the lounge of an American seminary. During an earlier visit, when he went to claim his red hat at the 2000 consistory, Cardinal Egan stayed at the five-star Crowne Plaza Rome-Minerva hotel, which faces the Pantheon. His colleagues usually stay at the Vatican's no-frills lodging or in national seminaries.
But despite his fondness for Rome and his ease with Italian, church experts said that his influence in Vatican politics and his role in the recent conclave that elected Pope Benedict XVI are minimal.
"In Rome, the Archbishop of New York could be among the most important in the Catholic Church," said John Allen Jr., the Vatican correspondent for the National Catholic Reporter and a biographer of the new Pope. "On that score, it's difficult to see significant contributions he has made as an American Catholic leader."
Indeed, he is not the kingmaker that Cardinal Francis Spellman was; he lacks the New York chops of Cardinal Terence Cooke and the enormous personality and populism of Cardinal O'Connor.
According to several priests, the relations between Cardinal Egan and his predecessor were not good. At a dinner in Rome in honor of Bishop Egan's appointment as an auxiliary in New York, Cardinal O'Connor raised his glass and toasted "Chicago's revenge on New York." Some argue that even as he was suffering from the cancer that killed him, Cardinal O'Connor actively opposed the idea of Bishop Egan succeeding him.
One of the older priests in the diocese, who spoke on the condition of anonymity out of fear of reprisal from the cardinal's office, said that the days of O'Connor—when the archbishop's residence was a point of reference for all questions moral in the city—might not be gone forever. But "they are temporarily on hold," the priest said.
Mr. Zwilling, who has been with the archdiocese since the days of Cardinal Cooke, who died in 1983, argued that Cooke also kept a low profile. He noted as well that O'Connor was criticized for being too outspoken when he arrived on the New York scene in 1984.
"The one thing I don't think should be the case is for someone to be something that they are not," Mr. Zwilling said. "[Mayor Michael] Bloomberg should not copy [Rudolph] Giuliani, and Benedict XVI should not emulate John Paul II. That's a recipe for disaster."
Some priests agreed with that assessment, noting that while Cardinal Egan clearly lacked O'Connor's charisma, he had other qualities. The son of a businessman and a friend to C.E.O.'s like Jack Welch of G.E., Cardinal Egan helped cut the archdiocese's deficit, increased fund-raising and focused his attention on the city's more than 400 parishes. Some priests, like the Reverend John Flynn of the St. Martin of Tours parish in the Bronx, said that the cardinal has been enthusiastic about outreach in the borough's poorer neighborhoods.
But other clergy complained about the cardinal's cold attitude toward his priests, many of whom charged that Cardinal Egan refuses to meet with any priest alone and will only sit to talk if there is a third party present.
On the night that Benedict XVI was elected Pope earlier this year, Cardinal Egan met with a small group of reporters in a room in the North American College, which overlooks the dome of St. Peter's Basilica from the Janiculum Hill. Dressed in simple black, he was uncharacteristically jolly, though his careful enunciation still carried a touch of condescension toward a press he generally doesn't trust. At one point, he attempted to quell concerns over what some perceived to be the new Pope's hard line, when he was a cardinal, in enforcing church doctrine.
"I think he'll play very well as soon as people get to know him," the cardinal said of the Pope. "Sometimes you make a judgment and it is hard to recede from it. This is a very unprepossessing, humble gentleman."
After five years in New York, though, Cardinal Egan doesn't hear many priests speaking about him that way.