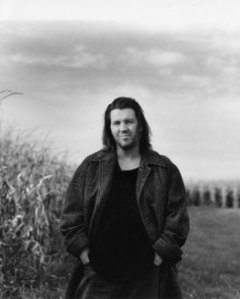 Consider the Books Editor. Pulled in different directions by aesthetic judgments, commercial considerations and petty practicalities, this particular B.E., by nature idealistic (he's not in it for the money, that's for sure), is worn down by weekly compromise until at last he begins to dread the publication of any book that calls for a serious critical response.
Herewith, an invitation to follow the pained thought process of B.E. when confronted with a new book by one of the few novelists he's had hugely high hopes for: David Foster Wallace, the former wunderkind who in 1996 brought us the 1,079-page Infinite Jest.
A little background: The impossible, overwhelming, completely maddening Infinite Jest amazed B.E. and convinced him of Mr. Wallace's genius. (Yes, he used that very word, and with only a trace of embarrassment and protective irony.) A collection of essays published a year later, A Supposedly Fun Thing I'll Never Do Again, confirmed B.E.'s belief that Mr. Wallace (b. 1962) was the most important writer of his generation. Next came a collection of stories, Brief Interviews with Hideous Men (1999), which was brilliant in spots and generally good enough to keep the flame burning. B.E. rattled off enthusiastic reviews, confident that Mr. Wallace was getting ready for another big (emotionally big) novel, a compelling narrative that would lead us all into the promised land of the intellectually satisfying post-ironic novel.
With Oblivion (2004), another book of stories, came the first doubts. B.E. was so conflicted, in fact, that he chickened out of writing a review: The weak stories outnumbered the strong, and even in the strong ones Mr. Wallace seemed to be jogging in place, content to dazzle us with his trademark stylistic quirks—abbreviations, acronyms, avalanche sentences, footnotes (but this time no footnotes to footnotes)—and the usual data dump of encyclopedic high/low cleverness.
And now, with Consider the Lobster—a collection of 10 essays, most of them mediocre, none of them first-rate—B.E. is in a jam. It's easy to ignore a book of essays, especially if only four of them date from the last five years and a couple were written before the author's previous collection (which means that back in 1997 they didn't make the cut). But what does it say if B.E. skips two Wallace books in a row? Is he giving Mr. Wallace a break? Or is he sparing himself the unpleasant task of rethinking the former wunderkind's status and maybe even stripping him of his most-important-writer-of-his-generation status? The underlying question, the question that B.E. would most like to dodge, is whether the next novel will disappoint as cruelly as these "new" essays.
Another problem: B.E. actually commissioned one of the essays in Consider the Lobster, a review of a dismal John Updike novel which ran in The Observer back in 1998. It's not an essay that has stood the test of time; in fact, it flunks. The first sentence, which begins "Mailer, Updike, Roth—the Great Male Narcissists who've dominated postwar American fiction are now in their senescence," makes B.E. cringe, if only because Mr. Roth has published four novels in the last seven years, not one of which is in any way symptomatic of senescence. On the contrary, two of those novels—The Human Stain (2000) and The Plot Against America (2004)—are wonderfully powerful; way better, it seems to B.E., than what Mr. Wallace has been showing us lately. Does B.E. really want to revisit that essay, and recall how the excitement of publishing a review by Mr. Wallace overrode his qualms about allowing his newspaper to announce the decline of a writer who has since consolidated his claim to pre-eminence?
B.E. is abashed. But he does what he hopes is the right thing. (You're reading it.)
Consider the Lobster begins with a long account of a 1998 awards ceremony for adult videos—both boring and repellent, like porn itself. Held in Las Vegas, in a Caesar's Palace ballroom, and sponsored by Adult Video News, the awards are the porn industry's equivalent of the Oscars. In other words, the essay is Mr. Wallace's chance to say something interesting about an industry (porn, not Hollywood) that rakes in billions of dollars and polarizes the nation. The best he does is buried in a footnote that stretches over two pages, in which he argues that the "psychodynamics of porn" depend on "a certain real degree of shame, self-loathing, perception of 'sin,' etc." experienced "both on the performing end—'I'm a nasty girl,' 'I'm a little fuckhole'—and on the consumption end." The rest is numbingly detailed and oddly detached reportage. (Sending literary authors to report on porn was a mini-trend of the last decade: Martin Amis and George Plimpton covered the same beat.)
The porn essay, which appeared in Premiere—"bipseudonymously," for unexplained reasons—is narrated by "your correspondents" (Mr. Wallace apparently brought along a friend). The awkward result is characteristic of the curious way he's decided to handle his own inescapable presence in everything he writes: In three of the collection's four long essays, he goes out of his way to banish the first-person singular. (The exception is an interminable review of Bryan A. Garner's A Dictionary of Modern American Usage.)
When Mr. Wallace reports on the seven days he spent with the McCain campaign during the 2000 primaries (without, naturally, coming to any conclusion concerning Mr. McCain's character), he assumes the identity of the magazine that hired him: He refers to himself throughout as "Rolling Stone," or occasionally "RS." In "Host," a vivid Atlantic Monthly profile of radio talk-show host John Ziegler, Mr. Wallace is simply "Q"—as in Q&A.
This is not a strategy that necessarily diminishes authorial presence. In the McCain piece, "Rolling Stone" is so obviously and obtrusively a novice political journalist that he inspires a kind of down-home trust. In "Host," Mr. Wallace does indeed recede—and Mr. Ziegler appears in sharp relief, a fascinating, deeply unsympathetic character, ferociously unwavering in his convictions. Only in the last sentence of the piece does Mr. Wallace speak in his own voice: "I'll take doubt."
("Host," by the way, is typographically experimental. Mr. Wallace has put his footnotes and his footnotes to footnotes in boxes and drawn arrows to link them to the text, so that the page looks as if a flowchart has invaded it. He may be making a point about the deep depths of writing—as opposed to the flat linearity of talk radio—but boy-oh-boy is it hard to read.)
Here's what B.E. doesn't understand about the elaborate lengths Mr. Wallace goes to in order to distance himself from conventional journalism: The best nonfiction he's ever produced, "A Supposedly Fun Thing I'll Never Do Again," the title essay of his first collection, established most delightfully—and indelibly, as far as B.E. is concerned—his anti-credentials as the anti-journalist. He was David Foster Wallace, assiduously unprofessional, bumbling about aboard a Caribbean cruise ship, and it was hilarious. I'll take David.
Adam Begley is the books editor of The Observer.