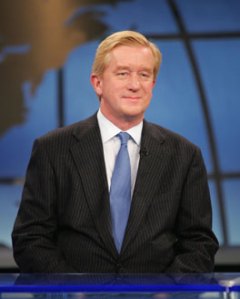 William F. Weld, the former governor of Massachusetts, was winding up an eight-month business trip to Louisville, Ky., when he leaped into New York's political fray last summer. For months, Mr. Weld had flirted with the idea of a 2006 gubernatorial run, and by Aug. 18 he'd made up his mind. He spoke with The New York Times from his temporary Kentucky headquarters and made it official.
"Albany's my destination," he told a reporter. "It's where I want to be."
But the road from Louisville to Albany has been potholed with problems for Mr. Weld, who served as the chief executive officer at Decker College, a for-profit trade school in Kentucky, from January to October. Within days of Mr. Weld's departure, federal agents raided Decker as part of an investigation into allegations of student-loan fraud. The school shut down on Oct. 21 and declared bankruptcy this month, stranding hundreds of low-income students.
Details of the school's collapse have been leaking out of Louisville. The story has followed Mr. Weld to New York, offering fodder to his Republican rivals in the race to succeed Governor George Pataki, who has chosen not to run for a fourth term next year.
A Republican close to Tom Golisano, who expects the Rochester billionaire to enter the Governor's race in January, told The Observer that Mr. Golisano wouldn't hesitate to transform the Decker debacle into a potent sound bite.
"If a man can't run a junior college, how is he going to run the Empire State?" the source said, speaking on condition of anonymity. "If it were merely a situation of him running against three under-funded candidates, he might be able to withstand the issue, but Golisano will put in hundreds of millions of dollars to put that on TV," he said.
And should Mr. Weld pass unscarred through a Republican primary, others warned that he may have to watch out for Decker Democrats.
"Those in the Democratic Party will certainly use this against Mr. Weld and the Republican Party if he is picked as the nominee," said Republican state Assemblyman Patrick Manning of upstate Columbia County. Mr. Manning is competing for the G.O.P. gubernatorial nomination against Mr. Weld, former Secretary of State Randy Daniels and former Assembly Minority Leader John Faso. The winner will likely face Democrat Eliot Spitzer, currently New York State Attorney General, in the 2006 general election.
"I look forward to hearing more about what Mr. Weld knew, and what he did about it, and what he's going to do to right the wrong done to these poor kids," Mr. Manning told The Observer.
Michael Long, state chairman of the Conservative Party, also frowned on Mr. Weld's Decker entanglements. In recent days, Mr. Weld has been courting Conservative Party activists ("I'm a lifelong outdoorsman and gun owner," beckoned one letter) who, by and large, have been skeptical of what they perceive as Mr. Weld's liberal social values.
"I don't think that helps him," Mr. Long said of Decker's collapse. "I think the buck stops with the guy who's in charge."
Mr. Weld knows that his Kentucky troubles make easy bait. But sitting in a conference room at his new Lexington Avenue campaign headquarters on Nov. 22, the 60-year-old ruddy-cheeked Mr. Weld looked relaxed and cheerful.
His suit (charcoal, with pink pinstripes) and his tie (thin, salmon-colored; a relic from the Andover Shop) were in stark contrast to his surroundings. Apart from some thumb-tacked photographs and a wall of recessed one-way mirrors, the room was mostly bare.
"We're just moving in still," he explained. "We're moving in furniture as people are hired. We're very cheap!" The observation mirrors, he later noted, were from a previous tenant who ran focus groups.
As for his Decker troubles, Mr. Weld said, "Any political opponent would be crazy not to try and use this stuff."
Earlier, he'd assessed his time at Decker, and suggested that he could not have altered the school's eventual fate.
"I think back over this whole year—what would I have done differently?—because, of course, it's been a tragedy for the students and the employees and everybody," he said. "And I can't think of any action that I would have taken differently, except to forgo the opportunity to go down there in the first place."
In recent weeks, Mr. Weld has scaled back his work in the private sector to focus on his campaign. He stepped down from his role as a principal at Leeds Weld & Co., a private-equity firm specializing in for-profit educational ventures, in early September to become a senior advisor. This month, the firm changed its name to Leeds Equity Partners. Mr. Weld explained that he and the firm's other principal, Jeffrey Leeds, thought the name change was appropriate because "I'm in the middle of a knockdown drag-out battle for Governor against the sitting Attorney General."
Leeds Weld & Co. was Mr. Weld's original link to Decker College.
In January 2002, Leeds Weld & Co. made a $30 million investment in Franklin Career Services, which entitled the firm to a 20 percent interest in Decker College when it was later acquired by other Franklin shareholders. Mr. Weld also purchased stock in Decker in 2005, and estimates his own holdings at 4 percent.
Even before he headed to Louisville in January, Decker's Kentucky owners referred to Mr. Weld as the school's interim chief executive officer. "It was strictly for outside purposes," Mr. Weld said of the preliminary role, which, he added, was not a paid position. That changed, however, when he formally became chief executive officer in January. The post paid $700,000 a year, but was designed to be temporary, Mr. Weld said. His chief duty was hiring talent to fill the school's top management positions, he said, though that role broadened when Decker came into conflict with the U.S. Department of Education.
On Sept. 30, the Department revoked Decker's access to federal financial aid, claiming the school owed the government $7.2 million in Title IV refunds, on behalf of students who had dropped out.
Mr. Weld argued that, on the other side of the ledger, the Department of Education actually owed Decker approximately $11 million in Title IV federal aid for new students. He said that, despite his own best efforts at negotiating, the department would not release the difference, a net $4 million, which would have been enough to keep Decker afloat.
As for allegations of systemic fraud at Decker, which have surfaced in ongoing investigations by the Kentucky Attorney General's office and the F.B.I., Mr. Weld noted, "I'm just here to say that's not consistent with anything I ever saw, or indeed even heard about."
But even if these explanations de-claw Mr. Weld's political adversaries, it may be hard for him to pacify angry students caught in the wreckage at Decker, many of whom have been telling their stories to The Louisville Courier-Journal.
"If he can't handle his business at a school, how can he handle being a Governor?" asked Kamara Colin, 23, a former Decker student and a mother of three, who spoke with The Observer from her home in Corydon, Ind., on Nov. 28. Ms. Colin said she'd taken out a $7,000 loan to pay her way through an associate's-degree program; when Decker collapsed, that investment became worthless. Still working to pay back the debt, and temporarily ineligible for further financial aid, Ms. Colin said she had to start her degree from scratch at National College in Louisville.
"None of my credits were any good," Ms. Colin said, adding: "I'm pissed because I went for nothing."
Of the final outcome for Decker's 3,800 students, Mr. Weld said, "Nobody feels worse than I do about the fact that these students are stranded. Nobody tried harder than I did to avoid this scenario."
Regardless of how the Decker investigations unfold, Mr. Weld is expected to mount a vigorous campaign.
Campaign Moves Ahead
"Bill Weld's the best candidate for this job. He's the only candidate who's going to win the race," said Stephen Minarik, chairman of the State Republican Committee and one of Mr. Weld's biggest boosters. "He's going to raise the resources. He's got a proven track record of leadership in an executive position. He's got a great record for the issues that impact upstate, in particular the job issue."
Mr. Minarik has scheduled a Dec. 12 meeting for the 62 Republican County chairs in an attempt to agree on a consensus nominee. He hopes they'll pick Mr. Weld. That meeting, however, may not materialize. State Senate Majority Leader Joseph Bruno has asked that it be postponed, and is reportedly urging Mr. Golisano to challenge Mr. Weld.
Meanwhile, Mr. Minarik has named Mayor Michael Bloomberg, Governor George Pataki and former Mayor Rudy Giuliani—a longtime friend of Mr. Weld—as other likely supporters for the candidate. But none of them has publicly declared a preference, and early rumors that Mr. Giuliani planned to endorse Mr. Weld at a Nov. 30 fund-raiser may be unfounded. A source close to Mr. Giuliani who spoke with The Observer said the former Mayor did not have plans to attend Mr. Weld's fund-raiser.
To his friends, Mr. Weld—known in Massachusetts as "Big Red"—is a Renaissance man. Following stints as a federal prosecutor and the governor of Massachusetts, the quirky, Harvard-trained classicist made a name for himself as a private-equity investor on Wall Street. He launched a minor literary career with his 1998 political thriller, Mackerel by Moonlight, and played himself during a cameo appearance in the film Traffic. Through it all, he found time to nourish his love of the outdoors. Near the entrance to his campaign headquarters, and displayed more prominently than his autographed pictures of President George W. Bush, is a photo of Mr. Weld hoisting a massive lake trout—a record-breaking 16 pounds, by his reckoning—from the upstate waters of the Ausable River.
Unpredictable and even goofy, Mr. Weld once leaped fully clothed into the Charles River to demonstrate how clean it was. He has a taste for classic rock, particularly the Rolling Stones and the Grateful Dead.
To his detractors, however, Mr. Weld is a dilettante, easily enraptured but quick to lose focus. Critics point to his aborted second term as the governor of Massachusetts. After winning re-election overwhelmingly in 1994, Mr. Weld left his post in 1997 to unsuccessfully pursue an ambassadorship to Mexico. Assessing Mr. Weld's trajectory after 1994, The Boston Globe editorialized that he'd "slid downhill afterward, enjoying the bumps like a giddy child on a silver snow disk."
Another Massachusetts governor—the Democrat who preceded Mr. Weld in office—seemed to share this view.
"He's not serious, is he?" asked Michael Dukakis, addressing his successor's Empire State ambitions. "I mean, he got so bored around here that he quit, wanted to go to Mexico. What's he going to do in Albany, if Boston was so boring?"