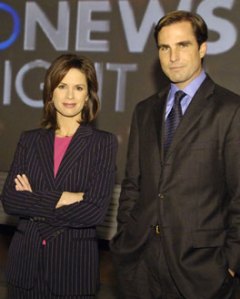 In a meeting with reporters in Los Angeles last January, CBS president Leslie Moonves made some suggestions—with a flippancy he now seems to regret—for how his network might improve its third-ranking evening newscast: longer narrative pieces, higher production values, no "voice-of-God single-anchor" format, and a sense of humor or optimism about the news, without which his nightly broadcast is sometimes kind of a downer.
He also floated, via The New York Times, a more recent idea of having naked women read the daily headlines—flippancy being, as it is, a tough habit to kick. But by then, television news people were already steeling themselves for their industry's inevitable, and inevitably painful, snazzification process.
Now, one year later, the CBS snazzification has finally begun!
Except it's happening at ABC.
CBS has taken few discernible steps toward juicing up its news shows, save a very public wooing of Today show anchor Katie Couric, but ABC executives seem to be moving as fast as possible to implement Mr. Moonves' ideas.
On Dec. 5, after an ultimately unsuccessful last-minute scramble to get Charles Gibson in the anchor chair, Mr. Westin announced that relative newbies Elizabeth Vargas and Bob Woodruff would be co-anchoring World News Tonight, a broadcast that has been rudderless since the death of Peter Jennings this summer. The announcement came one week after the relaunch of Nightline, with three neophytes squeezed into Ted Koppel's vacant seat.
All told, the network this fall has replaced two anchors (with a combined 80 years of broadcasting experience) with five (none of whose voices you could recognize in the dark, let alone mistake for that of God). Nightline has turned its attention to flashy graphics, world-traveling anchors and doughy narratives, and has somehow found the deep coffers it takes to afford such a program. World News Tonight, per Monday's announcement, has opted for ubiquitous broadcasts, with its own set of world-traveling anchors reading headlines at 3:30 for the Web, 6:30 for the East Coast, 8:30 for the middle of America and again at 9:30 for Californians not still stuck in traffic at the time.
(Incidentally, ABC hasn't announced plans to hire naked female newsreaders—yet. After a disappointing sweeps for Good Morning America, which failed to capitalize on a prime-time boost to finally overtake Ms. Couric's Today, that might just be the thing that revives GMA in the morning-show wars.)
"For ABC to use virtual unknowns instead of stars is blasphemous," said one network executive, recalling legendary ABC News director Roone Arledge's network-saving strategy of recruiting big stars to his anchor chairs.
It's almost as if his successor is secretly reporting to Sumner Redstone.
"I don't think you can say categorically that a single anchor is passé," Mr. Westin said at the news conference on Monday, his two new anchors smiling humbly nearby. Maybe not, but you sure can telegraph it.
"Westin took over a news division without any journalism background," said Tom Rosenstiel, director of the Project for Excellence in Journalism. "For the last few years, he was viewed as something of a suit by the older generation of journalists at ABC. They didn't always—in public and certainly in private—show him a lot of respect. Now, he is going to have in place, at Nightline and at World News Tonight, people who are in positions because he put them there."
Plenty is unclear about the last-minute maneuvering that landed Ms. Vargas, 43, and Mr. Woodruff, 44, at the helm of World News Tonight, but it's plain the pairing was not a standout first choice. At the end of last week, at least a small cadre at the network believed the evening news would be anchored by a threesome, with Mr. Gibson, 62, in the principal role and his juniors acting as roving sub-anchors, filing reports from around the world and waiting for Papa to retire. Rumors had spread through the news division in recent weeks that Ms. Sawyer, who co-anchors Good Morning America with Mr. Gibson and Robin Roberts, had actually thrown her support behind Mr. Gibson, in a sort of kamikaze gesture of friendship and pragmatism (Mr. Gibson will leave GMA sooner or later, either as anchor of the evening news or when his contract expires in June 2007). Whatever she did—if anything—it wasn't enough.
Mr. Gibson made the press rounds Monday, telling The Times that he and Mr. Westin "agreed to disagree" and The Philadelphia Inquirer that he plans to happily continue as "whatever I am now." Mr. Westin echoed that talking point at the press conference, saying Mr. Gibson told him from the start of negotiations that he "will be perfectly happy whichever way this goes."
Don't know about you, but NYTV's convinced!
Mr. Westin and World News Tonight executive producer Jon Banner have suggested that because of their youth, this anchor duo will be in that position for decades—and perhaps draw the coveted younger demographic back to the evening news.
"The basic answer is, it'll help them with a younger audience if it's a livelier, fresher program," said Richard Wald, a former senior vice president of ABC News and former president of NBC News. "Just because they're in their 40's and the people before them were in their 60's, that doesn't mean people in their 40's will suddenly start tuning in."
Whatever its long-term implications, the World News Tonight announcement means there's only one really interesting question left about the future of network news: What about Katie?
Ms. Couric kicked off speculation about her next move this summer, dropping hints in The New Yorker and, of all places, AARP: The Magazine. The speculation increased dramatically this fall when Mr. Moonves appointed Sean McManus, president of CBS Sports and protégé of Mr. Arledge, to take the Arledgian position of running the network's news and sports divisions. He immediately announced his intention to bring in big talent for the evening news, and the entire industry got whiplash turning its attention to the Today anchor, who makes an estimated $16 million a year in her current post. Ms. Couric may not have the voice of God, but she certainly has His salary.
The dollar figure it would take to get Ms. Couric to take over for fill-in anchor Bob Schieffer is rumored to be around $20 million a year, with a contract length of seven years. "If anyone's gonna pay that, it's Sean," said one CBS staffer. "He mortgaged the next century of the network to bring football back"—in fact, Mr. McManus spent $4 billion in 1998 to get N.F.L. games back on CBS for at least eight years—"and he'll spend what it takes to get Katie."
"She's a major talent who is coming available," said Steve Friedman, a former two-time executive producer of Today, "and CBS has a need. You know, if they can get her, that would be one hell of an announcement."
For anyone curious about how the CBS Evening News with Katie Couric might look, ABC, in its Moonves-inspired rebuilding, has happily provided an example.
Some critics have accused the new Nightline of being nothing like the old Nightline (duh) and a whole lot more like the ever-softer and fuzzier newsmagazine 20/20. But that's not quite right.
It debuted with zippy graphics in a flashy studio in Times Square. The first week carried nightly reports by Terry Moran, who anchored from Baghdad; feature segments about a deaf football team and Victor Conte by New York–based anchor Martin Bashir; and the warm anchor-stylings of Cynthia McFadden. Following Mr. Moonves' musings to the letter, one program featured a short segment by contributor Jake Tapper, which used a standard technique of Comedy Central's The Daily Show—for which the CBS president expressed his admiration last January—to chart the Bush administration's efforts to change the way we talk about Iraq.
So: Imagine the new Nightline airing at 6:30 p.m. Now take the blond and charming Ms. McFadden out of the main anchor chair—yoink!—and drop the blonder and more charming Ms. Couric in there instead. Get rid of Mr. Moran in Washington and Mr. Bashir in New York, along with that strange podium he leans on to introduce his segments, and ta-da! An evening newscast more people might actually watch.
Might.
"What gets me is the moments," said one network executive about the new generation of evening-news anchors. "Think about 9/11; think about the Kennedy assassination—those moments that have happened and will happen—and then try to imagine Bob and Elizabeth there. Or Brian [Williams at NBC]. Or Katie, or whoever it's going to be at CBS. Or some of the people you might have in cable right now. Maybe these people will grow on you. Brian certainly has. But I'm not sure I see the rest of them helping the nation through 9/11."
On the bright side, he said, "I can see them doing regular evening newscasts, though."
Which is something.
Ms. Couric, whose NBC contract expires in May, is apparently still wrangling with Mr. McManus. His boss, meanwhile, is probably paying close attention to what's happening down the street.
"I guess I take a little bit of a longer perspective on these things," said Bob Zelnick, a former reporter for ABC and a 21-year veteran of the network. Mr. Zelnick remembered when Mr. Jennings was part of a three-anchor team on World News Tonight, including Frank Reynolds and Max Robinson, "and there was a feeling on the executive floor that Peter looked fine in a trench coat, but he would never, ever be a sole anchor who could compete against the people we saw coming on board at the other networks," including Dan Rather and Tom Brokaw—both of whom Mr. Jennings would go on to beat in the ratings for a period during the 90's.
"People forget all about that because Peter was so successful in his later years at ABC," Mr. Zelnick said. "It's hard to predict how people are going to mature in a certain job. It would surprise me if Bob and Elizabeth tapped into something out there that hasn't been watching the evening news in a while.
"I think it's less likely rather than more likely," he continued. "But it could happen."