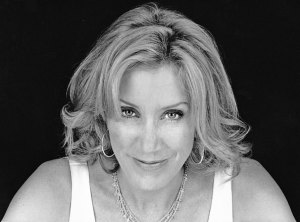 Mauro of Manhattan
"So, our champagne shower?"
I was watching David Letterman alone on my sofa. The diplomat's wife, as usual, didn't introduce herself on the phone. I hate those who do that, pretending to be one of the three or four most important people in your life: They expect you to immediately recognize their voices. A journalist colleague of mine never introduces herself while calling from Rome: She starts talking right away about silly topics (such as fetching her pass for the Tribeca Film Festival before she arrives in N.Y.C.) while I'm trying to figure out who the hell she is.
Maria belongs to a worst category: the ones who block their numbers. I asked her why. "Privacy," she replied. BS. The real reason is some people are such a pain in the neck that half of the times they get hung up on.
By now I was perfectly able to tell Maria's sexy voice from any other. I didn't hang up on her because she is the real Upper East Side woman: relentless and aggressive. When somebody hangs up on me without talking, I imagine my interlocutor is in a meeting and forgot to switch the ring to silence or vibracall. So, I don't redial immediately. If it's urgent I leave a message in the voicemail or send an SMS. Maria, on the contrary, is always absolutely sure the person is craving for her to call again.
Having built her intrusiveness to such logic-proof levels, it's useless not to reply to her. One time I turned my cell to the silent mode, only to collect 15 consecutive "unanswered calls" from her. I felt the phone burning in my hand.
Anyway, there she was. Drunk as a skunk, probably, as she asked for a "cha-cha" around midnight. She meant "sha-sha" (champagne shower), she pronounced it like that because she's South American. I had promised Maria a sha-sha for a long time: weeks, maybe months. Actually, it was just a trick to lure her into my apartment. It appealed to her. She maintained being so religious that she couldn't make love to me. She wanted, but didn't want: "Now it's Advent time, I have to fast until Christmas."
"O.K., fast. It means not eating. It has to do with food, not with sex," I replied.
"Don't make me sin. I'm married."
"Stop kissing me every time we meet, then."
The next day she arrived to my apartment to get cha-showered. She was very nervous. I entertained her in the sitting room with some conversation, we laughed and drank wine. She typically needs one glass just to start talking, two to smile, three to relax, four to kiss. But by then she's already gone: She can't proceed to anything else but being shipped back home via a merciful taxi. So this time, in order to ensure a decent post-champagne escalation, I stopped her after the second drink and directed her toward the bathroom. She flied into a rage: "No, let's shower here …. "
"No way!"
"Why?"
"I don't want to ruin the parquet."
"Ah, so where do you want to go?"
"In the bathtub."
"But it's so not romantic!"
"If we do it here it's gonna be a mess."
"Come on, Mauro, don't be cheap …. "
"Showers belong to the shower," I concluded, while going to kitchen to get the champagne bottle.
When I came back, she screamed: "But … it's already open!"
"What?"
"The bottle!"
Yes, the Moët & Chandon I was holding in my hand was uncorked. There was no way I was going to waste $40 for her shower, so I had previously filled an empty champagne bottle with $10 Italian prosecco. She wouldn't notice the difference. She was not supposed to drink it, anyway. But I had forgotten about the cork detail.
"I … sorry, I opened it while waiting for you. Couldn't wait …. "
I smiled. She smiled. She bought it. We went into the bathroom. She was embarrassed. I was embarrassed too: It was my first sha-sha, after all.
"Get in the bathtub."
"But … I have to undress first."
"Ah, yes."
"Sooo …. What are you doing here?"
"Waiting for you to undress"
"Are you crazy? Right here, in front of you?"
"What's the problem?"
"Who do you think I am? Your private stripper?"
"Why not?"
"I can't. I'm shy. Please get out of the bathroom."
So inhibited. Maria seems so disinhibited while talking or sending e-mails, so sexy when she kisses, and now here she was, the panther turned into a little lamb. She hadn't drunk enough, obviously. But if she did, she would soon fall apart. I still had to find the exact distance between her under- and over-drinking, that magic short enjoyment span of hers ….
"O.K. Have fun undressing by yourself, my dear," I told her while walking away. She shut the bathroom door. There I was in the corridor, having enough time to think and ask myself what the hell I was doing there with a fake champagne bottle full of prosecco in my hand, while a crazy (probably) fake blond diplomat's wife was undressing silently in my bathtub. Was this the way to pleasure?
"You can come in now."
She still had her underwear on. Black, thanks God. I fancy white, bear beige, dread red. I hugged her. She was so small without her heels on. We kissed.
"Take it away," I hummed.
"You go first."
"Go where?"
"Undress."
"Me? Why?"
"To be equal."
"But it's you who wanted the champagne shower …. "
"Yes, but I like you to be naked, too …. "
I obeyed her sweet order. I even remembered to get rid of my socks before lowering the pants. My shorts went down together with the trousers, remaining inside them. I felt like such a teenager. But I did it on purpose, in order to encourage her. She unbuttoned my shirt, recuperating some of her woman charm while doing it, looking at me deeply straight in the eyes.
"So, shall I shower you? Take away your underwear, it's going to get wet."
"It already is." She adored to arouse me verbally. She succeeded.
"At least your bra."
This last negotiation ended halfway: naked breast, panties on.
"What is your husband going to say if you come home without them?"
"Right, he always greets me at the door slipping his hand under my skirt …. "
I grabbed the bottle. Started pouring the prosec … well, the champagne on her hair.
"Stop! It's cold!" she shouted immediately, grabbing my arm.
"O.K., let's wait until it warms up a little."
"Yes."
"Meanwhile, let's go to bed."
"But I'll ruin your sheets, I'm all wet."
"Wipe yourself with this towel, dear."
"But it's going to smell wine …. "
"Let me wash you, then."
"This was supposed to be a champagne shower. And now what do I get? A normal shower?"
All of a sudden I felt exhausted. Clearly, God (or the Goddess of love) was punishing me for the prosecco switch. Such a life.
—Mauro Suttora
A Book-Hat Maker
George Bedere, of downtown Brooklyn, makes hats for books.
"Apparently, I invented this; at least I'm the only one on the Internet," Mr. Bedere explains.
It all began one winter day in 1989, when George threw down his wool cap on top of Tennyson's Ballads. "Suddenly, it occurred to me that if you stood the volume up, the hat would fit perfectly," Mr. Bedere narrates. "This was a life-defining moment."
By now, Mr. Bedere has designed over 200 hats for books. "There are certain temptations that must be avoided," he says. "Putting a beret on Sartre's Nausea, a tam-o'-shanter on Sir Walter Scott's Rob Roy. I like to work against expectations. For example, I designed a doo-rag for Ulysses and a turban for The Catcher in the Rye. Recently, I placed a simple white yarmulke on Gertrude Stein's Tender Buttons."
His favorite? A gilded, bird-shaped hat for a copy of The Arabian Nights in Turkish, from 1896.
Book-hats are not purely frivolous, Mr. Bedere hastens to point out. They protect a book from dust and other dangers. Who buys them?
Parisians, other Europeans—and a lot of Midwesterners. "There are parts of Iowa and Minnesota where people still read," he informs me.
His future plans? "After making hats for books, it's easy to imagine making them shoes," he admits.
—Sparrow