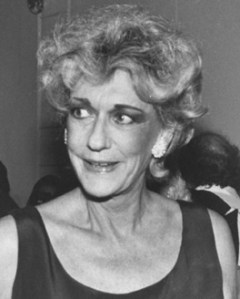 In her half-century-plus in Manhattan, Pat Buckley has been known as a socialite, a fashion icon, a lady who lunches, a social X-ray, a grande dame, a superb hostess and the woman behind the man behind modern conservatism.
Friends call her stunning, larger than life, down to earth, a personage, a force majeure, arch, unpretentious, unaffected, great company and highly intelligent, and note her manners, innate chic and originality.
She prefers to think of herself as a wife, mother, fund-raiser and gardener.
"I hate doing interviews," she barked—somehow elegantly—into the telephone. "What? What are you doing? Power? What? You do? Well, that's good. You're not an investigative reporter? I'll call you Monday, in the afternoon."
Late the following Wednesday afternoon, she descended the spiral staircase in her tastefully extravagant Park Avenue maisonette. Near six feet tall, she was wearing a gray sweater, black pants and gold jewelry. She moved slowly, thanks to arthritis, four hip operations and Percocet—she'd had a root-canal surgery that day.
She led the way into her sitting room. A maid set down a tray of mini hot dogs, then opened up a bottle of white wine. Mrs. Buckley—who is in her late 70's—lit up the first of many Merits.
"I don't know anything about power," she said. "I'm not putting you on here. I'm supported by my friends, and by the organizations for which I work. But I don't seek any power. Well, I don't. Reeeeally. I'm not saying this meekly, but I don't think that I do."
The room was filled with books, modern art and framed photographs and was drenched in red. "Christopher [her son, the humorist Christopher Buckley] thinks I should go to a psychiatrist because of my red," she said.
Her husband, William F. Buckley Jr., was at the Yale Club for a meeting of Skull and Bones, the infamous secret society. Two of Mrs. Buckley's St. Charles spaniels sat at her feet and gazed up at her as she talked about her first volunteer work at age 13, at a children's hospital in Vancouver, British Columbia, where she was raised.
"I don't want to sound soppy about this," she said. "We were brought up this way. It was just expected. It was just the way of life our father told us to follow. You know the old saying, 'To many are given …' ? But why not? I mean, you have to do this. It's not that you don't want to, it's that you want to."
Her father, Austin Taylor, was a self-made multimillionaire entrepreneur; her mother Kathleen was the greatest beauty she has ever known and was nicknamed Babe.
"I look exactly like my father," Mrs. Buckley said. "My mother's the person, outside of my husband and my son, I love most in this world. When she died, I went into a slump for a year."
The young Miss Taylor was serious about horses and hunting. I'd read that she was a Miss Vancouver—apparently not true.
"Can I tell you something?" she said. "I've never been so shocked in my life. How do you call that magazine? People!" (She pronounced it like an epithet.) "Somebody from People magazine called me up and said, 'When were you Miss Vancouver?' I said, 'What?' They said, 'What pageant did you—?' I said, 'Pageant? I was hardly Miss Vancouver. I mean, I lived in Vancouver, but I didn't enter any pageants.'"
At Vassar College, a beau of hers broke his leg skiing just before a dance, but her roommate happened to have a strapping brother, a Yale man named William Buckley. He escorted her to the dance. They saw each other a few more times; then she broke her back in a hunting accident. A year later, Mr. Buckley visited her in Canada, and within 72 hours proposed.
They were married in 1950, after he graduated. The next year, after the publication of Mr. Buckley's scathing attack on his alma mater, God and Man at Yale, they went to live in Mexico, where he worked for the C.I.A. Mr. Buckley's father had lived there, so they knew everybody, she said. There were lots of parties.
"It was a grand time. It was very social," she recalled. "Well, you occasionally looked over your shoulder. The interesting thing was—and I probably shouldn't tell you this, but …. I'm not going to tell you."
Please?
"Well. I was told by people who knew about this, not to get in touch with the American government or the Canadian government, but to rely upon the Israelis if there was a problem. Because they were the best.
"We bought a nice house for a song," she continued. "And we sold it to an Italian—I don't know why, I can't think of his name."
But first she turned her attentions to a closed-down nunnery next door, which had five acres of gardens. She persuaded the authorities to let her take over the greenery.
"I'm a gardener," she said. "What I do best is garden, and that's what I really like to do. That's where I'm happiest. You want to know what excites me? Planting irises."
In 1955, her husband founded the National Review magazine; over the next decade, as he ignited the conservative movement with his magazine, his books, his syndicated column and his TV appearances on Firing Line, she followed him. When he ran for Mayor of New York on the Conservative ticket ("his summer of madness"), she was in a wheelchair (skiing accident).
"They loved to push me out onto the stage, this poor crippled woman," she said. "I'd sit and smile and nod. That was a plus. I followed him everywhere. I'm what you might call a good Arab wife."
Did she wish she'd been the First Lady of New York?
"Are you out of your mind? I'm a housewife. What's wrong with being a housewife?"
In a recent self-interview for the Yale yearbook, Mr. Buckley wrote: "My wife Patricia is beautiful, bright, humorous, often quite impossible (as most wives sometimes are; as most husbands sometimes are), and I will love her always."
By the late 60's, the Buckleys knew everyone. Drinks with Norman Mailer, Thanksgiving with the Reagans in Connecticut, Christmas in Gstaad with the Nivens. Mrs. Buckley became a fixture in Vogue and Harper's Bazaar and started showing up on the Best Dressed List.
How did she become a champion fund-raiser?
"You slog, you work, you beg, you say, 'Come or die,'" she said. "It's slogging, it's boring, but it has to be done. I have to get the people there, arrange the night's festivities, and I have to place it, set it. And there are certain things, such as when Diana Vreeland said to me—she always called me 'kiddo'—she said, 'Kiddo'—this was three days before the Indian party—she said, 'I forgot to tell you, there are 27 Indians that I've invited.' Well, we finally seated them in the Greco-Roman gallery. Now it's all very different!"
How much had Mrs. Buckley raised for Memorial Sloan-Kettering Cancer Center?
"Nan [Kempner] said—and I think it was over the top—that she and I had raised $75 million. I think that was a bit much. I know we raised close to that. But that's my job. I raise money."
I asked her about Kempner, who died last summer.
"That was bad," she said. "Nan and I were extremely close, and I was with her the day before she died. I was going to Europe the next day, and I said, 'Nan, I'm not going to go to Europe,' and she looked at me with those watery eyes. She said, 'Go'. She knew. And she died the next day. It was very hard for me. A lot of people didn't understand Nan. She wasn't just a clotheshorse—she was fun, and that's terribly important. She was also ditzy."
Her dog Lizzie was distracting her.
"Bwaaahhh!" she said to the dog. "One of my maids said to me, 'If you speak to him that way, he'll never understand English.' This is when I say, 'Bwaaahhh!' They understand that.
"Nan and I were very different, but we were soul mates," she continued. "Anybody who says that Nan ever talked about dying is out of his mind. She never did. Never! She was always up! 'What's up tomorrow?' Whenever she woke up, she always called me in the morning, and I always called her at 6 at night, no matter where I was. If I was in Hong Kong, she'd get her 6 o'clock call. She never had breakfast until 11. She'd call me in that croaky voice and we'd discuss the horrors of the day before."
Any notes from those conversations?
"No! No! Never! That would be the end of everybody."
"Are you cold?" Mrs. Buckley asked, getting up. "Should I turn the heat on? It's rather arctic. I'll do it. Why do we have air-conditioning on this time of year?"
Lizzie, the leaner of the two spaniels, followed her over to the corner.
"Dohhhhh," Mrs. Buckley said to Sebastian, the obese one.
She said she doesn't care for the "wannabes" she must deal with on the benefit circuit.
"We live in a strange world in New York," she said. "There are so many triers. Maybe that's not the right word—I don't care. They can do whatever they want—does that sound really revolting? On that circuit, our job is to raise the money which does the hospitals, does the museums, and I don't give a shit how I raise it. That's an awful thing to say. I mean, I'm a raiser of money. No, I'm not a social arbiter at all. I am, to put it in really vulgar language, a money-raiser. I'm a money-raiser for things that I believe in. My attitude is, all the wrong people are in this business. It's for the name up front. Well, I shouldn't say that—there are exceptions. I probably shouldn't have said that. It's true."
In any case, she said, dogs are better than people, "because they're dogs."
A framed picture of the late actor David Niven was looking her way. He'd been her closest friend.
"Yum," she said. "He was always there, we were always together—Bill, David and I. They'd paint together at night. That was the best of times. I've had a lot of fun and a lot of grief. With grief comes fun or with fun comes grief, you know? I had so much fun with David for so many years. He was the most enchanting man, outside of my husband and my child, that I've ever known."
Was she ever nostalgic for the 1980's?
"Oh, sure," she said. "It was more fun. The 1970's were more fun. Well, that's probably because I'm old. Everything was easier. I like Bloomberg enormously, but New York is dark now. Dark."
She had to get ready to go to the vet. Another of her St. Charles spaniels—Millie—had just had an operation, and Mrs. Buckley was planning on spending the night there.
"These are the most pampered dogs in New York," she said. "I mean, why in the hell do you think I'm going to take a cot and go to the vet tonight? Honey, you can't leave a one-year-old dog alone after an operation, right? This is a special thing they do for me, because I've used this veterinarian for years and they figure that I'm not quite there, mentally."
She talked a bit more about fund-raising, about how, when she put the Met's Costume Institute Ball on the map in the late 1970's, she used to charge $150 and never went above $800. Now a ticket costs $3,500. She estimated that she raised $2 million a year, on average, for 17 years, and that Vogue editor Anna Wintour (who took over in 1995) brings in "20 times" more than that. "My friends can't afford to go anymore," she said with a sigh.
Mrs. Buckley said that she was looking forward to returning Connecticut in a few days. Her hibiscus was blooming. "Thank God," she said. "I don't look forward to anything in New York anymore. I've done it."