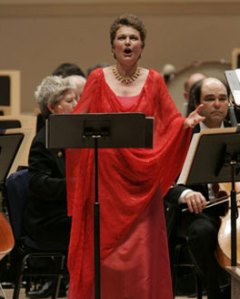 Looking back on this past year of Manhattan Music columns, I'm struck by a misnomer: The term "classical music" can't possibly cover 500 years of compositions, a history that embraces every form of human expression from the beatific to the bittersweet, the bellicose to the bacchanalian. With so much to choose from, picking "the best" seems foolhardy. Let's just say that the following performances, live and on disk, are likely to live longest in my memory as touchstones for all the great performances to come.
The year's single most arresting musical moment was Lorraine Hunt Lieberson's appearance a few weeks ago at Carnegie Hall in the New York premiere of Neruda Songs, five sonnets by the Chilean poet, passionately set for her by her husband, the composer Peter Lieberson. The singer, who had cancelled a year's worth of engagements because of an injured back, was in volcanic, radiant form. The Boston Symphony Orchestra was in honeymoon mode with James Levine. And the house was packed for what became less a concert than a grand love-in.
The uncommonly lucid French pianist Pierre-Laurent Aimard created a kind of luminous rainbow over the spring and fall seasons. In May, he appeared at Avery Fisher Hall with a crackerjack German ensemble, the Bamberger Symphoniker, and its brilliant young English maestro, Jonathan Nott. An alumnus of Pierre Boulez's experimental Ensemble Intercontemporain, Mr. Aimard demonstrated that his aplomb extends to the profundities of Beethoven (the fourth and fifth piano concertos) and also to the devilish doodlings of Ligeti. In October, Mr. Aimard vanquished rude coughers at Carnegie with a program of Debussy, Boulez, Ravel and Schumann whose subtle palette gave piano connoisseurs goose bumps by recalling that master of pearly tone, Walter Gieseking.
If, as of yet, no unquestioned successors to Luciano Pavarotti and Plácido Domingo have emerged, three young singers at the Met showed they are developing into tenors with real golden-age elegance: Ramón Vargas in Offenbach's The Tales of Hoffmann and a celestially overwrought new staging of Gounod's Roméo et Juliette; Marcelo Álvarez in Massenet's Manon; and Rolando Villazón, who is currently selling out the house (with the stunning young Russian soprano Anna Netrebko) as a Duke of almost unseemly insouciance in Rigoletto. Significantly, all three are Latin American—weaned in cultures where there's no split between classical and popular singing.
Once upon a time, that was also true in America—as we were reminded by a smashing evening entitled At Harlem's Height, organized last February by the New York Festival of Song in the new Lincoln Center jazz venue, Rose Hall. With NYFOS co-directors Michael Barrett and Stephen Blier at the piano, three African-American singers—Dana Hanchard, Darius De Haas and James Martin—explored with terrific panache the fertile Harlem Renaissance of the 1920's. They toured the common ground between the low-down sass of W.C. Handy, Eubie Blake, "Fats" Waller and Duke Ellington and the more high-toned work of art-song composers Cecil Cohen, William Grant Still and Florence Price.
The feverish countdown to the first nuclear-bomb test at Los Alamos in 1945 and the quixotic personality of the Manhattan Project's chief scientist, J. Robert Oppenheimer, made perfect fodder for the supercharged neo-romanticism of John Adams, who composed the year's best piece of new music—the opera Doctor Atomic, which had its world premiere at the San Francisco Opera in October. The work is being planned for the Met a couple of seasons down the road—which should give the director, Peter Sellars, time to iron out his tendentious, rather clunky libretto.
The vocal performance of the year? On the concert stage, it had to be that of Cecilia Bartoli in her October recital at Carnegie with the Orchestra La Scintilla of Zurich Opera. Delving into her usual bag of Baroque rarities, the Roman Candle demonstrated that her rock-star impact increasingly has less to do with razzle-dazzle and more to do with impeccable musicianship and an uncanny ability to project feeling behind the fireworks.
On the opera stage, the veteran bass Ferruccio Furlanetto made the year's most indelible appearance as Philip II of Spain in a Met revival of Verdi's Don Carlo. The king's great Act IV monologue, in which he bares his misery over the failure of his marriage, revealed Verdi's unrivalled genius at conjuring up sorrow with tremulous majesty. Mr. Furlanetto stripped himself bare, operatically speaking, in the ripeness of his years.
Outliving ripeness, two great American musicians celebrated their 90th birthdays, each with an extraordinary evening: The pianist Earl Wild's blazing ease with Chopin and Liszt at Carnegie held the audience rapt to the point of stupefaction; and the distinguished composer and musicologist George Perle, with a program of chamber music at Zankel Hall, played by loving friends, showed an uncanny ability to turn atonal musings into gentle, ear-tickling delights. The listeners included a virtual Who's Who of what's left of high musical modernism in New York.
"Chemistry" is the operative issue in assessing today's unautocratic conductors and their orchestras, and it was fascinating to hear it cooking with two of today's leading symphonic ensembles. In February, the Cleveland Orchestra gave four concerts at Carnegie with its young Austrian maestro, Franz Welser-Möst, and revealed a new warmth in five Beethoven piano concertos, with Radu Lupu as soloist, that glowed with just the right application of old-fashioned polish. In October, they returned for casually refined performances of Brahms and a gorgeous East-meets-West musical tapestry Si Ji ("Four Seasons") by the Chinese composer Chen Yi. In March, the Vienna Philharmonic came to Carnegie with the Latvian maestro Mariss Jansons, whose seize-the-moment style took years off the Viennese players and made blockbusters by Beethoven, Brahms, Mahler, Sibelius and Shostakovich sound as though the ink were still wet.
Three recordings are destined for that small space on my shelves to which I head when I want to bask in a listening experience that only gets richer with repetition. Plácido Domingo finally tackled ( if only offstage) a Herculean role that he's always wanted to sing: On EMI's sumptuously produced studio recording of Wagner's Tristan und Isolde, he's joined by the luminous Isolde of Nina Stemme, the magisterial King Marke of René Pape and the keenly sensitive playing of the Orchestra of the Royal Opera House, conducted by Antonio Pappano.
Today's younger artists are ragpickers, and the Siberian-American pianist Lera Auerbach found gold when she unearthed miniatures by eight Russian artists who indulged an amateur's love for musical composition while becoming celebrated in other fields. Her magically played album, Tolstoy's Waltz (BIS)—on which she's joined by a splendid young Japanese baritone, Chiyuki Urano—includes pieces of great charm by, among others, Tolstoy, Pasternak, Diaghilev and Balanchine. You can almost hear the beloved cherry orchard coming down in these relics of life before the Revolution.
Gidon Kremer has recorded Bach's complete sonatas and partitas for solo violin before, but never with such burning immediacy as he achieves on a two-CD set for the ECM label. Eschewing conventional "singing beauty," he obeys a deeper imperative in these marvelous dance epics for a single-voice instrument: "Expression and effect," he writes in the liner notes, "are so strong in the sounds that they cannot even be 'contained' within them. They simply demand"—as does this indispensable album—"to be given away."
And finally, a stocking-stuffer to be read, not listened to: Beethoven: The Universal Composer, by Edmund Morris (HarperCollins). Mr. Morris, himself a fine amateur pianist, is the expansive biographer of Theodore Roosevelt and Ronald Reagan; here, he traces Beethoven's life in a volume whose small size belies its wealth of musical and psychological insight. Mr. Morris writes, "Much as Beethoven complained about his 'closed senses,' being myopic as well as deaf, it is a fact that his music became sonically richer as he adapted to life 'on the other side of silence.'" With an eloquence born of love, the biographer leads the reader into that realm—the most mysterious in all of music.