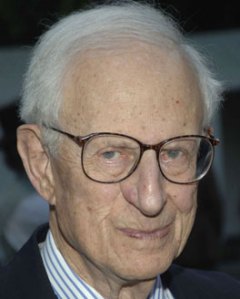 On a recent Wednesday evening, Robert M. Morgenthau sat in the front row of a lecture hall at the Museum of Jewish Heritage, listening to a historian talk about his grandfather, the U.S. Ambassador to the Ottoman Empire under Woodrow Wilson. After the lights went up, one of the many people who came up to shake Mr. Morgenthau's hand asked a question about his father, who served as Secretary of the Treasury under Franklin Delano Roosevelt.
Mr. Morgenthau, of course, is no slouch either. The 86-year-old Manhattan District Attorney is as deeply built into New York City's foundation as the limestone in its old courthouses. "The Boss," as he is called by just about everyone who works with him, has been District Attorney since 1975, when Abe Beame was Mayor. Before that, President John F. Kennedy appointed him U.S. Attorney for the Southern District, and before that he made mint juleps for F.D.R. after surviving kamikaze attacks in the South Pacific during World War II.
Yet all that history can be as burdensome as it is impressive. So many decades of accomplishment can flatten the most multilayered person into a portrait behind a desk and calcify the most spirited of men into a statue. While aware that he is regarded as something of a legend, Mr. Morgenthau has attempted to sidestep the perils of his own iconic status by staying grounded in his work and marching forward, even if it is at a shuffling gait.
"I'm just not made that way. If I ever stopped taking myself seriously, I'd quit," he said in his office, which is decorated with yellowed photographs and buried in white paperwork. "There are challenges every day. You never know what the problem of the day or of the week is going to be."
But it was clear to everyone that this year's major problem was a tough, 63-year-old judge named Leslie Crocker Snyder, who waged an aggressive campaign to replace Mr. Morgenthau in the job he has come to personify. The Manhattan District Attorney has won elections for 30 years, but this time his support eroded in previously dependable quarters like the editorial board of The New York Times. In a much-discussed endorsement of Ms. Snyder, the board members wrote that "it pains us not to be able to endorse him for re-election," but "three decades is more than enough time for any executive to accomplish his or her mission."
Manhattan's voters thought otherwise and Mr. Morgenthau won the election handily, 59 to 41 percent.
"That's all behind me," Mr. Morgenthau said. His gruff, no-nonsense delivery suggested that he now considers the last election just more ancient history.
Mr. Morgenthau's turning taciturn is also a result of his understanding that the calls for him to move on were essentially efforts to put him out to pasture. He looks, quite frankly, old. His movements are rigid and slow, his skin is mottled with rusty liver spots, his raised veins were the color of his blue Hermès tie, and his hair has thinned to white wisps. At the Museum of Jewish Heritage, of which he is chairman of the board, his grandfather's face was projected onto a screen and looked younger than the grandson staring at it from the first row. It was as if the grandfather had aged into the grandson.
But it's clear that Mr. Morgenthau's resistance to let go has less to do with vanity than purpose. He feels he needs to stay on to finish the work that he believes he is uniquely qualified to do.
"Anyone who has met him knows that he is a guy who likes to come to work every day. He genuinely feels he can make a positive contribution," said Daniel J. Castleman, the chief of the District Attorney's investigations division, who fears that without Mr. Morgenthau, the post will become just another political plum. "We could not do a lot of the investigations we currently do were it not for him."
Mr. Castleman said that Mr. Morgenthau's name and connections open countless doors, and that the loyalty he inspires from his staff keeps together one of the most experienced investigative teams in the country. But while Mr. Morgenthau says that the staff provides a stability that allows for more thorough, long-term investigations, he pointed out areas of criminal activity—from money laundering to rape, from terrorism to identity theft—where his office was making strides.
"We're certainly doing more than we have ever done," said Mr. Morgenthau, who lunches regularly with David Cohen, the head of the NYPD's anti-terrorism intelligence department. Mr. Morgenthau's own philosophy when it comes to battling terrorism is intrinsically tied to his passion for fighting fraud, which critics say takes up too much of his time. He believes that by stopping money laundering, he is suffocating terrorists of the funds they need to carry out attacks. The breadth of his investigations are enormous, because he believes that money passing illegally through New York—where all the banks happen to be—results in a crime that falls under his jurisdiction.
"Courts can decide if we have jurisdiction or not," he said, responding to criticism that he is overstepping his bounds. "It is not for us to abdicate responsibility where we have it."
"He is a guy that is always thinking about new approaches involving the investigative part of our business," said Brooklyn District Attorney Charles J. Hynes, who has been lauded for innovations that have cut crime in Kings County. "Broadening financial investigations is for the good of this city for years to come."
Still, some of Mr. Morgenthau's critics think that after decades of the District Attorney's guidance, it is time for a more hands-on approach—"an approach that is more geared to being an activist as a District Attorney," explained Geraldine Ferraro, a former Queens assistant district attorney and Vice Presidential candidate, who supported Ms. Snyder in the campaign. "All I really see of him is when there's an arrest or an indictment announced. There is a press conference; there is very little activism. I don't see that coming out of the office."
One area where Mr. Morgenthau has been undeniably active is at home, where he has seven children, the youngest of whom is 14. His son Josh, a student at Yale, accompanied him to the voting booth in September, steadying him by the arm as they walked out the door. Holding his other arm was his wife, the reporter Lucinda Franks, who is 30 years his junior.
"They keep me busy," said Mr. Morgenthau, who admitted that he'd rather be working than attending parent-teacher conferences. After all, this is a man who defines vitality as "putting in a day's work for a day's pay."
Mr. Castleman said that vitality was evident even on Sept 11, 2001. As the towers crumbled and the courts closed, the department where new arrests are processed stayed open, and Mr. Morgenthau—overcome by a desire to be useful in the crisis—went there to boost morale.
While there, he crossed paths with a man who had been evacuated from his downtown building by firefighters, who subsequently found his apartment to be rife with narcotics. Mr. Morgenthau remembered the man's address from a wiretap he had signed. The pusher turned out to be part of a major Israeli drug ring, and Mr. Morgenthau made sure he didn't fall through the cracks, even as his staff choked on fumes from the burning towers.
The work keeps him young, his associates argue, but the city also benefits.
"It is kind of payback time now," Mr. Morgenthau said before heading back to his desk to read through some investigations. "I still owe this city for all the opportunities that I've had and my family has had."