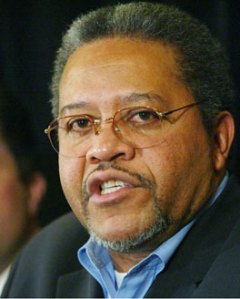 After digging himself out of financial difficulties in the 1990's, Peter Kalikow thought there was more to life than money. This month, when he sat down at the negotiating table across from Roger Toussaint, the chief of the Transit Workers Union, he found out that he was right.
Mr. Kalikow, a lean, third-generation real-estate developer who was buddies with Alfonse D'Amato and George Pataki when they were small-town pols, handed over concession after concession in a 33rd-floor suite at the Grand Hyatt Hotel in midtown. He offered substantial raises and a day off for Martin Luther King Jr. Day. He raised the retirement age for new workers from the proposed 55 to 62, and he relented on his insistence that future hires contribute to health insurance. "He was trying to be a real mensch," said one outsider who was briefed on the negotiations. Mr. Kalikow, after all, wanted to save his legacy.
Across the table, the burly, goateed Mr. Toussaint apparently had a similarly intangible goal: He wanted to save his dignity—and the dignity of his union members—even if it meant an illegal strike.
To a degree greater than labor conflicts of the recent past, the Transit Strike of 2005—on sale now for $400 million a day—grew not out of a clash of macroeconomic forces, but rather out of the mix-up of two men's visions and characters, of the fiscal caution and deal-making confidence characteristic of the city's elite on the one hand, and of an ideological militancy rooted in a revolutionary West Indian past on the other.
Mr. Kalikow, a developer who invested too heavily for his own good in the real-estate boom of the 1980's, got off to a shaky start when first appointed to head the M.T.A. by Governor Pataki. His right-hand man, Rick Nasti, was forced to leave under an ethnical cloud. There were more allegations against the M.T.A., heavily disputed, about keeping two sets of books. But since then, Mr. Kalikow, 62 years old, has won the esteem of many transportation advocates, even if he has remained largely invisible to the public.
Conscious of the system's insatiable hunger for funds, Mr. Kalikow has raised fares twice—and then saw the M.T.A. run a $1 billion surplus this year. He pushed hard for a five-year capital plan and proposed new taxes to pay for it, eventually relying on the $2.9 billion transportation bond act passed by voters last month. While he obliged—perhaps reluctantly—his political masters by selling M.T.A. parcels in Brooklyn and the West Side to the lowest bidders, Mr. Kalikow has also exercised an unusual degree of independence. He pushed for a Second Avenue Subway even though Mayor Bloomberg would rather see the No. 7 line extended, while the Governor wants one-seat train access to the John F. Kennedy International Airport. And even though the strike may overshadow his accomplishments, some city leaders respect him for doing what he believed he had to do to keep the agency financially stable.
"It's a crisis for the city. For him, it's sort of a high point," said Kathryn Wylde, president of the Partnership for New York City, which represents the city's business leaders. "He's demonstrated that he's leading the conversation. He sees a looming budget crisis—it won't blow up until 2008, at which time he may no longer be chairman, but he still feels an obligation to maintain that fiscal restraint."
To the extent he has an Achilles heel, it is that as an unpaid chairman with little experience running a major agency or dealing with transportation issues, Mr. Kalikow has been too hands-off. One transportation expert, who characterizes labor-management relations at the Transit Authority as "something out of the 1930's," says that the chairman could have dealt better with the disciplinary measures that irked Mr. Toussaint when the two negotiated a contract three years ago, and that have reappeared today.
"Whether because he is a part-time chairman or not, he has chosen not to get engaged in significant issues involving the M.T.A.'s operations," the expert said.
Mr. Kalikow is a distinctly New York figure—a real-estate scion—and Mr. Toussaint is another distinctive type, though one absent from New Yorkers' consciousness for more than a generation. The closest approximation to Mr. Toussaint—who speaks softly, with a lilting accent—was his most famous predecessor, "Red" Mike Quill, who was as garrulous as Mr. Toussaint is sober, but whose County Kerry accent was just as strong as Mr. Toussaint's West Indian one.
Quill is best remembered for shutting down the city for 10 days in 1966, but part of his myth centered on his self-proclaimed membership in the Irish Republican Army during the Irish war of independence from 1919 to 1921, and the subsequent Irish civil war. The story of Mr. Toussaint—a larger-than-life figure for several years in labor circles—has similar contours. He grew up in Trinidad's post-independence struggle and spent two decades in train tunnels waging a personal battle with the M.T.A.'s management. But those who know him say his ideological roots are in the labor and political movements of his Caribbean youth.
"Roger is a product of a great intellectual legacy of the Caribbean, and the radical Trinidadian intellectualism that has always been there," said Brandon Ward, a Guyana-born official at the Department of Transportation who heads the New York chapter of the group Blacks in Government. "He reads. He's not a floozy."
Mr. Toussaint hardly has time for interviews right now. But in an account he gave to The Village Voice in 2000, Mr. Toussaint described growing up the eighth of nine children in a one-room house.
Rebel With a Cause
"He spent his youth battling a neocolonialist regime, marching with army rebels, hiding trade-union organizers," The Voice's Tom Robbins reported. "At the age of 17 he was arrested and expelled from high school for writing slogans on the walls. His incendiary message? 'Free Education,' he wrote in one spot."
The movement he joined sought to oust the black successors to British rule, which ended in 1964. The opposition, known as the "Black Power" movement, considered the ruling regime too close to its colonial predecessor, said Philip Kasinitz, a professor of sociology at the CUNY Graduate Center and the author of Caribbean New York: Black Immigrants and the Politics of Race.
The movement, which peaked around 1970, "was Trinidad's version of the worldwide student-radical movement at the time, advocating, to some degree, socialist goals," Mr. Kasinitz said. "It really did look for a while like a possible coup, though it sort of fizzled out. Think Paris, May '68, but with calypso music."
Mr. Toussaint, now 49, would have turned 14 in 1970; he left in 1974, and has said that the political climate forced him out. Mr. Kasinitz noted that a dissident would have found it hard to gain admission to a university or to find a good job.
Here, Mr. Toussaint took classes at Brooklyn College before running out of money and finding work eventually as one of many Caribbean-born track cleaners for the M.T.A. He came up as an independent force in a union largely run by African-Americans who had ousted their Irish predecessors, and which had reached a comfortable accommodation with management. Mr. Toussaint's relationship with the M.T.A., by contrast, was bitter even by the standards of the poisonous relationship between the agency and its workers. He was fired—because, he said, of his union activity—and the M.T.A. then assigned a private detective to follow him. In 2000, Mr. Toussaint was elected union president while contesting his dismissal. With his election, his more militant and heavily (though not exclusively) Caribbean faction took over the union.
"You can't help but be somewhat reminded of Mike Quill," said Mr. Kasinitz, "both in the uncompromising militancy and the fact that, just like Mike Quill drew on this I.R.A. background, Toussaint certainly ideologically draws on the militancy that comes out of that Caribbean Black Power struggle background."
As the strike began in earnest, Mr. Toussaint was standing with few allies and with his international union trying to remove him. Mr. Toussaint is staking his career and his union's future on some of the intangible factors—"dignity" is the word he keeps using—that have always driven his career, but which seem almost totally foreign, or archaic, in 21st-century labor negotiations.
"These people feel they're so ill-treated by the M.T.A. that they're willing to jeopardize their financial stability and that of their families to take a stand," said State Senator Diane Savino, a labor-movement insider who represents parts of Brooklyn and Staten Island. "This is obviously not about money. It's about dignity."