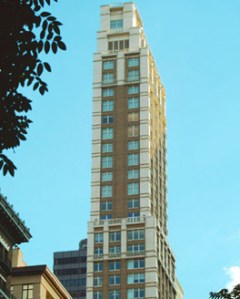 French billionaire and Christie's owner François Pinault understands the luxury buyer's motivations. And with numerous holdings in the art and fashion worlds, Mr. Pinault has finally lured a wealthy buyer for his $25 million duplex apartment at 515 Park Avenue.
Since May, the lavish apartment has been listed (for the same asking price) with Mary Rutherford of Brown Harris Stevens. Ms. Rutherford confirmed that the apartment is under contract, but she declined to discuss the owner. (The apartment was purchased in 2000 through a corporate entity, Kerusa Company L.L.C).
Located on the 40th and 41st floors, the 4,916-square-foot condo features a private elevator, an 18-foot-tall gallery and translucent pocket doors. The lower floor includes a dining room, library, eat-in kitchen and powder room. Upstairs, there is a master bedroom with a private study and bathroom as well as two additional bedrooms.
But that's not all the buyer will get for $25 million. In addition, the deal includes a 454-square-foot studio down on the third floor, ideal for either a housekeeper or a friend visiting the city. (Mr. Pinault could have used it for his good pal, French President Jacques Chirac. But did he?)
While Mr. Pinault may be best known locally as the owner of Christie's, the high-school dropout also controls various luxury-goods companies and runs an investment firm; he's amassed a personal fortune of $4.7 billion, according to Forbes. An avid collector of contemporary art, Mr. Pinault ranked third on ArtReview's recent list of the most powerful people in the art world, right behind Damien Hirst and Larry Gagosian.
And speaking of powerful people, some prominent residents of 515 Park Avenue over the past five years have included record producer Antonio (L.A.) Reid, ousted Vivendi Universal chairman Jean-Marie Messier, EMI chairman Alain Levy and New Jersey Governor-elect Jon Corzine—whose 5,000-square-foot apartment has already changed hands three times since he purchased it from spec sheets in 1998.
Yue-Sai Kan Wants $42 M. for Townhouse
Last June, Chinese cosmetics mogul Yue-Sai Kan spent $16.2 million on the 23-room townhouse next-door to her opulent home at 6 Sutton Square, as first reported by The Observer.
Instead of undertaking substantial renovations to build a palatial mansion, or even keeping one of the houses for herself, Ms. Kan decided to sell both together for a whopping $42 million!
"She was thinking of changing from one [townhouse] to the other," said her broker, Barbara Evans-Butler of Stribling and Associates. "Now her television program in Shanghai is doing so well."
That's understandable, since Ms. Kan is often referred to as the most famous woman in China.
Now that Ms. Kan is definitely leaving, the deep-pocketed buyer who wants to cozy up next to neighbors like United Nations Secretary General Kofi Annan and architect I.M. Pei has yet another pricey option. While the combined property is still going for $42 million, Ms. Kan is now offering the two townhouses individually: No. 6 is asking $17 million, and No. 8-12 can be had for $25 million.
James Turrell Drops $2.35 M. in Gramercy
For almost three decades, artist James Turrell has spent much of his time in Arizona's Roden Crater, transforming the extinct volcano into an observatory. While Manhattan may not offer the same natural beauty as the desert, Mr. Turrell has found one eye-catching oasis in the urban landscape.
The renowned artist recently dropped $2.35 million on a Gramercy Park co-op apartment, according to deed-transfer records. With a contract signed in mid-July, the deal finally closed three months later.
"It's a wonderful house," said Benita Cohen of the Corcoran Group. Five years ago, Ms. Cohen showed Mr. Turrell around town when he first considered buying. More recently, Mr. Turrell expressed interest in purchasing an apartment that the broker had listed for $2.75 million, but that floor turned out to be under contract at the time. Instead of heading back to that enormous crater empty-handed, Mr. Turrell found another apartment in the same building for $400,000 less. "He only wanted the Gramercy area," said Ms. Cohen.
And now he has it! Located in an 1840 brownstone, the two-bedroom, two-bath apartment includes two wood-burning fireplaces, a laundry room, a formal dining room and—best of all—a key to the park.
Rajan Khanna, of Brown Harris Stevens, represented Mr. Turrell; Gloria Johnson, of Stribling and Associates, represented the seller.
The 62-year-old land artist and sculptor lives primarily in Flagstaff, Ariz., but exhibits his work throughout the world.
Recent Transaction In the Real Estate Market
Upper East Side
5 East 76th Street
Six-story, 10,000-square-foot townhouse.
Asking: $13.5 million. Selling: $12.5 million.
Taxes: $48,000.
Time on the market: one day.
THAT'S A LOT OF EARLY-BIRD SPECIALS! A real-estate developer who's more accustomed to building skyscrapers and office towers is taking a chance on comparatively low-lying structure. After three years spent searching for the ideal home, he purchased this six-story townhouse—currently broken up into office and residential units—with the grand intention of creating a large, single-family residence. "Even if he puts several million into it, it's still a steal," said Richard Steinberg, senior managing director of Warburg Realty. According to Mr. Steinberg, the buyer was only the second person to walk through the doors before an offer was made. The townhouse features 14-foot ceilings, a garden, and a grand entrance hall and staircase. In the six months that it took for the deal to close, the seller may have noticed that trophy homes on the Upper East Side were selling for more money. But after 46 years living at that address, she was more than ready to settle down in Florida—with $12.5 million in spending money!