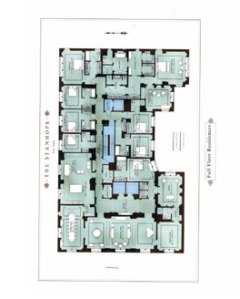 As residential prices continued to soar in 2005, developers hungry for new product opened up a new frontier: Manhattan's iconic, old-school hotels.
But not every grand hotel would do. And, as always, location proved to be the driving force.
Although the Algonquin was sold last September, high-end buyers were unlikely to picture themselves basking in the ambient neon glow of nearby Times Square or to pay through the nose for views of divey West 44th Street; Dorothy Parker's famous watering hole, under new ownership, would remain a hotel after all.
Not so for the Stanhope, the hotel across from the Metropolitan Museum of Art, which was approved for conversion to apartments last month. After almost eight decades as a hotel, the Rosario Candela–designed building at 995 Fifth Avenue is opening its rarefied doors to luxury buyers.
Because the Stanhope enters the market along with the Plaza, it is often lumped together with its down-the-street (and down-market?) cousin.
But unlike the Beaux-Arts structure hovering over Central Park South, the Stanhope has significantly fewer units—only 26 to the Plaza's 181.
And the Stanhope's prices are among the highest in the city, with units ranging from $10 million to $47 million (the highest-priced penthouse at the Plaza is asking $32.5 million, and price points begin in the low single-digit millions).
In a 20th-floor suite at the nearby Regency, exclusive brokers Sharon E. Baum and Deborah Grubman, both senior vice presidents at the Corcoran Group, have been taking individual appointments with prospective buyers. One of the Stanhope's biggest selling points, according to Ms. Baum, is the sheer amount of space available for a Fifth Avenue building. On floors 2 through 12, there are half-floor units of approximately 4,118 to 4,357 square feet, and full floors available on 14, 15 and 16 with as much as 8,360 square feet. In addition, there's a 7,067-square-foot duplex penthouse occupying the top two floors, with almost 5,000 square feet of outdoor space.
In July, the conversion plan was submitted to the State Attorney General's office and, after review, was accepted for filing on Nov. 22. However, contrary to previous reports, the Stanhope will technically not be a condominium, because the land underneath is still owned by the estate of Sol Goldman, formerly one of the city's most powerful landlords, who passed away in 1987.
"It is a land lease, but it is a 150-year land lease," said Ms. Baum. "Basically, it's a co-op with condominium rules. Everything you can do in a condominium, you can do here." That includes purchasing an apartment through a corporate name or selling without any of the usual co-op board hassles.
In the mid-22nd century, the buyers' great-grandchildren may get thrown out onto Fifth Avenue, but Ms. Baum doesn't believe this will deter those now looking for "the closest thing to building a custom home" available within the Stanhope's landmarked façade. In the makeshift (albeit very refined) sales office, potential buyers can view numerous choices for their "completely finished" residences and peruse monographs by the project's architect, John Simpson—who's best known for his extravagant addition to Buckingham Palace.
"If John Simpson is good enough for the queen," Ms. Baum recalled the developer, Gary Barnett of Extell, saying, "then he is good enough for us."
"In the early 20th century, New York was leading the field in style, and setting the tone for combining the traditions and elegance of the past with a new modern way of looking at things," said Mr. Simpson from his office in London's Bloomsbury district. "It is actually doing that again that is interesting—a rebirth again almost 100 years later."
In late November, Mr. Simpson crossed the pond to show renderings to Manhattan's high-end brokers at "sort of an afternoon tea," and the Stanhope's listings appeared in the computer system shared by brokers around Dec. 8.
"It's a classic pre-war building in a nice location," said luxury broker George van der Ploeg, of Prudential Douglas Elliman.
"This will work for someone that has a high income, but does not have the net worth to get into 834 Fifth or 820 Fifth or 920 Fifth. It will also appeal to people who just can't find that size elsewhere."
And apparently size matters a great deal to at least one possible buyer.
"We have one person who is very interested in taking two of the full floors," said Ms. Baum, speaking of a potentially record-breaking $60-plus-million palace. "So if you had two of those floors, you would have 16 bedrooms and 20 bathrooms, and that would give you over 16,000 square feet!"
Over the past two decades, before the Stanhope was chopped up for wealthy residential buyers, the hotel changed hands several times. It was owned first by Japanese investors, then by a partnership that included 173-176 Perry Street developer Richard Born, then by Hyatt Hotels (with the Met even once considering snatching up its neighbor across Museum Mile).
In the late 1980's, Japanese investors dropped millions on prized Manhattan properties such as Rockefeller Center. In 1988, Tobishima Corp. purchased the Stanhope for $76 million, but after less than a decade, the company sold it for a loss to a partnership that included Mr. Born, Ira Drucker, and Colony Capital of Los Angeles. The price: a paltry $15 million.
"We turned it into a profitable enterprise," said Mr. Born. "When we bought it, it was losing about half a million a month. When we sold it, it was making $300 thousand or $400 thousand a month profit." Mr. Born said that back then (when the recent housing boom was a mere twinkle in brokers' eyes), the most financially sound option was to utilize the Stanhope as a hotel.
Despite moving the hotel's finances into the black, Mr. Born's partnership put the property on the market in the summer of 1998, reportedly seeking around $80 million. However, before a well-known hotel chain would snatch up the building—providing Mr. Born and his partners with a sizable profit—the Met expressed some interest.
In March 1999, broker Bridget Restivo of Alice F. Mason Real Estate (formerly of Restivo International), presented an idea to David McKinney, then-president of the Met. "I went to the Met with the idea of 'Would they be interested in the building?'" said Ms. Restivo, who learned that the idea was later floated to director Philippe de Montebello.
"I am sensitive to my friends who are curators and directors at the museum," said Ms. Restivo, who holds a Ph.D. in art history from Columbia University. "They were in need of more space for their staff, and [the Stanhope] wasn't meant to be an exhibition area." (Ms. Restivo also offered the property to the Lycée Français, another institution that has had space issues over the past few years.)
"We accepted the advances to have a look," said Harold Holzer, the Met's senior vice president for external affairs, discussing the museum's "brief flirtation" with buying the Stanhope.
"The proximity is very enticing; it's a building we all loved," said Mr. Holzer. "It's easy to go back now and say that's something we should have done. It's spilled milk for us at this point. And very expensive spilled milk."
Although Mr. Born also thought it was "a really interesting" proposal, the Met didn't buy it, and the Stanhope was sold to Hyatt Hotels for a reported $65 million.
After a few more years as a hotel, the Stanhope was then sold for a reported $79 million to Mr. Barnett, who has made headlines over the past year with his company's $1.76 billion purchase of a 77-acre property on the West Side from Donald Trump and a consortium of Hong Kong investors, as well as for making a competitive bid against Bruce Ratner for the development of the Atlantic Avenue rail yards in Brooklyn. To convert the property to a leasehold co-op, Mr. Barnett made a deal with Allan and Jane Goldman (who own the land), and will also be developing a luxury tower with Goldman Properties on the Upper East Side.
But Mr. Barnett decided against discussing the leasehold co-op situation. "On the 150-year lease, get back to me in 2140 and we'll see where we stand," said Bob Liff, a spokesman for Mr. Barnett. However, the State Attorney General's office was more forthcoming.
"Under a leasehold co-op, there are usually provisions in the ground lease for rental increases under that lease," said Ken Demario, a section chief handling real-estate matters in the Investment Protection Bureau. "The rent is usually increasing as the value of the leasehold is decreasing. At the point which it has 50 years left, it is going to be worth less than when it had 150 years left."
So potential buyers will have to consider the leasehold as well as a few other issues that have made one Upper East Side broker hesitant.
"On the upper floors, the room dimensions lack volume," said the high-end broker. "You need 11- or 12-foot ceilings. It's about nine feet; it comes down on you like a tunnel."
And the broker continued to discuss an issue often floated around the Fifth Avenue neighborhood: the less-than-appealing roof of the Met. On lower floors, according to this broker, "you get the frieze of the museum—like being in Paris facing the Louvre." But the view from the higher floors is unsightly—widows' walks and venting meandering among gravel planes.
On the other hand, the higher floors do offer views of Central Park, and the amount of space available on Fifth—without the rigors of board approval—may be enough to entice wealthy buyers.
And if a full-floor apartment topping 8,300 square feet isn't enough, there are also nine studios being offered on the first floor that range from 398 to 500 square feet and cost around $1 million. However, Ms. Baum stressed that the studios are only available to the buyers of higher floors, because "you can't come and live in the Stanhope in a studio."
For Mr. Simpson, who completed one previous residential project in Manhattan—the condo conversion of the Carhart Mansion on 95th Street—the vast amount of space desired by wealthy New Yorkers is something that he hasn't faced in residential developments back home (the queen notwithstanding).
"What's special about Manhattan is the very large apartment," he said. "Most people in England, when they get to that sort of size, will buy a house." When told of a possible combined unit of over 16,000 square feet, Mr. Simpson laughed heartily and, in his English manner, aptly summed up the top slice of Manhattan's luxury market: "Goodness gracious!"