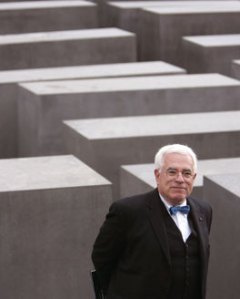 Richard Meier gazed down through his round, black-framed glasses at a partially completed drawing, which was fastened to a long, flat desk by masking tape. "I started at noon, but I haven't gotten very far," he said, sounding like a student empty-handed of homework. He had taken off his black suit jacket to work on the sketch for his immense East Side project, which will plant four of his residential buildings with a mixed-use commercial tower by Skidmore Owings and Merrill on both sides of First Avenue, between 38th and 41st streets.
"Everyone else works on a computer," he said. "I make drawings. There's no computer in this room. They're all out there." He motioned outside, where his many colleagues were spread throughout the ultra-modern office, with detailed models displayed on slender black pedestals encased in glass. His own office is hyaline, with architectural monographs lining the bookshelves and a polychrome Frank Stella sculpture jutting off a smooth, white wall.
"The process has changed as a result of the computer. Because, unfortunately, I do a drawing, and somebody puts it on a computer the next day. I would prefer to work over drawings a little longer before it goes on the computer. Because once it's on a computer, it tends to look more finished than it actually is. So then I rework it by hand and send it back."
In a few hours, Mr. Meier would be heading to Denver on business, so time was of the essence.
"I'm very happy to do more work in New York City than ever before," he said before bending back over the drawing. "Let's hope that this is just beginning, and not ending."
ON A SATURDAY AFTERNOON 36 YEARS AGO, Mr. Meier and four other architects—Michael Graves, Peter Eisenman, Charles Gwathmey and John Hejduk—escaped Cooper Union, Princeton University and their budding practices to meet at the Museum of Modern Art.
"We were from New York or thereabouts, but we still hadn't built significantly in New York," said Mr. Graves, who viewed many new buildings of the time as "largely mundane and repetitive."
"It began because we decided to have a meeting among ourselves as young architects," Mr. Meier said. "Each person would come and show one project and talk about the project. A group that was maybe a dozen people would comment on it—like we did when we were students."
"Conversation about architecture simply didn't exist on a public platform," said Mr. Graves. "Most of us were recently out of school. There's really nobody to talk to. There was no forum. There was no A.I.A. group. There were almost no lectures in college by other architects."
Originally, the group planned to create a simple booklet to commemorate the event, with each architect having a few pages. But three years passed, and when the idea was kicked around again, the material needed to be updated. It was, instead, expanded.
In 1972, Madison Avenue bookseller George Wittenborn—from whom "we all bought architectural books," Mr. Meier said—published the influential tome.
"On the spine," said Mr. Graves, referring to the book's minimalist black-on-white book jacket, "it just said Five Architects. On the front, it said our names alphabetically."
"I remember when it all began, because I did a piece in The New York Times in the 70's"—November 1973, in fact—"shortly after the book was published," said Paul Goldberger, the Parsons dean and architecture critic for The New Yorker. "When it was published, it was much talked about at a time when the architectural culture was just waking up." In that paper, the architects' five headshots were lined up, rather like rock stars, alongside photos of their radical visions of modern housing—both high-end and low-income.
Since a gang, so to speak, had cohered and gotten some recognition, it was only logical that rival factions would start warring. A throw-down debate was held at UCLA between the New York Five and their chief rivals. These rivals, including Robert A.M. Stern, were popularly called the Grays, while the Five were called the Whites.
"Five Architects [was] meant to be just a memorandum, a memento of the occasion," said Mr. Meier. "And it became a thing. But there was no intention to put out a polemical manifesto. It just happened."
THE LAST TIME THE FIVE WERE TOGETHER was at Mr. Gwathmey's 60th birthday party at the Four Seasons, in 1997. Although Mr. Hejduk passed away five years ago, the remaining four—who range in age from 67 to 73—have proven continuously successful with work both conceptual and commercial.
In the three decades since the publication of Five Architects, the New York Five have designed museums, convention centers, memorials, theoretical tracts and chrome toasters. The onetime renegades—like so many artistic provocateurs before them—have become the establishment. "Each of them took a different path," said Mr. Goldberger. "Not only did they take a different path in terms of their architecture, each of them was a different person, with different motivations and issues."
"All the architects have done what I think is significant work," said Mr. Graves. "You can't say that one architect dropped by the wayside."
For Target shoppers, Mr. Graves is best known for 800-plus designs—designated "works of art that work"—that include everything from a stainless-steel martini shaker to a ceramic double dog-bowl set.
Of course, despite his labors for Target, Mr. Graves never stopped building. His work includes notable projects like the Walt Disney headquarters in Burbank; his firm is currently building in Philadelphia, Houston and Washington, D.C.
And Mr. Graves has also faced what most would consider a career-ending ailment. In February 2003, he was traveling extensively, lecturing and drawing, when an untreated sinus infection spread and paralyzed him from the waist down.
"There are things about my body that you would never think of," said Mr. Graves. "None of it has kept me from doing architecture. But when I am drawing, I am very uncomfortable."
He is receiving treatment, he said, "to prepare myself for the day that stem cells will be legal." Despite these difficulties, he plans to fly to Japan for the unveiling of an architecture school that his firm designed.
For many years, Mr. Eisenman's main achievements were within academia, and his monograph on Giuseppe Terragni was published in 2003. He became better known in America with the completion of Ohio State University's dizzying Wexner Center for the Arts in 1989—and last May, Mr. Eisenman's allusive and subtly dizzying Holocaust memorial opened in Berlin, built on five acres of land near the Brandenburg Gate.
Mr. Gwathmey's career, on the other hand, took a markedly different direction from his theory-minded friend.
"I think Gwathmey's work was always the farthest from theory anyway," said Mr. Goldberger. "Gwathmey, who was always the most building-oriented of them, began to build more and more."
Most discussed among his recent work is the Sculpture for Living at Astor Place, which Mr. Goldberger criticized harshly in The New Yorker last May. The 21-story undulating glass building has been offering "architectural lofts" to luxury-condo buyers and infuriating some longtime East Village residents, who still haven't come to grips with the N.Y.U. students passing in and out of Starbucks.
And then there was Mr. Hejduk.
"John Hejduk is really sorely missed," said Mr. Graves, speaking of the late architect who built the least, but who spent decades teaching. "He was simply an amazing architect. He would do absolutely rational things [and], the next moment, he would do something rather irrational and turn it into something fresh and workable. I loved his take on architecture."
THE REMAINING FOUR MEMBERS REUNITED JUST SIX MONTHS AGO, as jurists at the American Academy of Arts and Letters. Mr. Meier and Mr. Gwathmey even work three floors apart in a 10th Avenue building. They also pass each other on the circuit. "Once in Texas somewhere, the person [presenting] after me was Charles Gwathmey," said Mr. Graves. "I walked by his room, and I saw him scrambling around to get things ready. I walked in and said, 'If Charlie's late, I can start his presentation.'"
Sometimes they compete for commissions. Mr. Graves and Mr. Eisenman both submitted for a redesign of Rutgers University. "A whole campus would just be glorious," said Mr. Graves. "In my old age, I'm starting to get master plans for cities and campuses."
Mr. Meier's monster East Side project, however, isn't enough for him. Nor was his 13-year ordeal, the billion-dollar Getty Center in Los Angeles; nor his 11-year ordeal, the Ara Pacis museum, the "first new building since Mussolini" in Rome's historic center; nor the three glass-and-steel towers on the West Side Highway at Perry and Charles, the newest of which sold a duplex penthouse for $20 million.
He still dreams to build a skyscraper.
"Often I question, 'Why am I doing this?'" Mr. Meier said. "I guess architects are eternally optimistic. You think that somehow you will prevail. It just takes stamina."