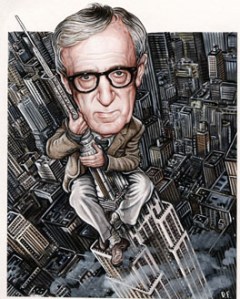 The great editor Clay Felker, who invented so much of what drives this newspaper and so many magazines in New York City, liked to refer to New York as the "City of Ambition," a phrase created by his friend Tom Wolfe. What is the City of Ambition? Exactly what you're thinking: the astonishing combination of hormones, intelligence, drive, audacity and passion in which you live. It is a place defined by a sense of shaking the world and not caring whose feelings are hurt or gizzards devoured.
All of which was once thought to be the purview of youth. The rap on New York, in fact, at the turn of the 20th century was that the city of noise, money, sex-heavy bass and the Internet belonged to post-adolescent hordes personified in Page Six and on Thursday-night sitcoms.
But something changed, and only part of it was Sept. 11. For reasons that will take historians and sociologists years to analyze, power got older, the pursuit of pleasure younger; adults continued running the show, children danced their asses off in clubs. Youth, which had made such a hit in this city in the 1960's and 1990's, deferred. Youthful ambition, that cliché of the 1980's, evaporated. Perhaps some of it was Mayor Rudolph Giuliani's valiant stewardship after 9/11, and a general feeling that it was better to let people who looked like Ray Kelly run the show. In a city under siege, the venturesome had to be put on hold.
And perhaps some of it had to do with the sense among those in power that they were needed, that they weren't done.
Whatever it was, it made a difference: New York remained the City of Ambition, but the ambitious were older, and New York—where the young once ate seniors for lunch—found itself being run by a new, grizzled, tenacious protagonist: The Power Geezer.
In previous generations, the term "geezer" was to be avoided; it summoned the man on the Monopoly board. But the new Power Geezer was a person of drive and high purpose, someone achieving what the legendary psychiatrist Erik Erikson called "generativity": the strength, wisdom and ability to guide the next generation.
At the age of 70 or 75, he or she has the energy, know-how, history, insight, perspective and ability to make things happen.
If you haven't lost your fastball, why give up the game?
You'll find the Geezers distinguished by both their inability to relinquish power and their general love of life. Sometimes they'll let their children run a division of their corporation, but they do it with all the confidence of a naval commander giving the battleship to a 6-year-old with a sailor's cap and party horn. Give up the wheel? And the table at the Four Seasons? For what? Are you mad? Haven't you read King Lear?
Take a look around this town. Look at George Soros, Geezer Supreme; Mike Nichols, Geezer First Class; Si Newhouse, Super Geezer; Mel Brooks, Geezer Supreme. Look at Ralph Lauren, Sandy Weill, George Steinbrenner, Chita Rivera, James Wolfensohn, Phillipe de Montebello, Yoko Ono, Cindy Adams, Karl Lagerfeld, Stephen Sondheim, King Kong, the Morgan Stanley "Group of Eight," Joan Didion, Sumner Redstone, Elaine Stritch or, needless to say, Geezer of the Year … Rupert Murdoch.
Look at some of our great Geezer Emeriti, like David Rockefeller, Kitty Carlisle Hart or the magnificent Brooke Astor.
Or some of our Baby Geezers, like Knicks coach Larry Brown, hobbling, full of beans, at 65 ready to build a new life for himself and his team.
There are Geezers and there are Dinosaurs. Dinosaurs may sleep their afternoons away, then sip martinis at 5; Geezers are sitting up late, thinking about sunrise on the East River. What is the main prerequisite for a Geezer? Listen, young man: optimism, ambition, pleasure in daily routine.
This issue is devoted to the Power Geezers of the greatest city in the world. Geezers who are committed to comprehending the past and building a future that is "generative," and who have achieved, as well, that other most important of Eriksonian assets, wisdom. Geezers spawned by the 20th century, who are sculpting the New York of the 21st.
Of course, F. Scott Fitzgerald—who would have been a wonderful Geezer himself given the chance—wrote that "there are no second acts in American lives." The Power Geezers, to a man and a woman, would not disagree. Their game plan is simple: Act III. And send the understudy home.
Hail, Geezers! Can we have a raise?