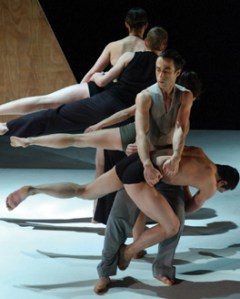 A lot of people have a lot of faith in Karole Armitage. They see her as bold, inventive, indefatigable. America isn't working out? There's always Europe. Ballet? No? Go modern. Keep going! Show 'em!
I see her as trendy, imitative. Try this, try that—dance is a smorgasbord, a salad bar, so stick a little of everything on your plate. Armitage's approach isn't so much "Anything you can do, I can do better," as "Anything you do, I'll do too." Because she's intelligent and can put steps together, I keep hoping she'll put them together to some purpose, but for me that purpose never reveals itself. Or to put it another way, I don't detect a language that's recognizably hers. I see efficiency, I see conviction, but I don't see an interesting talent.
Currently, her company—irritatingly called "Armitage Gone! Dance"—is at the Duke with a long, lowercase piece called in this dream that dogs me. The workable music is by Annie Gosfield, credited as the "Composer/Sampler." The décor—a long silver pipe snaking across a red backdrop—is by David Salle. (Earlier collaborators include such other A-list names as Christian Lacroix, Jean-Paul Gaultier, Madonna and Jeff Koons. Get the picture?) There are five principal dancers, presumably chosen to look as unmatched as possible—they come from five different worlds. And a small group of very young guest dancers turns up at the end, all eager for the treat.
At the start, the handsome Theresa Ruth Howard dominates the three leading men one after another and all together—the movement is urgent, aggressive, suggestive, picked up from anywhere and everywhere, including tai chi, athletics, jazz, generic Eurodance. The second (and best) part features the cellist, Felix Fan, stripped to his sweatpants and seated in a chair on the stage, while the highly experienced Megumi Eda—a kind of steely, very thin She Who Must Be Obeyed—trifles with him. The final humiliation: She snatches his music away. (That'll fix him!) Then everyone gets together, including the new kids in town, in an energized but pointless finale.
Years ago, late one night, I was surfing cable TV and encountered a solo woman dancing what looked like Balanchine—or, rather, like very bad Balanchine pastiche. It turned out to be Karole Armitage. She's still dropping bits of Balanchine into her work, as well as bits of Cunningham (she worked with them both, before setting out to conquer Europe), but if she ever understood what they were about, she's forgotten. I salute her ambition, I salute her range, I salute her nerve. But if we're counting on her to save ballet in America, we're in even worse trouble than I thought we were.
Meanwhile, at B.A.M., Sasha Waltz—an echt European who reversed Armitage's trajectory, spending time in New York during the 80's—presented seven dancers in a revelatory piece to five of Schubert's Impromptus and four of his songs. The surprise was that post-Pina German dance, concepts and all, can speak an original language, can be witty, can be moving … can be that old-fashioned thing, beautiful.
Impromptus is, first of all, striking in design—two tilted white platforms raised above the stage in unconventional juxtaposition, and a big floating gold parallelogram hanging behind them, from which dancers emerge and behind which they recede, and which eventually takes on a pendulum life of its own. The lighting, too, is exquisite in itself and wholly sensitive to the mood of the music and the dances.
One man, then another, comes forward and starts convulsing; at first you think you're in for Euro-angst if not Euro-trash—but no, they're too interesting. Then, when a man and a woman begin to dance together, you recognize immediately that Waltz has found a distinctive new vocabulary for suggesting human relationships—and when was the last time a choreographer could make that claim? Everything is fluent, intense and natural (as with all superior choreography, every movement seems inevitable). The way the dancers burrow into each other, partner each other in unprecedentedly complicated lifts that yet have no odor of sensationalism, tenderly use their feet to push off each other's bodies—it all adds up to a new way of looking at how two people can be together. Even when the tone is sorrowful or aggressive, you're swept joyously along—to begin with, of course, by Schubert's glorious music, then by Waltz's response to it. She may not choose to think of herself as deeply musical—in her statements, she seems more interested in ideas (you can take a dancer out of Europe but you can't take Europe out of a dancer)—but she can't help herself: Schubert got to her.
The first third of Impromptus is almost totally successful. Then things get more jokey. I don't think I'd like to revisit the passage involving rubber boots filled with water, or all that body-painting and floor-smearing, though the scene in which two women strip (tactfully) and immerse themselves in a pool is unexpectedly novel, elegant and serene. (Those two lovely naked backs!) But even when concept takes over, Waltz's control and intelligence make things palatable. Impromptus is 70 minutes long, and barely long enough.
It's a far cry from the last Waltz epic to turn up at B.A.M., Körper (2002), with its turgid narratives and leaking body fluids. I fear that the heightened lyricism of Impromptus may prove to be a detour for Waltz, but they can't take this one away from me.
As for The Nutcracker, yes, it's that time of year. So much of the first act is set in stone that individual performances don't affect it greatly, except for Herr Drosselmeier—who can be vaguely ominous (Andre Kramarevsky) or jolly-old-elfish (Robert La Fosse, sneaking a little swig in the middle of the party scene)—at least as long as the leading children are unaffected and charming. This year, all of them were good, and Isabella DeVivo was particularly lovely—her movement naturally elegant and full of feeling.
There were two important Sugarplum performances. One brought Jennie Somogyi back to the State Theater in her first major role since the dreadful injury that had kept her away for nearly two years. It was a big relief to have her with us again, even if she isn't yet showing all her self-possession and command; the musicality and phrasing were there, but not yet her full amplitude. As for Teresa Reichlen in her debut performances, she's a more natural Dewdrop than Sugarplum—she's a jumper more than a turner—and she was a touch bland. (Someone might explain to her that she's meant to react to the Little Prince's miming of his defeat of the Mouse King.) But her dancing is full-scale, and her manner is appealing and genuine—the Smiling Sickness hasn't struck. She and her cavalier, Ask la Cour, made a notably handsome couple, both of them tall, blond and slender. He's not very strong and not much of a virtuoso—he's not going to be the quick solution to the Company's lack of male stars—but he's an attractive presence and an attentive partner.
Some interesting performances: Melissa Barak's Coffee, not at all the standard big-girl vamping, as if in some Maria Montez harem movie, but actually dancing the music. (She's a choreographer, after all). Antonio Carmena, giving an extra (and, again, musical) snap to Tea. Sterling Hyltin, bringing crisp style and charm to Marzipan. And, most important, little Tiler Peck making her debut as Dewdrop. She's dark, petite, a smiler (be careful, girl), but the important thing is that her dancing is clear and articulate—nothing exaggerated, everything in just proportion. Who knows how far she can go, but she's already come a long way—and fast. Watching her was a particular pleasure after observing how self-conscious that powerhouse Ashley Bouder has become since her early triumphs in the role. She's begun to exaggerate her punctuation and call attention to her remarkable technical prowess. Please, someone, stop her before she turns into Hurricane Ashley, laying waste to everything in her path.