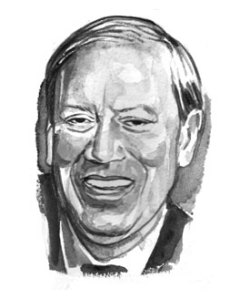 Fast away the old year passed, and none too soon for political junkies who found last year's Mayoral proceedings something less than exciting. By contrast, 2006 offers rich opportunities for the scheming, backstabbing, character assassination, duplicity and insincerity that are the hallmarks of New York politics.
Two statewide offices have vacancy signs hanging on the door, inspiring a two-party scramble for Governor and State Attorney General. A handful of Republicans would like to succeed George Pataki, whose 12-year term in Albany will end with neither bang nor whimper, but a roll of the eyes and a shrug of the shoulders. Like his predecessor, he has remained in Albany too long to accomplish any good, but at least he realizes that the time has come to go.
After more than a decade of controlling the Governor's office, the state Republican Party is disorganized, underfunded and dispirited—not unlike the Democratic Party's condition after a dozen years of Mario Cuomo. Like a miserly patriarch convinced that he will live forever, Mr. Pataki has made little effort to prepare a succession scenario. There is no designated heir; there is no protégé.
The result is a scramble that threatens to become unseemly, with sizeable portions of the G.O.P. throwing their support behind a rich, WASP-y New Englander who wouldn't be caught dead carrying his belongings in a carpetbag but whose knowledge of New York remains subject to question.
William Weld holds the distinction of having been a Governor, which is more than any other candidate can say. Then again, he bailed out as the chief executive of Massachusetts after about six years, hoping to trade his office on Beacon Hill for the U.S. Ambassador's residence in Mexico City. He wound up never getting the job, because Jesse Helms thought he was soft on drugs. But his abrupt departure left some in Massachusetts to wonder about his staying power. Then again, in New York, a short attention span might well be packaged as an asset, considering the lethargy that has accompanied the long terms of its most recent Governors. While there's a certain poetry lacking in the slogan "Vote for Bill Weld: He Won't Stick Around Too Long," it may yet have some appeal to voters bored by the endless status quo of three-term Governors.
Some of those who have resisted Mr. Weld's charms have their sights sets on a free-spending billionaire—yeah, another one of those. The region is littered with businesspeople turned politicians, so Thomas Golisano, whose net worth may well be higher than that of his struggling hometown of Rochester, would fit in with the likes of Michael Bloomberg, Jon Corzine and Frank Lautenberg. Should he decide to compete for the G.O.P. nomination, however, Mr. Golisano will have to overcome the hostility of Mr. Pataki's remaining loyalists. Mr. Golisano, in his three previous attempts to run for Governor on the Independence Party line, hasn't been kind to Mr. Pataki—and among a certain kind of politician, principle is always subject to change, but vengeance is forever.
Two of the more interesting figures in this year's scramble are former Assembly Minority Leader John Faso, an articulate and serious upstater, and former Secretary of State Randy Daniels, a onetime Democrat who has quietly attracted some smart operatives who believe the G.O.P. has lots of reasons to embrace an African-American conservative convert.
Because Mr. Faso and Mr. Daniels will have trouble getting their share of the spotlight, they can be counted on to speak truths that will frighten others. Their campaigns, then, will be worth watching.
In the race for the other vacant seat, the job of State Attorney General, the Republicans are backing a candidate whose spouse is a convicted felon. Perhaps this is not what Republicans mean when they say that Jeanine Pirro is a natural for the job of top state prosecutor. Then again, as the wife of a man who has done time, Ms. Pirro does bring a certain perspective to law enforcement that none of her Democratic challengers can match.
Meanwhile, the nomination Ms. Pirro originally sought—that of Republican sacrificial lamb for the U.S. Senate against Hillary Clinton—remains unfilled. Edward Cox, the son-in-law of Richard Nixon, had expressed interest before Mr. Pataki, in another display of intellectual lethargy, endorsed Ms. Pirro for the Senate.
Here, then, is the state of the Republican Party 11 years after Mr. Pataki defeated Mr. Cuomo: The party establishment wants to rally around a former Governor of Massachusetts; holdouts want to support a man Mr. Pataki despises; in the State Attorney General's race, the party seems delighted to back a candidate who would be laughed out of New Jersey; and nobody is running against Hillary Clinton at the moment.
Happy New Year, Republicans.