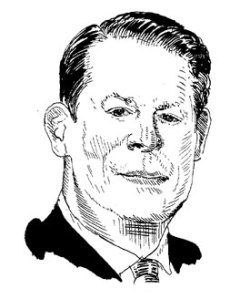 This week, as NBC hammers out details on its proposed merger with Vivendi Universal Entertainment, former Vice President Al Gore is trying to finalize his own deal: the purchase of a Universal-owned digital news channel called Newsworld International, a transaction that could herald Mr. Gore's official transformation from historical footnote to media player with the power to get in the game that he says has lately upset him so.
"He thinks the country is disserved by the absence of truth in news, by the absence of honesty in public-official presentation, by the apparently infinite cynicism of those who currently hold high office," said Reed Hundt, the former chairman of the F.C.C.–the Michael Powell of another political age–who saw through the Telecommunications Act of 1996, as well as a close friend of Mr. Gore's. "These things disturb him, I know that. He's made these points to me. I think Al, and to my knowledge dozens of other progressives, would like to go beyond complaining to actually trying to fix the problems."
If, as Mr. Gore told The Observer in December 2002, Fox News and right-wing talk radio have helped bolster the Bush administration's message, then Mr. Gore's buy would mark a further convergence of television and politics–the migration of power and influence to politicized media. In a cable-television world in which Fox News Channel, with its self-proclaimed corrective point of view, beats CNN's self-proclaimed absence of point of view; in which programmers have to "narrowcast" to gain an audience; in which HBO's K Street mixes up Howard Dean with Hollywood actors and has James Carville participate in a kind of Being John Malkovich version of being James Carville, in a reality-TV business in which all bets are off–being a media mogul may be a whole lot better than being President.
"In a world of highly concentrated media conglomerates," said Mr. Hundt, "the truth of the matter is, the personal tastes of a half-dozen people matter immensely. It's not the case that people in the media poll their audience to see what flavors they would like. They hip-shoot on that topic, and their personal views have an impact."
Mr. Hundt suggested that the media coverage of everything from the war in Iraq to the California election had only firmed up Mr. Gore's beliefs.
In September 2003, The Observer reported that Mr. Gore first met with Universal executives last summer to discuss buying Newsworld, or NWI, a channel that currently packages international news from places like Japan and Canada and can reach about 20 million homes. You can watch it here in New York on the Time Warner Cable system, channel 103.
With it, Mr. Gore is reportedly working on a youth-geared "public affairs" channel that would present news and documentaries–something that would sound a bit like Son of C-Span if it wasn't being financed by the loyal opposition. One associate has suggested that Mr. Gore's network would employ MTV-style programming, using cheap digital cameras and user-created content to allow regular people to get stuff off their chests–but that is pure speculation, and the fact is that the whole Gore TV agenda is still to be announced.
In explaining the power of media on public tastes, Mr. Hundt didn't bring up News Corp. and Fox News Channel boss Rupert Murdoch. But as Mr. Gore said last year, he considers Fox part of a "fifth column" within the media, responsible for injecting "daily Republican talking points into the definition of what's objective."
"There's no question that Democrats are suffering in an environment where there are powerful outlets for anti-Democrat viewpoints," said Bob Somerby, editor of influential political Web site The Daily Howler. "It's clear that people don't watch PBS or C-Span, so commercially you've got to have some point of view. It doesn't have to be a liberal-line point of view, but it does have to have some edge or attitude while you're there. You turn on Fox first because you know something's going to happen."
On Tuesday, Oct. 7, as Fox News celebrated its seven-year anniversary, Brit Hume, the channel's managing editor and chief Washington, D.C., correspondent, wondered if Mr. Gore really knew what he was getting into.
"It's a little unclear what he's trying to do if he wants to start a kind of talk channel that he believes would counter-program Fox," said Mr. Hume. "He clearly doesn't know what we're really doing. If he's trying to start a serious news organization with worldwide reach, then he immediately becomes a competitor, in my view, to CNN and MSNBC, so he does us good. It doesn't seem like it would affect us very much."
Mr. Hume wondered if Mr. Gore had really considered the basics–like cameras and mobile trucks. Watching a live feed of the California recall on Fox, Mr. Hume said, "If you were the Al Gore News Channel, you're going to want that signal, too. You're going to have to hire your own truck, get your own equipment–I wonder if they've even thought about those things."
If the channel is to succeed, said one cable-TV executive, the Gore group may itself have to do as Fox does by giving it the "Full Franken," larding its programming up with song-and-dance commentators like the author of Lies and the Lying Liars Who Tell Them. Otherwise, it might not attract viewers. "Extremes are more interesting for neutrals to watch," said the executive, who didn't have much optimism for Mr. Gore's group, mainly because of Mr. Gore's up-market sensibilities. "Given who's involved in it, they're all way too classy," he said.
For his part, Mr. Franken–a friend of Mr. Gore's, who defends him in his book–said he was busy developing a three-hour talk show for a proposed liberal radio network and probably wouldn't have time to anchor a show for Mr. Gore. But he took issue with the idea that the left played to the same extremes as the right.
"I think, right now, there's only one side that's doing that, and that's their side," Mr. Franken said. "When I've talked to [Mr. Gore], he's been talking about a whole different thing than what they do. He's been criticized for being Mr. Policy Wonk. He's not a tabloid guy."
Based on his book sales and the crowds he was seeing on his book tour, Mr. Franken said there would be a market for Mr. Gore's network, too. He said the left was alienated and was hungry for news, and its hunger, by its nature, was not for tarted-up opinion. "If they're driving around in their car," he said, "they're listening to NPR not because it's left-wing information, but because it's information. Conservatives want right-wing information; liberals want information. They need ammunition now, because they feel attacked. When I tell them about the liberal media network, they just cheer. Because they want to hear something."
And Mr. Hundt said, "We're not trying to fight fire with fire; we're trying to fight fire with cold water."
Whether or not Mr. Gore's reading of the media landscape as a political foothold is fundamentally flawed depends on your reading of Fox's success. Did Mr. Murdoch tap into a market of wildly underserved conservatives who yearned to see and hear their views expressed on TV? Or was it, as Mr. Gore has it, that Mr. Murdoch's imported brand of loudmouthed, politically skewed programming bludgeoned the viewing public into submission with entertaining, right-leaning ideas? Or was it, as Mr. Hume would have it, that they simply had better news coverage?
At a special Senate hearing on F.C.C. deregulation earlier this year, Democratic Senator Byron Dorgan from North Dakota asked Mr. Murdoch if he could explain why the radio properties he owned had more than 300 hours of nationally syndicated conservative talk each week, against five hours of liberal talk.
Mr. Murdoch replied: "Yes. Apparently, conservative talk is more popular."
He's just giving the people what they want.
The conventional wisdom has it that cable news could become like the tabloid press of the U.K., or Mr. Murdoch's home of Australia, where eight or nine papers each spin the news based on their own political agendas. It's a model that leaves it to the public to sort things out based on their own leanings–even if those leanings are, primarily, the desire to see an American flag waving on their TV screen or to be entertained by angry white guys yelling at you. That's a great market. The current ratings doldrums at CNN, which is struggling to doll itself up while protesting that it intends to keep its old blue-chip objectivity, may be the clearest harbinger yet of Mr. Ailes' acute instincts. If Ted Turner was still there, things might be different.
But he's not.
While Fox News may be the most popular cable news channel, however, is it also therefore politically influential?
"If the ambition is political influence, it could not be more misplaced," said Lawrence O'Donnell Jr., the senior political analyst for MSNBC and former adviser to the late Senator Daniel Patrick Moynihan. "If you add up everybody watching MSNBC, CNN and Fox on any given night, you're dealing with a number that would get any number canceled in prime-time television. As soon as you understand it, you realize the utter meaninglessness on the political level of Al Gore's network. Whether it gets started, it doesn't matter. What matters is, does it make enough money or sustain a low-enough loss margin to employ the people and pay for the cameras?"
Mr. O'Donnell said that cable news barked at the converted and changed almost no one's mind. And he pointed to The News Hour with Jim Lehrer as liberal TV news that already exists–with more viewers than Fox News, he noted. "I don't think there's a liberal in America who wouldn't say The NewsHour with Jim Lehrer is an exemplary piece of television journalism," he said. "It's there, but we steadfastly avoid it in a way that I think tells you the story about how much is available for some theoretically counter-programmed Fox rival."
Even Mr. Gore's friend Mr. Hundt said that the very nature of what makes cable TV popular was at odds with a thoughtful liberal message. Right-wing ideologues, he said, appeal to quick, emotional bullet points, which "creates in those individuals a frightening relationship to the public trust."
Mr. Hundt also said the public has shown surprising resistance to the media's influence. "In the face of almost no media endorsement and precious little elected-official communications, somehow, according to today's poll, 53 percent think the Iraq war was not worth it," he said. "How did that happen? It's certainly not because editorial pages changed their opinion. Certainly not because the White House backed off. In fact, it's the opposite: It has intensified its advocacy.
"Having said that," he added, "it's still true that if you have a political agenda, you should buy a TV station."
Sir Howard Stringer, chairman and chief executive of Sony Corporation of America and the former president of CBS, said that audience size didn't tell the story about TV's influence. If, he said, what Mr. Gore called the right-wing media's "echo chamber" affects the mainstream media via noisy accusations of liberal bias, then the ability to create its own echo is some form of influence.
"When it's fragmented, as the media landscape is now, it's possible to have a voice that is greater in effect than the size of the audience you generate," he said. "If you're a reporter these days, or a Washington pundit or politician, you can get on all these cable news channels with fractional audiences and generate influence that seems to be beyond the scale of your audience to a laughable degree."
The prime example, he said, was Fox News' Bill O'Reilly, who has achieved a fame that would seem to belie TV numbers that are dwarfed by network news. Mr. O'Reilly reaches two million a night on average, compared to seven and a half million for CBS's Dan Rather. His latest book, Who's Looking Out for You?, is the New York Times No. 1 best-seller. Even if book sales don't match network-TV numbers, cable, books and print synergize into a whole that is greater than the sum of its parts, said Mr. Stringer. It wouldn't matter if Mr. Gore's network matched only the viewership of C-Span, he said, because it could still have an impact.
"Influence is influence," Mr. Stringer said. "It may be a small voice, but it's more likely to be heard in this environment than ever. C-Span has an audience, too, you know. I was on C-Span, and I couldn't believe the number of people who stopped me and said, 'Hey, I saw you on C-Span.' In a media society, any exposure is better than none."
But Mr. Gore has some huge hurdles before he can transmit a minute of television. The first one is a lot of money.
"It is estimated that there were losses amounting to a billion dollars before Fox News turned a profit," said Mr. Hume. "We're talking about a grand-scale investment. If you start thinking what it could cost to start from complete scratch–with nothing to support you–we're talking about a truly staggering sum of money, and the losses would have to be eaten along the way."
And, Mr. Hume added, it's not clear that any amount of money will help Mr. Gore if his view of Fox News is so fundamentally flawed.
"If what he's trying to provide is left-wing editorial, I'll guarantee you this: It wouldn't compete with us," he said. "It wouldn't compete with anybody. It may be relevant to what they think we're doing, but I doubt it's relevant to what we're truly doing."
For Mr. Stringer, all the cable-news noise is further evidence that the news center has not held. As the former head of CBS from 1988 to 1995, and a former head of CBS News, he said the shift from "objective" news to "balanced" news had been a slippery slope that pointed to the future of media, from which there was probably no return.
"I once argued with a former news president that 'balance' is a dangerous word, because you could run a story called Hitler: Right or Wrong?" he said. "The job is to go after the objective truth and come to a conclusion. The fragmented media has changed that–the nature of music, the nature of movies. We don't sit around the hearth and share the same thoughts any more, so it's a perfect world for this kind of environment. Is something lost? Yes, I think taking your facts as presented and coming to your own conclusions felt like a healthier environment, but it's a thing of the past."
To Mr. Gore and his dream of starting his own TV news channel, Mr. Stringer had this to say: "You have nothing to lose but your loneliness."