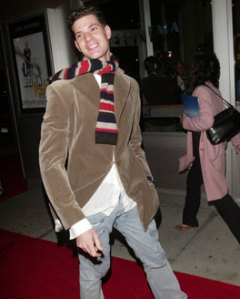 At an appropriately sophisticated hour on a recent Tuesday evening, 29-year-old Cody Franchetti relaxed at his table at the four-star restaurant Le Bernardin, explaining what it means to be an Italian aristocrat in 21st-century New York. In honor of the occasion, but mostly because the restaurant required it, Baron Franchetti—whose family tree includes Twomblys, Millikens, Fondas and Rothschilds—donned a bespoke stone-colored velvet jacket. But the dress coat was his only bow to bourgeois convention. On his legs were jeans from the Jean Shop on 14th Street ("the best denim in town"), and on his feet a pair of "very rare" Nike Dunks (his "only concession to modernity"). His hair, which is thick and glossy, was slicked back off his brow, as if it were being blown by some invisible wind.
"I am an elitist," he said in his basso Italiano, as a small fiefdom of waiters in neat black suits whisked silently about the restaurant. "I believe in an elite, I believe that people want an elite … because there's always been one, whether it be an oligarchy or a dictatorship."
He tore himself a small piece of caramel-colored bread that had, several minutes earlier, been wrapped in aluminum foil and stuffed inside his left jacket pocket. The young aristocrat always brings his own bread, made from spelt and imported from an Ohio bakery, when he dines out at restaurants. It's part of his "vanity diet," he explained as he took a bite, and launched back into his exegesis.
"There's a pinnacle of society, and people want to reach it. It's part of those wonderful Jeffersonian words, the pursuit of your happiness," he said. "Those who don't have want to have more"—he paused as a French-accented black waiter deposited a pre-appetizer in front of him—"and those who have, have different pursuits."
As an unrepentant member of the latter category, Mr. Franchetti has spent much of the last decade carefully honing such "pursuits"—none, of course, resembling anything so functional as a profession. He has read the books in his "extensive library," collected rotary phones, studied the different kinds of marble (he is "something of an expert"), experimented with modeling (as a way to "explore" his vanity) and made weekly trips to his tailor—all in happy, anachronistic anonymity. But of late he has begun cultivating a new interest, one which he feels is particularly suited to his role as courtier at the modern-day Versailles of New York: He has resolved to make himself a reality-TV star.
"This is a place of display, therefore you display yourself," he said.
And in the age of famous-for-being-famous, there is no better way for a young aristocrat to shine than by borrowing some moves from the princess of pout herself.
"Paris Hilton is, yes, in a larva form what I pretend to do," Mr. Franchetti said during one of several conversations, which included the seminar at Le Bernardin as well as a chat at the Algonquin Hotel Lounge. "Or maybe a Gore Vidal, but a cheaper version, and more populistic. He was very provocatory and literate," he said, then paused to reconsider after it was pointed out that Mr. Vidal is something of a leftist radical.
"I see this as a void for someone who creates discussion," he went on, "who is again provocatory, but not because they dance on tables."
By his own estimation, Mr. Franchetti took his most successful stab at provoking such discussion in Born Rich, the 2003 documentary-cum-therapy-session made by Johnson & Johnson heir Jamie Johnson. In the film, the former model's stratospheric wealth was exceeded only by his ability to ­offend. "I find guilt [over wealth] absolutely senseless. It's basically for old women and nuns," he said in one scene as he sat in his book-lined West Village apartment, a black Hamburg Steinway off to his right. In another scene, he pronounced Bill Clinton's penchant for suits with low-riding lapels "vulgar."
But his most notorious line was his attempt to invoke the modern aristocrat's great struggle between his dueling low and high impulses (or what Mr. Franchetti later called the "Dionysian and Apollonian forces.") "I'm reading a book and I'm thinking about a pussy, but I find when I get the pussy, I'm thinking about the book," he said.
Mr. Franchetti wasn't surprised by some of the reactions to his film debut—"I knew that it was going to be scandalous!"—and waved any outrage off as little more than bourgeois conventionalism. "I mean, it's a Nietzschean theory—it's nothing that I've invented," he said of his pussy/book formulation.
But some of the young baron's friends have yet to get over the shock of Born Rich. "I don't want to talk about that movie—come on!" said Nicola Bulgari, the longtime Franchetti family friend and scion of the house of Bulgari, the noted Italian jewelers. "He's a different guy than that. He's so much more complex. He's not superficial at all."
For Mr. Franchetti, however, Born Rich was both affirmation and inspiration, a chance to test-ride his theory that a person can buy fame so long as he is possessed of youth, money and good looks. He calls these traits the "mediatic trinity."
"I don't believe that I am better because of these things," he said, "but I see its effect on people."
And so while some of his Born Rich co-stars, like Autotote gaming heir Luke Weil, got busy denouncing the film or scrambling for cover, Mr. Franchetti chose to hire a publicist from power agency PMK and began promoting himself.
"My idea was that they put you in the public eye and they actually make you famous," he said.
Toward this end, he embarked on a plan that seemed to consist above all of strutting the red carpet at movie premieres, signing onto Mr. Johnson's sophomore film effort (an upcoming documentary about "capitalism and empire"), and kicking up the occasional tabloid spat (including a sniffy little back-and-forth with fellow socialite Fabian Basabe). Along the way, he received—and rejected—an offer to star on the find-a-wife reality series, The Bachelor, and snared a cameo as one of Lisa Loeb's dates on her new reality show, #1 Single. He treated the one-hit crooner to a chauffeured drive in a '41 Buick limousine and said that no numbers were exchanged.
"She is very—how should I put it?—petit bourgeois," he said. The episode airs February 12.
But all these little brushes with fame are really just preludes to that powerful celebrity launching pad, the reality-TV series. For a time, he thought the show would be a kind of "aristocratic eye for the common guy," as he told the Daily News in December, a humorous romp in which he would instruct grubby-handed American types on the mysteries of proper etiquette. But after the prime networks and cable channels didn't bite, he began working, with the help of a William Morris agent, on selling a second series about his attempt to buy fame—a kind of meta-meta-show that would be "sort of Entourage-y," but real, he said. He is currently in discussions with a network (which he refused to identify) and said he hoped to have an answer in the next few weeks.
Never mind that reality shows are about as European as Burger King and have about as much aristocratic panache. In the 21st century, a nobleman has to make do with what is available to him.
"Yes, absolutely, [it's] cheap, trashy—I'm well aware of that," Mr. Franchetti said with a small smile. "But we live in the age of Paris Hilton, my dear, so what am I going to do—a show where I discuss Flaubert with people that call in? No, I don't think so."
Besides, he said later, "I want to be reduced. I would like to be a teenage heartthrob, I want to be on the tabloid, I want to be reduced to shit. But I don't identify myself with that. I don't have an identity problem. I know who I am."
SEVERAL MINUTES INTO HIS FIRST COURSE AT LE BERNARDIN, Mr. Franchetti interrupted himself to peer at the rim of the white china plate that a waiter had placed in front of him. "Have you noticed that you can tell that your plate has been wiped on the sides?" he asked, enunciating each word. "They always wipe it to keep it clean, but you shouldn't see streaks. Or at least they should arrange that the light be less direct so you wouldn't see these streaks of the wipe, no?"
Mr. Franchetti is used to being catered to. He grew up in Rome, surrounded mostly by servants, since his father, Andrea, was busy playing about in the United States and his mother, the actress Angelica Ippolito, was often touring with a theater company. His parents, who never married, split up after eight years.
He attended international schools, but said he got on better with the adults in his mother's salon—"like Fellini, Mastroianni"—than he did with his peers. "I was always listening to adults' conversation, so I had no rapport with people my age. I couldn't relate to them," he said. By the time he was 14, he was living on his own.
At 19, the young Franchetti came to New York on his own to study piano, first privately and later at the Mannes College of Music. It was during this period that he experienced his first unpleasant brush with anonymity, and it is to this period that he traces, indirectly, his "chasing for" celebrity.
"There is this sort of thing of nobility—it's very similar to being a movie star," he said. "I came to America, and all of a sudden I am no one …. So, being used to it, I want to recreate it." But while Mr. Franchetti craves fame, or at least infamy, he was adamant that these are not "inherent social ambition[s]," since true aristocrats can't actually be bothered by anything so prosaic as a career goal. "It's not a ­real ambition; it's only because I'm here," he said. "I know that I'll retire in the castle with my books, and I don't really give a damn. I know that that's what I want eventually. New York to me is a vitrine—that's why I'm loving it. But after 35, 40, good-bye."
The Franchetti dynasty traces its roots back 700 years, to what was then a wealthy Jewish Italian family with a knack for trade, banking and eventually transport (they ran a courier service). It was always an influential clan, but it reached its "apogee," as Mr. Franchetti calls it, during the 19th century, when the family acquired both a title and a Rothschild (namely, Mr. Franchetti's great-great-great-grandmother). Since then, the heirs have busied themselves mostly with spending money and then renewing it through marriages that have linked them to everyone from Henry Fonda (in the case of socialite Afdera Fonda) to Cy Twombly (in the case of Mr. Franchetti's great-aunt, Tatiana).
Along the way, Mr. Franchetti's grandfather, the dashing Baron Mario Franchetti, married the American textile heiress Anne Milliken (now the young baron's grandmother and the source of much of his wealth). And his father eventually wed Fiora Pirri, a Sicilian princess who is now a professor of artificial intelligence but spent several years in prison after joining a radical guerrilla group in the 1970's. (The stepson still refers to her as "the terrorist.")
As for Mr. Franchetti, he said that he doesn't like rich girls (notwithstanding a romance with Lola Schnabel several years ago and a recent alleged flirtation with Lindsay Lohan). Rich girls, he said, are "less feminine and more annoying … because they're not in tune with themselves; they're in tune with being trendy."
But penny-poor aristocrats are a different matter. "I would probably find that appealing," the bachelor baron chuckled—though he also noted that "often, if they're very aristocratic, they're ugly because they're inbred."
Mr. Franchetti has spent an exhaustive—and exhausting—amount of time contemplating his dying caste. While he boasted that he is "completely unaware of the history of the 60's, 70's, 80's, or what's going on"—interest in the present being a bourgeois conceit, after all—he spent a good part of one conversation giving a book report on the Spanish Armada. And he never seemed to tire of citing a favorite Lytton Strachey essay that he felt really summed up the predicament of today's aristocracy.
"Aristocrats have nothing left, really. They're slightly ridiculous; they're shorn beings and slightly out of place everywhere they go," he said. "The only thing aristocrats have left is manners. Because, after all, they don't have real influence—we don't live in the 18th century. So the only thing that separates them from the multitude is manners."
Mr. Franchetti smiled at this summation. As a self-proclaimed devotee of all things ancien régime, he has made it something of a project to preserve these last barriers against the multitude. He has read Galateo, the 16th-century bible of social etiquette, and has devoured Il Cortegiano, the same century's primer on courtly manners. He says he has a "physical reaction" when a woman walks up to a table of men and the men just sit there "with their asses stuck to the chairs." But, like the truest of aristocrats, he is also willing to throw his manners to the wind when he doesn't get his way—as he once did when he encountered a particularly recalcitrant feminist.
"It was magnificent," he said. "It was at a bank or an office building on Park Avenue, and there was a big, big, very heavy door, and I opened it to let her go through, and she said, 'I'm not a paraplegic.' So I said, 'Fine.' I let it go, and it crushed her."
Mr. Franchetti knows such stories are bound to raise hackles. He has no problem if everyone loves to hate him, he said, though he would like to be "hated correctly." "Provocation is an essential thing for me, and it is something that I think is necessary in this panorama of blandness," he said. "Is it a performance? Yes. Is it real? It's also real."
Mr. Franchetti turned his attention to the check, which he insisted was his duty to pay, a journalist's ethics notwithstanding. A five-minute debate ensued, during which he cited everything from the imperatives of etiquette to the importance of the nobleman's "grande geste," to the value of being seen in his "natural environment." While the service had been "disappointing" and the restaurant (Le Bernardin) looked like an "airport," duty was duty, he said.
"It's part of the being-with-me, which I think transcends the professional duty," he said. "Your professional duty is to have me kept happy. Then you can write that I'm a dick, I don't care—you can write whatever you want.
"By the way," he added, interrupting himself. "I've studied rhetoric inside out. All of Cicero. So, just so you know, I'm very good—I can turn a discussion any way I please."
With that, he grabbed the leather-bound check binder, placed conveniently at his side, and snapped his gold Chase card inside.
He smiled. It was nearly midnight. The waiters were still bustling about the restaurant, ministering to the evening's last customers. Mr. Franchetti was off to play poker in one of the underground clubs he frequents.
"You see," he said, "I'm more interesting than you thought."