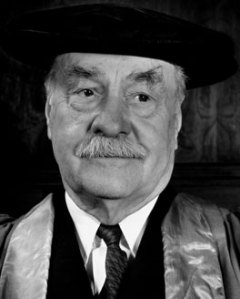 Nicholas Miraculous: The Amazing Career of the Redoubtable Dr. Nicholas Murray Butler, by Michael Rosenthal. Farrar, Straus and Giroux, 528 pages, $35.
To begin at the end: Nicholas Murray Butler, household name for half a century, is now as obscure as Chester Greenwood, inventor of the earmuff.
An inordinately ambitious man who sought and won place after place among the elites of his day, Butler hobnobbed with Theodore Roosevelt and Benito Mussolini, collected a Nobel Peace Prize, and for decades presided over Columbia University, the Carnegie Endowment for International Peace, and the American Academy of Arts and Letters.
In Nicholas Miraculous, Michael Rosenthal, a biographer and professor of the humanities at Columbia, gives this forgotten man the monument he deserves, which is to say that the book shows why Butler was a world figure and why, as Yogi Berra might have put it, his immortality didn't last. Mr. Rosenthal's portrait of Butler is skeptical though not ungenerous, thoughtful about Butler's times as well as his life, and as entertaining as Daniel Okrent's Great Fortune: The Epic of Rockefeller Center.
Now back to the beginning: Nicholas Murray Butler came into the world in 1862 in Elizabeth, N.J. He was supposed to follow his male forebears to Williams College, but a downturn in the family business (floor coverings) steered him toward Columbia, which in that era had no dormitories and hence no levies for room and board. Tuition was $100 a year, and most students, including Butler, lived at home.
Butler matriculated in 1878, at 16, and soon displayed his genius for ingratiating himself with the mighty by befriending the university's president. He received his Ph.D. at 22, joined the faculty after a European wanderjahr, married a blueblood and started his ascent of Olympus.
As a fledgling dean, traveling with the swells in J.P. Morgan's private railroad car, Butler collared Andrew Carnegie for a talk about education. A few months later, Butler wrote him to request a short meeting to talk over an educational matter then on his mind. "Whatever the subject was," Mr. Rosenthal writes, "it was less important than the chance it gave him to speak to Carnegie again. Twice was all Butler needed. Carnegie was charmed by the young dean's energy, ambition, and intelligence, perceiving him to be someone worth cultivating."
Butler took his first crown in 1901. New York City was due to elect a Mayor, and Butler quietly persuaded civic leaders that they should nominate Seth Low, a public-spirited fellow long active in the political and philanthropic life of the city. Low also happened to be the president of Columbia—and when he entered the Mayoral race, the university's presidency devolved to Butler. His friend Theodore Roosevelt, now in the White House, took part in the coronation.
Roosevelt's presence signaled that Butler and Columbia were of note, and of note was what Butler most wanted to be. To that end, he built a publicity machine that sent word of his doings, texts of his speeches, comments on world affairs, news of his travels, even the names of his visitors to hundreds of newspapers. He raised Columbia's profile (and his own) by drawing the philosopher John Dewey and other celebrated intellectuals to the faculty.
Then as now, fund-raising was the bane of a university president's existence. Butler could bear to do it only by indirection. The idea that "money was but a phone call or dinner invitation or informal talk away pleased him," Mr. Rosenthal writes. Seeing himself as a member of the social elite, Butler found it demeaning "to have to forage among them for gifts, and he did his best to avoid the impression of doing so." He preferred to get to know people, have them get to know Columbia, "and then," he said, "before one knows it they begin to ask questions about our needs." More than once he recommended, as Mr. Rosenthal notes, that "all New Yorkers should honor Columbia's contribution to their lives in the city by including it in their wills."
Neither strategy worked well, but Butler plowed on, cozying up to ever more illustrious folk and drawing ever more attention to himself. He began dreaming of the White House, and in 1920 his friends tried to make him the Republican nominee—but it was Warren G. Harding's year. Butler feigned indifference to his loss and demurred when Harding offered to make him Secretary of State or the ambassador to Britain.
Soon after the election, Butler decided to be "America's Unofficial Ambassador," had his publicity machine tout him as such, and entered an embarrassing phase of self-aggrandizement. Mr. Rosenthal's subtle orchestration of this aspect of the story allows the reader to hear Butler's wrong notes intermittently but definitely, and by the end of the book, there's no mystery about his swift descent into oblivion.
After a visit to Chequers at a moment when the premiers of the British dominions were also in residence, Butler claimed that Prime Minister David Lloyd George had wanted his help in talking the premiers out of seceding—pure balderdash, according to two of the participants. Butler also allowed himself to believe that he was using Mussolini to bestow money and prestige on Columbia, without seeming to realize that Mussolini was using him to gain respectability in the United States.
Since the 1890's, Butler had been part of the movement to resolve international disputes by arbitration, and in 1912 he began advocating the cultivation of "the international mind," which he defined as a habit of thinking of the developed nations of the world as friendly equals in developing commerce and spreading "enlightenment and culture" in the form of American democratic values. He joined the founding board of the Carnegie Endowment for International Peace and was a logical choice for the endowment's presidency in 1925. He spent lavishly to publicize the international mind, and when critics complained that Carnegie's money was being spent on hot air, Butler argued that no other organization had done as much to educate the world on war and peace.
Mr. Rosenthal attributes Butler's defensiveness to his deep need to believe that if he saturated the world with right thinking, the world would snap to. His relentless proselytizing may also have been propelled by his dream of a Nobel Peace Prize, which did come to him in 1931.
On campus, the apostle of world democracy was something of an autocrat. In 1921, he overruled the Pulitzer Prize jury's unanimous decision to give the honor to Main Street, because he disliked Sinclair Lewis' biting critique of American life. And as World War II began in Europe, he decreed that faculty members who didn't share the university's ideals had no right to be there. Reporting from London, where the bombs were falling but academic freedom still stood, Edward R. Murrow said that Butler's policy would surprise British professors, who were still able to "pursue their search for truth without dictation." Those who remembered Columbia's actions during World War I were less surprised: Butler had stifled dissent then, too.
Nor was Butler immune to the prejudices of his day. A fear that Columbia had too many Jewish students led to the creation of a Brooklyn affiliate, Seth Low Junior College, in the hope that Jews would congregate there. The experiment lasted only a few years, and one of Seth Low's most famous alumni, the author Isaac Asimov, ever afterward resented having been duped into accepting "the inferior B.S. as opposed to the B.A. awarded to the real Columbia College students," Mr. Rosenthal writes. Although Butler was willing to accept substantial donations from the Jewish philanthropist Adolph Lewisohn, he wouldn't put Lewisohn's name on the building that Lewisohn paid for.
Butler hoped to stay on as president of Columbia and the Carnegie Endowment until he ascended into heaven, and he nearly got his wish. In 1945, when he was 83, totally blind and mostly deaf, Columbia dispatched two trustees to coax him into resigning. Soon afterward, the trustees of the endowment had to resort to similar tactics.
Columbia wasn't much when Butler enrolled in 1878; it was a major research university when he left 60-odd years later. And thanks to his indefatigable self-promotion, Nicholas Murray Butler was himself a major institution, as well known as any head of state. The publicity always ran somewhat ahead of the attainments, however, and when he died, in 1947, the publicity died too. Michael Rosenthal brings him back. Nicholas Miraculous is a superb close-up of a supremely confident man who could always shoot for the moon because he wasn't afraid to miss. Which he did. Often. And yet…
Patricia O'Toole's most recent book is When Trumpets Call: Theodore Roosevelt after the White House (Simon & Schuster).