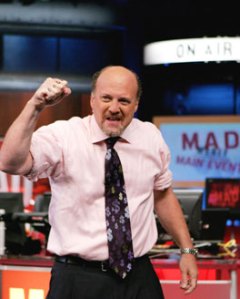 One television network executive, contacted with urgency on Jan. 16 to discuss matters of great importance to the future of the medium, responded via e-mail at 9:26 p.m.
"I'm steeped in Golden Globes!" he wrote.
Which makes you think two things. First: Oh! That's right. The Golden Globes are on. And second: Why on earth, given that every shred of available evidence suggests these awards are largely useless, both as a judge of quality television and as an instrument for increasing ratings, do TV people still care about the Golden Globes?
Movie people, fine. The ceremony, at least Hollywood's third- or fourth-most-anticipated of the season, is a decent predictor of other, more important awards. Winning one of those little trophies means that more people will go see your movie, which means more buzz, which combined with many (tasteful!) ads in Variety and Hollywood Reporter can lead to a swell time on Oscar night, a steeper paycheck next time and a boatload of residuals from DVD sales.
The Hollywood Foreign Press Association, the dubious organization of sometime journalists that mounts the ceremony each year, likes outsider movies, Oscar long shots, films that depict less fortunate people persevering, but not in exactly the way you'd expect them to, and yet still with the financial backing of a major film studio. Bonus points went out this year if you were a Focus feature or your project included gays or transsexuals.
But when it comes to television, the association tends to vote with Nielsen. This year's big winners were Desperate Housewives and Lost, both of ABC and the only two breakout hits of the 2004-5 television season. Desperate Housewives had already won last year in the musical/comedy category, beating out actual comedies Arrested Development on Fox and Entourage on HBO, not to mention a host of un-nominated but no doubt superior musical television series, wherever they might be.
So why do the 90-odd members of the Hollywood Foreign Press Association go highbrow with movies and middlebrow with TV?
"They like to appear to influence the Academy Awards," said David Poland, a Hollywood-based film columnist and the editor of the Web site Movie City News. "For movies, they usually pick what they think they can have an influence on. But in terms of the television stuff, it really is just a celebrity marathon of lust. That's why you have all four Desperate Housewives nominated"—which they were, in the Best Lead Actress in a Television Series, Musical or Comedy, category. "That's why, with something like House, I'm sure Hugh Laurie came and charmed the hell out of them."
Mr. Laurie won for Best Actor in a Dramatic Television Series.
"It's definitely a contest in which one must vigorously campaign," said Mark Urman, the head of the U.S. theatrical division of THINKfilm, who has campaigned successfully for awards more than once in his day. "These are not critics on a beat. They are not people who are assigned to see movies or television shows in the way we currently understand. In order for them to see the stuff, it's a backbreaking ordeal. They need to be met more than halfway. You need to get their attention. I can imagine the receptions for Desperate Housewives. You can probably have a lot more fun with those four girls than you can at the press conference for a different show."
The sheer workload of the members of the voting board may explain why they seem to show a preference for popular TV—it's easier to discover a hit on NBC than on National Geographic Explorer. The ceremony's remove from television's major award show, the Emmys, which is in September, might also be a factor. Coming as they do nine months earlier, the Globes don't really work as predictors for the Emmys, and winning one seems to have little effect on ratings.
"As they go through the television categories, once a show is eliminated, the cast will sometimes just get up and leave," said Mr. Poland. "Because they have to go to work in the morning."
Jim Cramer, the frothy-mouthed, crazy-eyed millionaire host of Mad Money on CNBC, is about to enter the land of genuine lunatics: press-obsessed real-estate moguls, power-mad billionaires, the editors of various glossy magazines and people who eat cockroaches for money. He's developing a reality-TV show.
King of Wall Street, as the show is presently called, is being conceived on the West Coast and is based loosely on the formula of The Apprentice, according to two sources familiar with the plans.
The show, if made, would air on CNBC or NBC.
In an early blueprint, a group of contestants would be given a certain amount of money to invest. Then, as in life, whoever makes the most money wins.
Naturally, there would be diversions along the way—games and contests, in which the business-savvy participants will try to sell stock to monkeys or compete for who can go the longest without hitting on CNBC "Money Honey" Maria Bartiromo.
Presented with that general description of the project in an e-mail, Mr. Cramer wrote back almost immediately: "NO COMMENT."
Then he sent another e-mail, several seconds later.
"No," it said, "'terse no comment.'"
A spokesman for CNBC—the sort of person who any other day would fall over himself at an opportunity to kvell about the struggling cable business channel's only real star—likewise declined to discuss Mr. Cramer's reality show.
Fortunately, there is a canon of Cramer literature, ginned up in the months since Mad Money debuted in March 2005, that suggests what sort of game-show host the stock prophet might be.
Born in Philadelphia in 1955, Mr. Cramer has two degrees from Harvard and once lived for a short time in his car. In the 1980's, he worked as a broker for Goldman Sachs, then started a hedge fund, where, biographers invariably note, he earned a stunning average return of 24 percent a year, after fees.
His show airs five nights a week on CNBC. It features heavy-metal music and a set overrun with doodads and sound-effect buttons, which Mr. Cramer whacks gleefully when a particular stock looks good or bad. He lives in New Jersey, wakes at 3:45 a.m. and is worth, by his own estimate, between $50 and $100 million.
All told, it's a personality well suited to the reality genre. Or, as any of the more than 400,000 viewers who watch his show might say: "Booyah!"
Ever watch a full week of evening and late-night news on Channel 2 and feel like you're getting whiplash?
You're not imagining the breakneck pace of things, which is appreciably different from other local newscasts. It feels a little bit like having the headlines read by a horserace announcer, in not entirely a bad way.
It's all a part of Peter Dunn's plan to cram as much news, blog-like, into the evening newscasts as possible.
Last November, when Mr. Dunn became the new president and general manager of WCBS-TV, he quickly seized on pace as the key feature of a local newscast.
At 6:45 p.m. on the Tuesday before Thanksgiving, about 20 reporters from the WCBS-2 news team gathered in a third-floor conference room to hear the latest attempt at a panacea for local news. Kim Godwin, the channel's assistant news director, unveiled the plan: No story could be longer than a minute and 15 seconds.
This is the sort of decision that can radically alter the feel of a local newscast, and radically shift its ratings. In the coming weeks, other amendments trickled down: Stories are best around 45 seconds; the 11 o'clock news should contain at least 20.
Exactly what makes a successful local newscast is anyone's guess. Many have tried to perfect the genre, increasing the length of stories or shortening them; adding more crime coverage or less; having reporters chase down the proprietors of dirty lunch buffets and cameramen shove microphones in the guilty mugs of the city's least fastidious landlords. To date, not much of it has worked. The ratings for WCBS have basically plateau'd.
And the new shorter-faster-better edict has rankled some in the news division, who were beginning to adjust to an earlier cure-all calling for more substantive stories that could stretch to two minutes.
Mr. Dunn, a longtime newsman and a veteran of the CBS affiliate in Philadelphia, restricted himself to a general comment when contacted by NYTV.
"CBS 2 is focused on improving the product and that may be what you are noticing," an e-mail, signed with his name and sent via his publicist, read. "Our goal is to report the news that matters most to the communities we serve. We do not compare ourselves to anyone but ourselves and strive to improve our news operation every day."