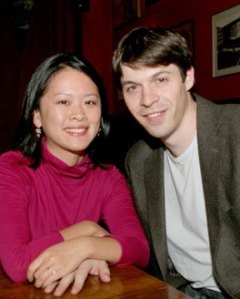 Yng-Ru Chen and Devin Gordon
Met: Aug. 3, 2002
Engaged: Dec. 18, 2005
Projected Wedding Date: September 2006
Honestly, the whole love-at-first-sight crap kind of drives me crazy," said Devin Gordon, 29, a senior arts writer for Newsweek, "but I guess when it happens, it happens. There's no way to get around it. Whether the cliché makes you nauseous or not, that's the way it works."
"I'm nauseous," said his fiancée, Yng-Ru Chen, 27, director of press and communications at the contemporary art space P.S. 1.
The couple first encountered one another on a steamy, rainy summer night at the East Village bar KGB. The sleek, slender, Taiwan-born Ms. Chen was getting over an ex, and friends had already been trying to fix her up with one man named Devin; at a party on the way to the bar, she had run into another Devin. "It was like Goldilocks and the three Devins," said the well-dressed Mr. Gordon, who is dark-haired with a floppy forelock. "The third one was just right."
Remarkably, Ms. Chen remembered his byline from a recent piece about an international pastry-chef competition. "I really loved that article you wrote," she told him as they chugged vodka tonics. Soon, the two were engaged in a deep discussion about Fascist art, a passion of hers. "When you're working in New York, it's common to have conversations about art and culture and all that stuff," Mr. Gordon told the Love Beat, "but it's nice to meet someone who isn't talking about Impressionists or Monet. It showed such character."
As the night wore on, Ms. Chen started to yawn.
"I'm tired," she said. "I'm going to go home." Mr. Gordon suggested splitting a cab, with Ms. Chen's then-apartment on 96th Street as the first stop (even though he lived further downtown).
"I want to kiss you," she told him in the taxi.
Awwwwwright! Mr. Gordon thought.
He called her at midnight the next day. "I don't like doing the wait-three-days thing," he said. "I'm not a Rules guy." For their first real date, they went to see the De La Guarda Theater dance troupe.
Ms. Chen first told him she loved him after a few too many at a friend's Champagne-drenched engagement party, where her tipsiness obviated his lack of response. "I knew that I loved her then," Mr. Gordon said, "but I didn't want her to think that I was just parroting it back to her." (He said it a few days later, when she was sober.)
Later, Ms. Chen's roommate left their Fort Greene share. "What if I moved in?" Mr. Gordon suggested.
"It was the most nervous I'd ever seen him," Ms. Chen said. She told him that her traditionalist parents wouldn't accept the arrangement unless they knew the young couple was headed for marriage. Mr. Gordon proceeded to write a long, persuasive letter to her father. "I thought he was going to cut my head off," he said.
After renting for more than a year, the couple pooled their resources and bought a one-bedroom in Brooklyn Heights. Mr. Gordon proposed during a vacation in Vieques, after a day of sipping fruity drinks on the beach, blurting out "I want you to marry me!" as they sat together on their hotel bed and giving her an elegant princess-cut, platinum-set solitaire, weighing in at just over a carat. He'd shopped for it secretly with the help of his older sister. "I didn't know anything about diamonds," said the groom-to-be. "I found the whole thing intimidating, horrifying and scary."
They spent the following evening kayaking on a bioluminescent bay, their paddles creating sparks of light every time they hit the water.
David Brinkerhoff and Ronda Kaysen
Met: Dec. 14, 2002
Engaged: Sept. 17, 2005
Projected Wedding Date: May 20, 2006
David Brinkerhoff, 35, a business correspondent for Reuters, and Ronda Kaysen, 28, a reporter for Downtown Express and The Villager, are planning a wedding at Bucksteep Manor, a 19th-century estate in the Berkshires.
They met one crisp winter evening at a swank, private Upper West Side fund-raiser for the New York Writers Coalition, a literary nonprofit organization. Ms. Kaysen, a spunky 5-foot-11 brunette in pigtails who was bartending the party, made a beeline after she spotted the blond, bespectacled Mr. Brinkerhoff across the room, standing near a couple of nude photographs up for auction.
"What do you think of those pictures?" she said.
"Very nice," Mr. Brinkerhoff said.
"That's my back," Ms. Kaysen said, indicating the photos.
"I was like, 'This girl doesn't waste time!'" Mr. Brinkerhoff said.
Ms. Kaysen, then a fact-checker and reporter for The Observer, was impressed by his job title. "I was like, 'Whoa, this guy's legit,'" she said—and deftly extracted his business card before returning to her bartending station.
"I got his card," she boasted to a gay friend.
"So did I!" said he.
Ms. Kaysen swiftly dispatched a friend to ensure that Mr. Brinkerhoff passed the "Triple S" test: straight, single and sane.
After the shindig ended, some guests reconvened at a generic Mexican restaurant on 14th Street, where Mr. Brinkerhoff coaxed Ms. Kaysen onto the dance floor. Alas, she proved to be something of an Elaine Benes in that department. "She was a terrible dancer," he said, "but really enthusiastic."
After moving on to Art Bar for drinks, they shared their first kiss, then went to her place in Brooklyn Heights.
They went on their first real date following this steamy hookup, then both left town to see their families for Christmas break: Ms. Kaysen for Davis, Calif.; Mr. Brinkerhoff for Amherst, Mass. "I was like, 'Oh, shit—this could blow it,'" Ms. Kaysen said. She boldly decided to dial his machine and convey holiday greetings.
"I didn't feel anything like 'Ooh, it's clutchy,'" said Mr. Brinkerhoff, who had sent her a greeting card a few days prior. "She was relaxed and confident, and I was impressed."
A year and a half later, they moved together into a plush two-bedroom in Carroll Gardens. "I was sick of living out of my bag," Ms. Kaysen said.
"As soon as I moved in with her, I realized: Not only do I love this woman, but now we have a complete kitchen set!" Mr. Brinkerhoff exulted.
When Christmas rolled around again, he tentatively "proposed a proposal" during a visit to his family. Flakes of snow dotted Ms. Kaysen's hair as the couple stood on a hill overlooking Deerfield River. "It was sweet," she said, "because there was something very touching and private about it. There was a shift."
As summer loomed without a follow-up, however, Ms. Kaysen started to get antsy, sending Mr. Brinkerhoff links to various engagement-ring Web sites until he told her to give it a rest. "I already have something in mind," he said. That "something" turned out to be a traditional Latvian engagement ring with seven dangly inscribed silver charms (Mr. Brinkerhoff's mother is Latvian), the high point of a weekend trip they took to the Maine coast. "There were three things I wanted in a wife," he told her, referencing a journal he kept in his bachelor days: "a sense of adventure, spunkiness and a sense of humor. You have all those qualities. Will you marry me?"
Ms. Kaysen is spunky, all right—so spunky that she plucked the ring from his grasp and started to slide it on her finger herself. You go, sister girlfriend!