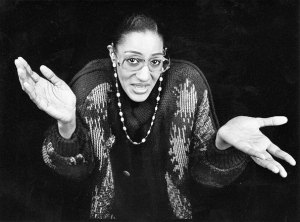 It was our first couples-therapy session of 2006.
GEORGE: You want to start?
HILLY: We had a really fun Christmas. Except George had a little panic attack. When he was going to buy me a Christmas present.
DR. SELMAN: What happened?
HILLY: It was Christmas Eve, and it was 3:30 p.m. and he still hadn't bought me a Christmas present. So I narrowed it down and told him all he had to do was go to one of two stores, and I'll just present myself to the salesperson so they see what size I am and what my taste is like, and then I'll disappear and you can just get something in whatever price range you think is appropriate. And that way, it will still kind of be a surprise for me. I mean, we were down to the wire here, because stores close on Christmas Eve at 4 o'clock. So we went to a store and we did just that, and I talked to the salesperson, she nodded and smiled, and I said, "O.K., I'll be upstairs." So I ran upstairs, and I noticed George had a little bit of a panicked look on his face. But I thought, "I'm only going to be one flight away from him, so it's not that big of a deal." Well, it was. Because then my cell phone started ringing, and I couldn't find it, and then finally I found it, and he was gone. He was out of the store, and they were bolting the doors. Then finally he called again and said he just couldn't do it. So I went outside, but it was O.K. I understand, because Christmas Eve is rough and the store was full of people.
GEORGE: It was very understanding of you. My version of it is that I've always had a hang-up about shopping, period. This goes back to when I was 9 years old and my mother and grandmother took me shopping, and I was very difficult. And I have a problem with that store, Ralph Lauren. There's something intimidating about the sales ladies. When we walked in there, I thought you were just going to point something out and we'd get it. And the next thing I knew, Hilly was whispering to the sales lady, saying, "That's my boyfriend over there, and …. " And they were both looking at me, and I was on the spot. So anyway, I went around with the sales lady, and she was like, "How much can you afford?" And she was pointing out stuff that was twice that, and I just couldn't … sometimes I just can't … I had to flee.
HILLY: Well, that day was rough. I remember the first Christmas I ever spent with you, four years ago. You were terrified I even brought up the word "Christmas." And then I threatened to bring you a tree, and you got so mad. You threatened to throw it out a few times—it was just this little baby tree. This year, he bought the tree himself, and it was about five feet tall.
GEORGE: I have a problem with Christmas. The usual stuff—the forced cheer. Anyway, we had a good time.
HILLY: We got up early and—
GEORGE: She's really into Christmas.
HILLY: If I give him presents, he doesn't even want to open them. Until … well, I almost started crying. He finally finished opening them. And then you were so happy!
DR. SELMAN: Was there an actual exchange of gifts?
GEORGE: After the Ralph Lauren debacle, we walked down Madison and—
HILLY: You said, "Just find another store, find another store!" and by the grace of God, Ralph Lauren opened another store two months ago.
GEORGE: There is something gratifying about it. I sent my grandmother a basket of stuff from Zabar's, and that meant a lot to her. What did you say Christmas is about—?
HILLY: It's about experiencing the joy of seeing a smile on a loved one's face when they open a present.
GEORGE: That's cool. But there's a lot of guilt and spending money—I think my mother had to get 200 presents. There's something wrong with this holiday. Case closed. So everyone just needs to take it easy. Thank God it's over.
HILLY: Well, there was New Year's—he invited me to go to East Hampton, so at first I said yes. Then I remembered it was my friend Bubby's birthday/New Year's Eve party, and so I said I've got to stay here. The past four years, I haven't gone to the party, because I've always got something great to do with you. But it's been almost a year since I've seen him, so I thought, "This is ridiculous—I already told him I would go to his party, I want to go, I have to lead my own life." Right?
GEORGE: Up until Friday evening, I didn't know if I was going to stay in town. I had stuff here going on New Year's Eve, but I really felt the need to escape. Last New Year's, I was up until 2 in the afternoon, and I didn't want to repeat that. But then you also—your point was that we should be together. I was gonna stay, then at the last minute …. But I think it all worked out. I spent the weekend in East Hampton watching 24.
DR. SELMAN: So you weren't together New Year's Eve?
GEORGE: Nope. Nope. We did talk at midnight. I think I had to do that.
DR. SELMAN: You were invited to go to Hilly's friend's party?
GEORGE: Yes, but I know myself well enough that, if I had gone, I had other stuff going on—friend of mine in town—all that other stuff would have happened, kicked the night into gear.
DR. SELMAN: So you went out to East Hampton to be away from all the parties.
GEORGE: I read a lot. Watched 24. The TV reviewer from The Times called Sleeper Cell "24 for smart people." What do you think of that?
HILLY: Let's get it!
GEORGE: No, but we love 24—what does that say about us? That means people who watch 24 are … not smart. Right?
HILLY: That's nonsense.
GEORGE: Doesn't that bother you?
DR. SELMAN: I have a question. This party that you went to, Hilly ….
HILLY: Bubby moved into this house a year ago, and I've never been there. He's invited me, but it's pretty far away, and I would always have something going on, so I would bail at the last minute.
DR. SELMAN: Why not bail again?
HILLY: Because! Something hit me. Maybe it was the feeling of wanting to be with loved ones.
GEORGE: All this is because of this day, New Year's Eve. I think you did the right thing. Anyway. Last night we had fun—don't you think?
HILLY: Yeah.
GEORGE: Last night felt really different, and I really liked that. Hilly came over and we watched Bend It Like Beckham, and that was real sweet, and then we did our own thing. You put on some Aerosmith, and you were having a good time singing along, and I was in the bathtub reading.
[Silence.]
GEORGE: I think this might have to be—we might have to go on hiatus. This therapy is just way too expensive. It's a pity, too, because this has been good for us. We were compared to—
HILLY: In The Washington Post, they did a "What's In and Out" for 2006. And it said that Jude Law and Sienna Miller are out, and George and Hilly are in.
DR. SELMAN: You would give up treatment because you can't afford it?
GEORGE: Yes—I don't know. I just need a break.
DR. SELMAN: Maybe if you don't give Christmas gifts next year, you could put that money into a kind of advance towards paying for treatment.
GEORGE: Were Jude Law and Sienna Miller ever really in?
HILLY: Um, yes, I think so.
GEORGE: Did you see Alfie, though?
HILLY: Yes.
GEORGE: I'm being ridiculous—they were huge, right?
HILLY: Yes.
GEORGE: But now they're out and we're in?
HILLY: Well, he had the affair with the nanny, and a lot of people feel anti—
GEORGE: I don't blame him; I bet she's probably high-maintenance.
HILLY: Um ….
DR. SELMAN: What would it mean for you to end treatment at this juncture?
GEORGE: Can we get back to last night? My point is that we sort of did our own thing. I had three beers in the fridge—Hilly had two, I had one. That created a totally different dynamic.
DR. SELMAN: She drank more than you?
GEORGE: We talked more and stayed up later.
HILLY: And I was a zombie at work all day, because I only got three hours of sleep.
DR. SELMAN: You're not going to see each other for two months?
HILLY: I'm hoping George will come to Rome when I'm there, but yes, I have to go to L.A., then D.C., then Switzerland, then Rome, back to Switzerland.
GEORGE: You're gonna be back in a couple weeks. And last night we had sex, right?
HILLY: Yes.
GEORGE: That was very nice. Anything else happen last night?
HILLY: I vacuumed. We got pizza.
DR. SELMAN: So do you want to wrap it up, then? Is that the idea?
GEORGE: No, we just need to go on hiatus.
DR. SELMAN: Is this something you've discussed outside of the sessions?
GEORGE: I'd like to do it every week, but I can't afford it right now.
DR. SELMAN: What do you think, Hilly?
HILLY: I feel kind of guilty about the financial part, but I started this job two months ago and I'm still paying off some bills. So it's probably going to be May or June before I have my finances in order. I mean, it's been almost a month since we last saw you anyway. And I think I would get more out of it and be able to open up more emotionally if we met on a regular basis. I've brought that to the table, but no one seems to agree with me.
DR. SELMAN: Who says I don't agree?
HILLY: I don't remember. But George doesn't seem to think it matters.
DR. SELMAN: I actually agree with you.
GEORGE: Um, the only problem is, I've been paying for all the sessions and can't afford it. That's the only factor. Didn't I eat some cat treats last night?
DR. SELMAN: So you can't afford it, but you can?
GEORGE: No, I can't right now.
DR. SELMAN: So neither one of you can?
HILLY: No. The problem is, George still hasn't been reimbursed for a large part of the insurance, because I screwed up the claims. So they've been holding payments until we settle it, because I was accidentally double-submitting them, which is insurance fraud—but I caught it. I didn't realize that's what I was doing. I called them and they said, 'That's fine'—they're just waiting to receive the new statement.
DR. SELMAN: How do you think that happened?
HILLY: I started submitting my claims the day after our first session. But I didn't start sending George's until maybe two months into them, and I was probably drunk when I did them.
DR. SELMAN: Let's say, theoretically, you were being reimbursed by insurance—then this would be less burdensome and you would come more often?
HILLY: Absolutely. If the insurance company could pay you directly, which—
GEORGE: Anyway—
DR. SELMAN: I just find it interesting that somehow the finances became an impediment, and I have to wonder if there's some unconscious thing that went on in screwing up the insurance, thereby sabotaging what we're doing here.
HILLY: I've been accused of that before—with my individual therapist many years ago. I just stopped showing up and I'd forget to go to the session, and then finally one day I said I was ready to quit, that I thought I'd covered enough ground and there wasn't anything else to discuss. And she said, "On the contrary, I think you should confront a few things."
GEORGE: Remember, Hilly also took some of the money that we were reimbursed for.
HILLY: That was an extenuating circumstance.
GEORGE: O.K.! But you also took $50 from me today, right?
HILLY: Yeah, but I have every intention of paying you back.
GEORGE: Well, since I'm paying for this, can I bring up a few things I've been thinking about a lot?
DR. SELMAN: That's more important than what we're talking about? I think whether or not you continue is an important issue.
GEORGE: We're just gonna take a break for a month or two.
DR. SELMAN: I'm just trying to understand who's the mover and shaker behind this, you or you? Because I can't tell. So I'm not sure, if there was enough money, you would continue at this pace anyway.
GEORGE: I'm sure of it.
DR. SELMAN: You agree?
HILLY: Absolutely. If George had the money, then I'd continue coming.
GEORGE: But can I try to bring up a few things? I ate some cat treats. Right?
HILLY: I brought over cat treats for Bobbie, and he grabbed them and thought they were treats for him. It was pretty funny.
GEORGE: What percentage of our conversation is about my cat when you come over?
HILLY: Probably 65 percent.
GEORGE: I've had two dreams recently about being in prison. Feel trapped. Life's slipping away and I haven't lived in Europe yet. Got up at 1:30 p.m. today. Still have insecurities about the boarding schools and colleges I didn't get into. I was a legacy at Princeton—father and grandfather went there.
DR. SELMAN: What are we supposed to do with this stuff?
GEORGE: More insight into my character.
DR. SELMAN: What do we need them for, though? If we're not going to be continuing.
GEORGE: Come on, can we just push that thought aside for just a moment? We're going on hiatus. So I had an idea for a book: I want to retrace the route Lewis and Clark took.
DR. SELMAN: Fascinating.
GEORGE: Just thinking about a book idea. But then I don't want to do a book, because 95 percent of book people are glorified publicists.
HILLY: I'm a publicist.
GEORGE: Oh, sorry. That's O.K.!
[Silence.]
GEORGE: Besides a pro basketball player, I wanted to be an actor. I was in Arsenic and Old Lace—got poisoned at the end.
DR. SELMAN: And do you have any insights you'd like to share?
HILLY: I wanted to be Connie Chung.
GEORGE: Hilly came back from Hawaii really tan. I was drooling all over her.
DR. SELMAN: She seems tan now.
HILLY: Oh, thank you. I even bought a hula dancer's costume because I thought it would be fun, and it scared him.
GEORGE: You jumped into my room with it on and I screamed.
[Silence.]
DR. SELMAN: Why didn't you go to Hawaii with her?
GEORGE: I know.
HILLY: I went with my parents.
DR. SELMAN: Was George invited?
HILLY: Oh, yeah.
DR. SELMAN: You were invited to Hawaii and you didn't go?
GEORGE: I know. I better go with her to Rome.
HILLY: Plus I get to stay in a really fancy hotel and I'll be doing work stuff all day long, so he can do whatever he wants.
DR. SELMAN: Yes, but he already turned down the Hawaii trip.
HILLY: Well, my parents were involved, but—
GEORGE: That wasn't why! I don't like to leave New York.
HILLY: And you don't like to make plans.
DR. SELMAN: Well, he turned down a trip to Hawaii, and then you didn't want to go out to East Hampton with him.
HILLY: No, I wanted to go, but I'd already committed to something else.
DR. SELMAN: Something that you've blown off consistently over the years, and now all of a sudden you feel that you have to go to it.
HILLY: You're right. My mom said something about that, too.
GEORGE: I don't understand.
HILLY: I feel jilted that you wouldn't consider going to Hawaii, so subconsciously that was the deciding factor on why I didn't go with you.
GEORGE: But you know I've had this fear of flying—
HILLY: You know what I really felt jilted about? That you wouldn't go with me to Bubby's party.
GEORGE: Can I just say one thing? I have a fear of flying. I took a class at LaGuardia called "Fly Without Fear." Bubby's party … yes, I felt there was something going on between us about New Year's Eve, but—
HILLY: That night when you went out—remember I got really upset? And I hung up on you, and you got really mad at me, and you yelled and yelled and yelled?
GEORGE: I had to meet someone—two business-type meetings, meet two people for drinks. Business. Friends.
DR. SELMAN: Two people?
GEORGE: Women. The second thing happened on the spur of the moment—the next thing I knew, we were going to this party for Quest magazine. I called you later and asked you to come over. Right?
HILLY: Yes, but it was my own paranoia. That made me realize that it's unhealthy to be paranoid. If I did more things on my own, then I wouldn't feel like that.
GEORGE: Right!
HILLY: The day afterwards, you told me what happened, and I thought, "Well, why didn't you tell me who you were with when you talked to me on the phone?"
DR. SELMAN: How did you think you were being paranoid?
HILLY: I should be able to trust you.
DR. SELMAN: What was it that you weren't trusting of?
GEORGE: I wasn't being forthcoming about everything that was going on.
DR. SELMAN: So what did you suspect?
HILLY: That he was having fun without me.
GEORGE: Ohhh. Well, maybe I didn't want to be forthcoming about everything that I was doing because you might look at it a certain way. I was being social with two women, but it was someone I wrote about and someone I worked with.
DR. SELMAN: Does their sex matter?
HILLY: No, no—I don't know …. Maybe sometimes it can, a little bit. But now that I have a really busy job and have all these things on my schedule, I have to keep up with my friendships, because that's healthy. So if something happens, then I won't be left in the lurch.
[GEORGE's cell phone rings.]
DR. SELMAN: Saved by the phone!
GEORGE: It's my grandmother. Hi, Gimma! Gimma, I'm in the middle of a therapy session—can I put you on speakerphone? Want to tell them what a good boy I am?
GIMMA [over the phone]: George Gurley the Third is my grandson and he's the greatest.
HILLY: Hi, Gimma!
GEORGE: O.K., thanks, Gimma. I'll call you tomorrow.
[HILLY shows DR. SELMAN a picture of GEORGE at about age 3.]
HILLY: Little Georgie.
GEORGE: It was weird not being with you New Year's Eve, because it's really symbolic, right? But I had to get out of town. It would have gotten really crazy. I needed to make that gesture for myself, to set the tone for the New Year.
HILLY: That's good! Because then we both started our year off doing something. You spent it doing a responsible thing, and we spoke that night and had an endearing conversation, so it wasn't like we were completely apart. And I started the New Year off still keeping in touch with you, but also living independently.
DR. SELMAN: Well, it sounds to me like you really have developed a life for yourself, independent of your relationship—traveling, you have a full-time job, you have a lot of stuff happening.
HILLY: Mm-hmm.
GEORGE: It's good we brought this up, and I think I've mentioned this before, that I've felt responsible for Hilly's—not her emotional well-being, but too much of her emotions. Like she hasn't been independent enough. Is that fair to say?
HILLY: But then you have to own up, too, because when I told you that I absolutely couldn't go to East Hampton, that I was going to Bubby's, you threw a fit.
GEORGE: I did?
HILLY: You were yelling and screaming at me—you told me it was stupid, and you went on and on about, "This is ridiculous, the whole concept of needing to be a good friend!"
GEORGE: Ha-ha-ha-ha.
DR. SELMAN: I actually think it's the opposite—I think that she's more responsible for your emotional well-being than you are for hers.
GEORGE: Oh, yeah. O.K., you're right. You're right, you're right, you're right. You're right. Yep. O.K. But we're sort of going down another—I'm trying to follow you—
DR. SELMAN: Remember the concept of co-dependency? Remember the book that you didn't read? Anyway, the time is wound down. So give me a ring when you feel like you have time to come again.
HILLY: Did you have a chance to look at that spread sheet about the insurance?
DR. SELMAN: It was daunting. I think you managed to sabotage things with it.
HILLY: Well ….
DR. SELMAN: I don't think it was an accident.
GEORGE: We'll figure it out.
HILLY: I just have to leave with one last thought: You're right, I sabotaged it. That's what my viola and violin instructor told me in high school, that he didn't think I could deal with it. He said I have "a tendency to flee from beauty," which meant the emotional truth in the music. And that's when I had a nervous breakdown and gave it up.
DR. SELMAN: And my final thought is, the money's not the real issue.
[To be continued.]
Frey-ed
James Frey, the author of the best-selling memoir A Million Little Pieces, has been accused of using fibs to gin up a wild tale of alcoholism, crime and drug abuse—a serious offense, you might agree, for a book that sits proudly in the nonfiction stacks. But not serious enough, apparently, for the bookseller Barnes & Noble to offer readers a cash refund of their $12.96. Yes, the book's publisher, Random House, has offered to refund the purchase price, but only to those few people who bought the book from them directly. Surely Barnes & Noble—which has been selling books to New Yorkers since 1917, when William Barnes of Wheaton, Ill., moved to New York and teamed up with G. Clifford Noble—would honor its hard-won bond with readers and say to them, "Yes, this James Frey scoundrel has duped us all! Bring us the book and we'll hand you $12.96 in cold, hard cash, never mind the few bucks we'll be losing—after all, we sold 445 million books last year!" But that's not the way it went.
At the 54th Street Barnes & Noble branch, Mr. Frey's turquoise-covered book sat on a shelf of paperback best-sellers next to Memoirs of a Geisha and above the fantasy novel The Lion, the Witch and Wardrobe. Store employees were still applying burgundy "20% off" stickers to the paperback cover and seemed unsympathetic to a request for reimbursement.
As was Danielle Thorsen, 26, a blond private-equity associate, who—like seemingly every other mild-mannered woman in New York City these days—had heeded the call of Oprah Winfrey, publishing's 21st-century Midas, to read Mr. Frey's now-discredited tale of crack-fueled, blood-stained rampages. Ms. Thorsen said that she had chosen the memoir for her local book club.
"Oprah is defending it," she added. "I don't know if I really care if he was telling the truth. In the end, it's the feeling he is trying to relate to the reader. Maybe he is exaggerating a bit, but maybe he needs to exaggerate if the reader is going to know what it is like to be an alcoholic."
Apparently, many people want to know what it's like to be a drunk, because the book was flying off the shelves at the Barnes & Noble on 48th Street. Cashiers there were strangely unmoved by arguments about the sanctity of nonfiction and the mishandling of the public trust, not to mention the ethical and legal implications of false advertising.
"If you don't have the receipt that says you bought that book in the last 14 days, you can't get your money back," said David, a sleepy, unshaven salesman in the nonfiction section of the store's basement. "I understand you don't think it's nonfiction, but we haven't been told to move it. It's still in nonfiction."
"We have a memo for that particular book," added Amanda, a cashier, who'd been complaining to David that she wanted to go on her lunch break. "It says there is no change in the return policy."
When asked when the memo was issued, they stopped answering questions and suggested consulting a customer-service representative upstairs.
"I'm aware of the situation, sir," said Patrick, a thin and bookish manager who sat on a stool behind a computer and under a portrait of Edith Wharton. "But you can only return the book for store credit, or exchange it—it's the store's standard return policy. The book is still considered a memoir; there has been no decision to move the book from nonfiction. And that decision cannot be made at the store level. Try these guys," he said, handing over a card with a contact for customer-service headquarters. "They are the next rung up."
The number was dialed, and a woman named Nikki answered the phone. She asked how she could help. She listened patiently to passionate arguments about how dishonest writers breed distrust between all writers and readers, and about how Random House, Oprah and Barnes & Noble had apparently combined into a nasty complex that worked to crush the little guy and swindle him out of $12.96—money which would purchase said little guy a decent meal at any number of local dining establishments—and how a refund, in cash, would be really greatly appreciated.
Nikki said she couldn't help.
"We're not giving refunds on that book. It's a regular return policy. If it's in sellable condition, you can return it, with receipt. The book will still remain in the same nonfiction section. At this time, we haven't made any decision to change where the book will be displayed."
But then the corporate chill thawed from her voice.
"And you know, I read the book, and personally—and I am not speaking for the company here—I don't think it's that drastic of a deal. It's really well told. And honestly, only like 6 percent is made up, and the other percent is so rich in detail it doesn't matter. I really liked it. I wouldn't return it, but that's just me."
Walking just two blocks south, one encounters yet another Barnes & Noble, on 46th Street. A cashier, Shamika, asked the next customer in line to please step down. The turquoise book, and a highlighted copy of the Smoking Gun Web site's exposé—which detailed how Mr. Frey "wholly fabricated or wildly embellished details" in his book—landed on her counter. The difference between fiction and nonfiction was painstakingly elucidated. The exposé was brandished. Oprah's ethics were questioned. $12.96 was demanded.
"Excuse me!?" said Shamika, who called over to her boss for assistance. "He wants to return the book because the guy lied. He wants cash back. I'm sorry—I should stop laughing."
The cashiers down at the 22nd Street Barnes & Noble, where the memoir had been cheekily displayed between two books titled Truth: A Guide and Lies! Lies!! Lies!!!: The Psychology of Deceit, would likely be more understanding.
"Yeah, I was just discussing this with my roommate last night," said Curt, a cashier wearing black-framed glasses. "We were up last night late. We had this long talk: What is the difference between a memoir and nonfiction, what is nonfiction really, and …. "
Yes, yes, but the money, Curt. What about the money?
"Oh, do you have your receipt? Well, without a receipt, all I can do is exchange it. Let me tell you how much—it usually is 10 or 20 percent off. So you can get any book for the lowest selling price, $10.46."
Attempts at other Barnes & Nobles proved equally futile. It became increasingly clear that only the most powerful woman in publishing—a woman who is also a proud proponent of achieving emotional closure—could resolve the situation.
"I don't know how Oprah feels about you not getting your money back," said a woman who answered the phone at the offices of Ms. Winfrey's Harpo Productions. "I know that she has given comments to several news shows. You might want to call ABC, NBC or CBS. No, they cannot give you your money back, either. No, I'm afraid, for security purposes, I cannot give you my name. Sir, I strongly advise that you go to the bookstore with your receipt."
—Jason Horowitz
Prior Articles:
George and Hilly published 01/16/06
George and Hilly published 12/26/05
George and Hilly published 11/14/05
George and Hilly published 11/07/05
George and Hilly published 10/24/05
George and Hilly published 10/17/05
George and Hilly published 10/10/05
George and Hilly published 10/03/05
George 'n' Hilly, Back in Couples, Turn on the Doc published 09/26/05
But Should We Get Married? Part III published 08/29/05
But Should We Get Married? published 08/15/05
Should I Get Married? My Hilly Joining Me In Couples Session published 08/08/05