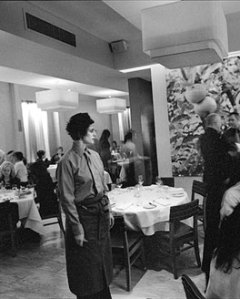 Telepan
Three stars
72 West 69th Street
(near Columbus Avenue)
212-580-4300
Dress: Casual
Lighting: Low and pleasant
Noise Level: Fine
Wine List: Mainly Italian, French and Californian
Credit Cards: All major
Price Range: Main courses, $25 to $33
Dinner: Sunday, 5 to 10:30 p.m.; Tuesday through Thursday;
to 11 p.m.; Friday and Saturday, to 11:30 p.m.
Telepan has turned its back on all that is bustling, trendy and loud. While the latest restaurants are cranking up the volume, pinpointing their diners with overhead lights, mixing bizarre "muddled" cocktails and opening their kitchens to the prying gaze of customers, Telepan is an oasis of calm. It's in two townhouses—two separate dining rooms with four fireplaces, a wine room, sage-green walls and crisp white tablecloths, where nicely behaved customers (mobile phones off) talk in low voices and make appreciative remarks about the food to a polite, friendly staff. It's not noisy. Imagine that!
Telepan is just a short walk from Lincoln Center, and it was close to 11 p.m. when I arrived here for the first time, for dinner after the ballet. I'd expected to be rushed through with last orders from a closing kitchen, but the place was going as strong as if it were downtown. What's more, even though the restaurant opened only a few weeks ago on the Upper West Side, Telepan already seems to have established itself as this neighborhood's answer to the Union Square Cafe, attracting a following of editors, authors, publishers and neighborhood intellectuals (including such éminences grises as Victor Navasky and Ed Doctorow). And they're not coming here just because Telepan is a place where you can hold a conversation.
The draw is the outstanding cooking of Bill Telepan, the former chef at Judson Grill. He's the slight, shy-looking man with close-cropped hair and large, black-framed glasses who appears once in a while and stands near the bar. He looks more like a straight-A chemistry student than a three-star chef. The blown-up photographs of fruits and vegetables that hang on some of the walls come from his cookbook, Inspired by Ingredients. All chefs these days talk of their dedication to ingredients, local and organic, but what really sets Mr. Telepan apart is the clarity and focus of his food, which is elegant and without gimmickry (no froths, foams or fusions).
You can eat any way you like: The menu is set up with first courses, midcourses and main courses. You can come in and get a light meal of shirred or coddled eggs or have a five-course dinner. We chose a four-course tasting ($55)—we could have done five, but it was 11 p.m., after all. Moreover, we decided to throw ourselves upon the mercy of the sommelier to do the wine pairings ($32). The result was pure theater.
The young sommelier, Aaron von Rock (I'm not making this name up), looks like a character from a Dickens novel: thin, gangly and almost foppish, with dark locks shaped into a quiff and a face decorated with artfully placed patches of hair. His wine patter is pure delight. "The finish of this Mâcon is like adding the scallop shells back to the scallops," he said as he poured a glass to go with Mr. Telepan's plump, medium-rare, parsley-breaded sea scallops, which came with broccoli rabe and a delicious twirl of Meyer lemon–pepper linguine.
"The minerality of this bright, clean Sancerre comes from fossils. There are even fossils in the walls on the cave of this old Latin vineyard!" he announced, pairing the wine with a buttery piece of lobster in a nest of spaghetti on a light, tangy shallot-garlic-tomato broth seasoned with herbs.
Telepan's 520-bottle wine list is mainly Italian, French and Californian, much of it from the cellar of partner Jimmy Nicholas, and includes a selection of organic and biodynamic wines (the latter are wines grown in specially composted soil) and many unusual boutique vintages.
"This white stays focused and keeps its identity," Mr. von Rock said firmly, pouring a sturdy Pinot Grigio to go with yellowtail tuna sashimi served on large, nutty grains of tabbouleh tossed with cured tuna, citrus and mint. "You'll like the opulent textures of this Müller-Thurgau," he announced, matching a wine from the Alto Adige region of Italy with pierogi stuffed with black truffles and potatoes over a bed of cabbage and chives. (The pierogi were great but needed a dash of salt).
A Grüner Veltliner that he poured with the house-smoked brook trout was a little thin, but the trout—mounded on dollar-sized buckwheat potato blini and black radish sour cream—was extraordinary. "I'd like to let you know the chef is adding osetra to the trout this evening," announced the waitress. What a treat! Another night he didn't feel like it (the osetra was offered, however, at an extra $18), but the trout was so good, who missed the caviar? The glazed, marinated quail was also wonderful, cut up and served with a great apple-duck sausage, chicories, apple balsamic and walnuts.
Vegetarians will not feel deprived with the roast cauliflower purée, with crushed heirloom shell beans, purple broccoli herb oil, and winter greens. Another vegetarian dish, sweet potato blini with spaghetti squash in a sauce with almonds and pumpkin spice, was a bit too sweet for me, like a Thanksgiving dessert.
A Kunin Pape Star from California—"only the second vintage ever made and it's like Châteauneuf-du-Pape"—went with the duck, one of the best dishes on the menu: seared breast with a silken foie gras custard, cauliflower, hazelnuts and pears. The cassoulet was also remarkable: heritage pork, smoked sausage, spareribs and cured bacon accompanied by a small terrine of creamy beans sprinkled with breadcrumbs. Sausage heaven.
When it came to the bottle of malmsey he offered for dessert, I decided to test Mr. von Rock. In which Shakespeare play does malmsey appear? He paused for a minute. "Henry IV, Falstaff's friend."
The "malmsey-nose knave." Not to mention the Duke of Clarence in Richard III, said to have drowned in a tub of malmsey.
The meal winds up on a high note with the desserts of pastry chef Larissa Raphael, who was formerly at AZ, Pace and Judson Grill. They include glazed profiteroles in a spongy brioche dough filled with caramel and served with vanilla ice cream, and an Oloroso sherry custard sandwich with candied blood oranges and glazed pecans. The custard was perfect but a tad overwhelmed by the sherry. A granita of quince, drenched with Prosecco, was bit too icy.
With the bill came a small box of petits fours. "Take them home with you," said our waitress.
"Or eat them all now," said my companion.
And he did.