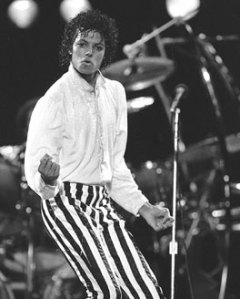 New York Times critic Margo Jefferson has written a risky little book on Michael Jackson. "Risky" because, at 146 pages, it avails itself of none of the satisfactions of a proper biography, instead asking us to cough up $20 for the quality of Ms. Jefferson's thoughts and opinions alone. Also risky because, arriving less than a year after the Santa Maria trial let loose a flood of such opinionating, Ms. Jefferson rather resembles a snow-boarder attempting aerial somersaults atop an avalanche.
This creates more than a few wobbles of purpose and tone. The Margo Jefferson who ends her book with an account of the trial, for instance, in which she visits scorn on the media's brand of "intellectualized gossip … the standby metaphors are the circus and the freak show" might have been well advised to get in touch with the Margo Jefferson who started her book with a chapter entitled "Freaks"—in which she compares Jacko to the sideshow freaks of P.T. Barnum: "From the mideighties on, he turned himself into a 'What Is It?'"
Her method throughout the book is to pluck some theme, hot and steaming, from the tabloids—transsexualism, pedophilia, albinism—dig around for a couple of paragraphs of historical background, and then affix it to Michael Jackson's tail in fancier language: "a transvestite [who] masters the art of the betwixt and between … a new kind of mulatto … a postmodern zombie." So representative of the competing strains of American culture does Michael Jackson become that you wonder why he doesn't simply give up on this pop-star business and publish himself as a concordance.
On Michael Jackson will doubtless bring joy to the hearts of cultural theorists everywhere. If you're one of the lucky few for whom all boundaries are there to be transgressed, all identity made mutable, then this is the Michael Jackson book for you. "What's the exact line between parent-protectors and parent-pimps? Adults as mentors and lovers? Fans as worshippers and predators?" From which the informed reader is invited to guess that maybe there isn't too exact a line. "Is he a good man or a predator? Child protector or pedophile? A damaged genius or a scheming celebrity … ?" Just a wild guess, but might the correct answer be all of the above? "He is all these things." Bingo!
The problem with this approach, which tosses everyone like a Caesar salad, is not that it holds true for Michael Jackson but that it holds untrue for no one. "Masters the art of the betwixt and the between" could as easily apply to Beck, Madonna or Shakespeare—or pretty much anybody else in the history of Western culture you care to name. As criticism, it lacks specificity.
Why, then, does this mongrelization of sources reduce the cultural theorist to such a state of uncontainable excitement? Well, one advantage for the critic is that you get to show off your range of reference, as Ms. Jefferson does here, taking a big whiff of Michael Jackson and noting heady infusions of Dietrich, Astaire, Chaplin and Sammy Davis Jr., with distinct touches of Tom Sawyer and Huck Finn. The disadvantage is the lack of human texture to the resulting scarecrow figure. In the stony eyes of the cultural theorist, child stars are merely "archaeological sites, carrying layers of show-business history inside of them." The draconian Jackson family is "a public-relations construct and a myth in progress," while Michael's mother commits the egregious sin of marrying a philanderer—"a country-and-western cliché." You wonder which Katherine Jackson will find more upsetting in the long run: the fact that she married an abusive brute, or the fact that, by doing so, she committed a cultural faux-pas in the eyes of The New York Times?
You could argue, of course, that with Michael Jackson, a certain waxiness of skin texture is appropriate—and sure enough, Ms. Jefferson pulls that one out of the bag, too: "There is no realism here, only mythology," she argues in Baudrillardish vein, and quotes a psychologist who points out, "Do you realize this is someone whose inner life is Tom and Jerry?" Which is kind of funny, though not helpful or true—a cultural sneer masquerading as psychological insight. This is a shame, because there are at least two good books to be written about Michael Jackson. One would be by a clinical psychologist, and would settle the debate once and for all as to how certifiable the man is; the other would be a book about his music—equally certifiable genius.
Here, though, is the really bad news about On Michael Jackson: no Quincy Jones. Not even a mention of him. Which means no discussion of Off the Wall, or Thriller, or of that five-year period from 1978 to 1983 when Michael Jackson's artistry was at its absolute peak. How on earth you can write a book about Michael Jackson and resist the impulse to describe the hustling, contrapuntal fandango that is the first 16 bars of "Don't Stop 'Til You Get Enough," I will never know. It's like visiting Egypt and ignoring the pyramids.
"Ah, but the art!" exclaims Ms. Jefferson at one point, catching herself too deep into tabloid territory—but it turns out she means the album covers, about which she has lots of opinions. Her comments on the music are so much excitable blather, along the lines of "Talent? Deluxe voice? Charisma? You bet." Or "He created the show; he was the show." And "Michael Jackson became world-famous because he was a world-class talent." Oy, oy, oy.
Tom Shone is the author of Blockbuster: How Hollywood Learned to Stop Worrying and Love the Summer (Free Press).