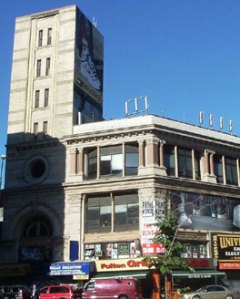 When city planners rezoned much of downtown Brooklyn 17 months ago, it was meant to make the city's third-largest business district even larger. Now it is looking more and more like a bedroom community.
It is not just the half-dozen condo projects sprouting up around the edge of downtown, transforming weed-strewn parking lots into glassy towers.
Even the 10-block area envisioned as the "commercial core" of the new downtown is leaning residential. The developers of the two sites furthest along in the planning process are suggesting that as few as 200,000 square feet of office space might go up where two million square feet were once envisioned, with the balance going for hotel rooms and apartments. A third property owner wants to erect a hotel right in the middle of a site where a 20-story office tower was supposed to be built. An existing office tower in that central core—7 MetroTech Center, the 1930 Verizon building—was purchased last April to be converted into condos.
In other words, Brooklyn's booming residential market has overtaken the supply of office space—making it harder for roughly 19,000 jobs that were originally seen as the fruit of the rezoning to find their way into the new downtown.
Brooklyn's boosters say they are not worried about the awkward start of what Mayor Bloomberg once called "a key part of our strategy to preserve and grow jobs." After all, people used to complain that downtown Brooklyn, and especially MetroTech Center, Forest City Ratner's 15-block office complex at the north end of the rezoned area, shut down at 5 p.m. Now it looks like downtown Brooklyn is just going to be waking up then.
Party on!
"We believe residential is still important," said Lee Silberstein, a public-relations consultant representing the Downtown Brooklyn Council, a division of the Brooklyn Chamber of Commerce that conceived of the rezoning and convinced Mayor Bloomberg to adopt it as his own. "The more people living there, the more it becomes an around-the-clock community, and that will make it more attractive to businesses in the long run."
Mr. Silberstein is also a spokesman for Thor Equities, a shopping-mall developer that controls arguably the most important site downtown, which is zoned for a 1.2 million-square-foot office building. But Mr. Silberstein said that Thor's chairman and C.E.O., Joseph Sitt, is currently planning a tower that would include just 100,000 square feet for offices, another 100,000 square feet for retail, with the remaining million square feet split roughly between a hotel and apartments.
He would be open to changing that configuration if a major corporation were to step forward and ask for 50 floors. But that has not happened.
Unlike other parcels around downtown, the site is ready to go. All Mr. Sitt needs is money. He is, Mr. Silberstein said, looking for a development partner or an investor. Thor's broker, William Shanahan, executive vice president and partner at CB Richard Ellis, said that Mr. Sitt would also be interested in selling the property, although Mr. Silberstein disputed that.
A Brooklyn native, Mr. Sitt recently proposed turning Coney Island into the closest thing to Las Vegas that could legally be built in New York: a billion-dollar complex with a four-star hotel, water park, shopping mall, blimp, searchlights and glitzy attractions like Cirque du Soleil and House of Blues. Fifteen years ago, he started the Ashley Stewart chain of clothing stores—it offers plus-size fashions targeted to African-American women—right on Fulton Street. Now Thor owns 12 malls around the country, and a couple of other buildings, but Mr. Silberstein said he was not aware of any properties that Thor had developed from the ground up.
Originally, according to press reports, Mr. Sitt was planning to build the downtown office tower all by himself, which would have put downtown Brooklyn's most important parcel in the hands of a first-timer. It is not surprising that he has sought help, industry experts say.
"Only a handful of developers are capable of doing a million-plus-square-foot project in New York City," said Glenn Markman, executive director at Cushman & Wakefield. "It is an extremely difficult thing to accomplish and you have to work your way up to it."
Mr. Markman is representing another major property developer, Joshua Muss, president of Muss Development, a Queens-based developer who built the Brooklyn Marriott nearby and is adding another 280 rooms to the hotel now. Mr. Muss reportedly has entered into a joint venture with the city's Economic Development Corporation to construct an 850,000-square-foot building at Red Hook Lane and Boerum Place.
Mr. Markman would not give details of the project, as it has not been announced nor finalized. But real-estate sources said that most of that building would be devoted to apartments, with about 100,000 square feet set aside for an educational institution—presumably Brooklyn Law School, which is headquartered across the street. Only 100,000 or 150,000 square feet is now being considered for offices.
The E.D.C. would not respond to specific questions, but spokeswoman Janel Patterson said in a statement: "The Downtown Brooklyn Plan offers the best chance for expanding what is already the City's third largest business district …. The residential market already is responding to the plan, making it a more vibrant 24/7 neighborhood. In the end, what is built and when will be determined by the market."
Mr. Muss and Mr. Sitt are apparently entangled in the mixed messages of New York's commercial real-estate market: While vacancies are the lowest they have been in five years, the type of large tenants that are needed to spur construction of a million-square-foot building are nowhere to be found. And if they were, they could make Larry Silverstein very happy by taking some of his space at Ground Zero off the market—for arguably the same price as in Brooklyn.
But what's so great about Manhattan anyway?
Mr. Markman sees the downtown Brooklyn market as becoming a center for the "creative industries."
"I'm starting to see media, publishing and entertainment companies get interested in Brooklyn," he said. "A lot of creative people are moving to downtown Brooklyn, Brooklyn Heights …. You have people living here, eating here and playing here, and [they] are going to soon find their way to work in the borough. When you start having decision-makers living here, you are going to have a big interest in commercial development. They will move their offices here."
The question is whether there will be any space left for offices. That sounds like an obnoxious question, given the size of downtown Brooklyn. But the new zoning allows either residential or commercial development throughout downtown Brooklyn. The new residential development—anticipated to total about 1,000 apartments—was expected to be concentrated on the edges of downtown, along Schermerhorn Street, for example, or across Flatbush Avenue. Office buildings were supposed to go in the 10-block central core. In order to promote commercial construction in a borough that many still consider to be an unacceptable business address, commercial buildings in the core could rise 20 percent higher than apartment buildings. Yet the residential market is so strong—or the commercial market so weak—that that incentive has not tempted anyone to gamble on offices.
Bruce Ratner, Forest City Ratner's president and C.E.O., recently came to a similar conclusion. He originally proposed 2.1 million square feet of office space to be included in his Atlantic Yards complex, which lays adjacent to the boundaries of the downtown rezoning to the southeast. Then, last summer, he reduced that amount to 628,000 square feet and made up the difference with market-rate condos.
Together, the Thor and Muss sites were supposed to contribute two million square feet out of the 4.6 million square feet of commercial development anticipated in the next decade, according to project specifications. By using most of that square footage for apartments and hotel rooms instead, about 7,200 of the anticipated jobs would be lost, according to a standard formula that allocates 250 square feet for each office job.
Potentially, developers could tear down buildings almost anywhere in the commercial core—roughly the triangle bounded by Willoughby Street, Flatbush Avenue Extension and Fulton Street—and build higher, recapturing some of those jobs. But the final environmental-impact statement for the rezoning project, issued in April 2004 at the behest of the Department of City Planning and the E.D.C., was very specific about envisioning which parcels would most likely be developed.
Because of the difficulty of buying enough contiguous small lots to create a footprint big enough for a modern office building, the city imagined that just five sites in the commercial core could be turned into office towers, including the Thor and Red Hook Lane properties. These were either already owned by the government or could become so thanks to eminent domain, after which they would be leased to private developers.
One of those other sites, at Willoughby and Duffield streets, has been painstakingly assembled over the past 20 years by a large Brooklyn landowner, Al Laboz, according to real-estate deeds on file with the city. However, a hotel developer, John Lam, who recently put up the 158-room Four Points by Sheraton in Chelsea, bought two lots in the footprint last August, according to records. Crain's New York Business reported over the summer that Mr. Lam wants to build a 300-room Sheraton or 180-room Hilton Garden. Neither Mr. Laboz nor Mr. Lam returned telephone messages.
City planners did, by the way, envision a new hotel. Needless to say, it was not supposed to be where Mr. Lam wants his, nor where Thor Tower will stand. But that, of course, is just what the planners thought.