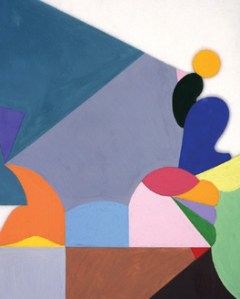 The painter Don Joint is in love—in love, that is, with marble. Mr. Joint's recent efforts in oil, on display at Francis M. Naumann Fine Art, are the result of a chance encounter with a still-life painted on marble by the 18th-century Dutch artist Gerard van Spaendonck. Attracted to the tactile qualities of white marble—its density and texture, its capacity to accentuate the properties of oil paint through the transmission of light—Mr. Joint employs it as a support for his clean and crisp brand of geometric abstraction.
Actually, "abstraction" is something of a misnomer: Each of the pictures is based on an Old Master painting. But don't call what Mr. Joint does appropriation, either; his puzzle-like riffs on Masaccio and Fuseli are deeply felt valentines to the tradition of Western painting. However buoyant and whimsical the paintings may be—Necco wafers seem to be the primary inspiration for Mr. Joint's palette, Yellow Submarine for his sense of form—they are rigorously, if not slavishly, grounded in precedent. The Spaendonck painting is included at Naumann as a point of reference. It's a fetching object, but the use of uninflected marble as a backdrop for a floral arrangement is, at least in this example, a decorative fillip and nothing more. Mr. Joint goes Spaendonck one better, allowing the milky surface of the marble to provide color and shape. These are Mr. Joint's most assured and satisfying compositions to date, but one can't help but wonder if the paintings aren't a bit stifled by the attention bestowed upon their support. As subtle and beautiful as its properties may be, the marble never quite yields its material hold on the eye—it's always there, snagging the eye. Let's hope Mr. Joint's experiment with marble turns out to be a passing fling and not true love. Credit his gifts as a painter—and his quirks—that we delight in the pictures all the same. Here is a rare artist whose skill can make you look forward to the future with anticipation and optimism.
Don Joint: Catawampus; Paintings and Prints is at Francis M. Naumann Fine Art, 22 East 80th Street, until Feb. 8.
Altfest's Austerity
The American art critic Henry McBride called Charles Burchfield's paintings "songs of hate." I was reminded of this phrase while looking at the recent paintings of Ellen Altfest at Bellwether Gallery. McBride found much to commend in Burchfield's hatred of the "loathsome" locales he was drawn to and even encouraged it. Ms. Altfest's art is suffused with a similar kind of hatred—or, at least, an unpleasant austerity—yet it's not targeted at her subjects.
Rather, the paintings reveal a fascination with things in the world. A mass of tumbleweed wedged into the corner of the studio, a field of cacti, a bevy of house plants, driftwood on the floor, and a view of Manhattan from Long Island City or Brooklyn are all subjected to Ms. Altfest's unrelenting and clinical eye. Hatred—if we can call it that—is manifest less in the what of the paintings than in the how. Judging from the work, it seems as if Ms. Altfest hates painting.
It's an odd conclusion to reach, perhaps. Each canvas is a tour-de-force of verisimilitude. Honing in on a single or centralized motif, Ms. Altfest limns it with a flinty touch, and does so with merciless precision. The facture of the paintings, the literal accumulation of marks upon the surface of the canvas, is fidgety with activity—like a particularly industrious anthill or nerves after one too many cups of coffee. Ms. Altfest is begrudging in her painterly responsibilities; her doggedness conveys no joy.
The results are all but unbearable to experience. Looking at one of the paintings is like being witness to an interrogation conducted with cruel invention, under the harshest of light bulbs. Ms. Altfest's dedication to craft and clarity provides some recompense for the work's callousness, but not so much that you wish there weren't something else to look at.
Ellen Altfest: Still Lives is at Bellwether, 134 10th Avenue, until Jan. 21.
Biala's Brush
In exhibiting the elegantly offhand paintings of Biala (1903-2000), Tibor de Nagy Gallery has provided a lovely, if not earth-shaking, grace note to our understanding of 20th-century art. Giving herself the name of her hometown in Poland as a nom de plume, the woman born Janice Tworkovsky (her brother was the Abstract Expressionist painter Jack Tworkov) dedicated herself to "the kind of life I wanted to live." That meant falling in love with the British novelist and notorious womanizer Ford Madox Ford, socializing with Brancusi and de Kooning, calling Gertrude Stein "an angry bitch," taking Ezra Pound to task for his romance with fascism, and painting—always painting.
With their blocky rhythms and moody disposition, the paintings offer testimony to the modest pleasures of everyday life: friends over for a visit, the view outside a window, freshly picked flowers, the family cat. The work combines the intimacy of Vuillard's densely packed interiors with a gruff and hasty variant of Matisse's hedonism. The palette is ruddy and warm, and Biala's sweeping brush is exhilaratingly succinct in describing form, if not as deep or as sharp as it could be. The charm of the work, as well as its chief limitation, is that it can't shake off the clunky esprit of the inspired amateur. Biala hit the mark with Tranche de Melon sur Plat Bleu (1986), in which this morning's breakfast is painted with a brusquely throwaway sophistication. It's a happy performance.
Biala (1903-2000): Selected Paintings is at the Tibor de Nagy Gallery, 724 fifth avenue, until Feb. 4th.