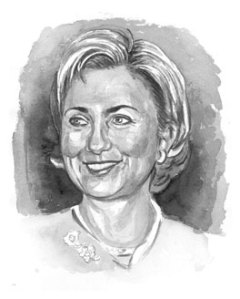 Are New Yorkers ready to fight the Vietnam War yet again?
During the Presidential campaign of 2004, John Spencer—one of the last Republicans standing who wants to run against Senator Hillary Clinton—got involved in the group Vietnam Veterans Against John Kerry. While Mr. Spencer didn't serve on a Swift boat and wasn't involved in Swift Boat Veterans for Truth, a group that ran ads attacking Mr. Kerry, Mr. Spencer has hired the Swift-boat veterans' media advisor, Chris LaCivita, to fashion his own ads.
In a telephone interview with Wise Guys, Mr. Spencer drew parallels between what he described as Mr. Kerry's attitudes toward war and peace and those of Mrs. Clinton, which he said emanated from their "core philosophy" as liberal Democrats and were bad for the country.
"John Kerry is a liar," Mr. Spencer said. "That's something I'll never stop saying. Hillary Clinton didn't live John Kerry's life, but she's right there with him on all the issues."
He said Mrs. Clinton is playing a "sneaky, sly" game of "undercutting" President Bush and the military, whether it's by taking part in debates criticizing military operations or the conduct of American troops at Abu Ghraib, or "standing by silently" when Senator Richard Durbin of Illinois compared the American prison at Guantánamo to the gulag. It's an old habit for her, Mr. Spencer said. During the Vietnam War, "she was part of the undercutting then, too."
Mr. Spencer, a relative unknown despite being the former mayor of Yonkers, one of the state's largest cities, has seen his star rise since Jeanine Pirro dropped out of the Senate race earlier this month. His hard-edged, unapologetically moralistic rhetoric has attracted support of elements of the Conservative Party, and Republican Party officials have begun to praise him.
Mrs. Clinton's camp, nonetheless, seems intent on ignoring him. "Every day we read about different Republicans entering and re-entering the field," a Clinton advisor, Howard Wolfson, wrote in an e-mail message. But Mr. Wolfson has acknowledged the race's Vietnam subtext. "Any of the nominees will be able to benefit from the Swift boat groups and will be able to raise money nationally," he told The New York Times last month.
No serious prognosticator gives Mr. Spencer—or anyone else the Republicans might run, for that matter—much of a chance of unseating a popular incumbent such as Mrs. Clinton. Whether Mr. Spencer's moralistic denunciations of Mrs. Clinton's decades-old anti-war activism will strike a chord among New York voters, however, will depend on whether Mr. Spencer can relate them to the present war.
Mr. Spencer said that he hadn't read the full text of Mrs. Clinton's recent 1,600-word missive to her supporters, in which she tempered her support of the war as some Democrats, notably Representative John Murtha of Pennsylvania, began demanding a quick withdrawal from Iraq. But he said—not unreasonably—that the excerpts he had read struck him as "typical Clintonism, trying to be all things to all people. When you're all things to all people, you're nothing to anybody." He added that Mrs. Clinton should "stop trying to appease the left wing of the Democratic Party."
There was, and continues to be, a constituency for such a hawkish view in New York. In 2004, Mr. Bush—running in part on his war record and in particular on his posture against terrorism—increased his vote in New York by almost 727,000 compared with his vote in 2000. Mr. Kerry, by contrast, won only 547,000 more votes in 2004 than Vice President Al Gore did in the election before. While support for the war has diminished since then, there was a reason why Mrs. Clinton and Senator Charles Schumer both voted for authorizing the conflict (and later for the $87 billion to continue it) in the first place.
They may say now that they were tricked by "misleading" intelligence put out by the administration, but that changes matters little. Neither has seconded Mr. Murtha's call for an immediate pullout. Nor do such protestations as New York's Senators have made, for example, provide an argument about what to do with the 150,000 troops in Iraq, or about which security posture America must assume in the Middle East, the source of the terrorism affecting us.
Mrs. Clinton's bromides about "repudiating torture," "reforming intelligence and its use by decision makers" and "rejecting the administration's doctrine of preemptive war and their preference to going it alone" constitute a critique of Mr. Bush's policy, not an alternative plan.
If Mr. Spencer elicits such arguments and possible solutions from Mrs. Clinton, who some say is seeking to lead her party to the White House in 2008, he will have performed a signal service. That might be a good reason to fight the Vietnam War again.