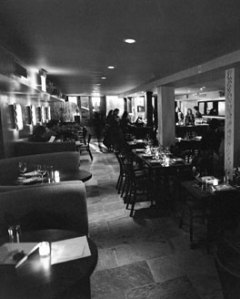 Heirloom
One Star
191 Orchard Street
(near Houston Street)
212-228-9888
Dress: Casual
Lighting: Reasonable
Noise Level: Very low
Wine List: Organic, interesting international choices, fairly priced
Credit Cards: All major
Price Range: Main courses, $16 to $19
Dinner: Sunday through Wednesday, 5:30 to 11 p.m.;
Thursday through Saturday; to midnight
Heirloom is a vegetarian restaurant with high ambitions. It banishes the notion of deprivation with the first taste of one of the delicious house cocktails at the bar. Start the evening with a blood-orange or pomegranate-rosewater martini, a margarita with mango purée, or rum punch made, of all things, with beet and carrot juice. (The beer nuts are spiced hominy).
Matthew Kenney, a celebrity chef with over a dozen restaurants under his belt, went through an epiphany of sorts a couple of years ago when he went to a vegan restaurant and loved it. Since then, his mission in life has been to introduce more people to the benefit of organic, raw and vegetarian food. He has formed a company called Organic Umbrella that operates out of a warehouse in Dumbo and has opened a series of juice bars called Blue/Green, serving vegetarian dishes and snacks around the city. Two months ago he opened Heirloom, his flagship restaurant, on the Lower East Side, with Amanda Cohen as chef de cuisine.
Judging by the packed dining room on recent nights, he has plenty of fans. There is a large freestanding mahogany and copper bar at the entrance of the long, low-lit room, which has a gray flagstone floor and a garden in the back. It's a good-looking space, with red circular banquettes and ivory walls hung with glowing panel-shaped latticework sconces. The lighting is rather flat, though; if the panels glowed more, you'd be less aware that the ceiling, which is painted red, is so low. Votive candles rest on bare wooden tables, and sprigs of lavender are tucked into the linen napkins.
When you sit down, you're brought a plate of jalapeño hush puppies and a small glass of hot cider laced with rum, accompanied by an "amuse-bouche" of black-eyed peas on a piece of Indian flatbread. (The hush puppies were good but needed salt.) The wine list is organic and international, around 40 bottles, with selections from lesser-known vineyards.
I could happily become a vegetarian. I approve of it for all the obvious reasons—humanitarian, environmental and, of course, health. When I'm left to my own devices, I eat only vegetables, preferably from the farmers' market on Union Square.
But Mr. Kenney seems to feel that in order for his customers to find vegetables palatable, he has to describe some of the dishes on the menu as though they were meat or fish. So you get portobello "foie gras" (the restaurant's quotation marks). Why? This dish doesn't taste in the least bit like foie gras. It tastes like portobello mushrooms, and they are perfectly nice in and of themselves, slivered and piled up next to a mound of apple-celeriac compote. There are "tempura sushi rolls," a bland selection of vegetables packed over rice, along with chayote "sashimi," all trying to pass off as fish.
The most ludicrously named dish is a "seafood" trio in which the squid, seared scallops and grilled fluke all turn out to be mushrooms. Looking at the plate, I thought of Carl Rose's famous New Yorker cartoon:
Mother: "It's broccoli, dear."
Child: "I say it's spinach, and I say the hell with it."
In fact, I didn't say the hell with these mushrooms, even though they were pretending to be seafood. They were very good, although they needed salt, and they included a tower of batter-fried mushrooms as well as seared, slivered Trumpet Royale and grilled bluefoot served over spinach in a pleasant saffron-garlic broth. My companion took a taste and remarked guilelessly, "These mushrooms are really meaty!"
The mushroom is the chicken of vegan cuisine, adaptable to everything.
Any self-respecting vegetarian restaurant includes tofu on the menu. I happen to love it (especially the silken stuff they make fresh by the hour at EN Japanese Brasserie). But at Heirloom, the leathery tofu, served in a wan porcini broth, was not in the same league. Eggplant ravioli, sprinkled with furry black garbanzo beans and served in a fennel and celeriac broth, were tasteless. Another curious dish was an egg poached sous vide that the waitress cracked open onto crisp, fried fronds of sweet potato alongside a lemon cream. It was practically impossible to eat.
But there was a lovely salad of local greens laced with pecans and topped with candied grapefruit on sticks. Another terrific dish was made with grits, smoked hominy, avocado and queso fresco, with a roasted tomato poblano adding just the right note of heat and acidity. I wasn't impressed with the lemon-pepper fettuccine with porcini mushrooms in a vapid walnut-cream sauce. A squash tajine with gigante beans and preserved lemon had more character.
By the time we looked at the dessert menu, one of my companions was starting to get worried. "Does 'vegan' mean it's not really chocolate?"
The bittersweet chocolate parfait was dark and creamy, topped with gingered grapes and toasted hazelnuts. The spice cake sliced in three pieces and topped with white chocolate ganache was also good, served with candied walnuts and carrot ice cream—and, like all the desserts, beautiful to look at. The vegan cheesecake, with candied clementine crust and cherry-pomegranate sauce, was one of the best cheesecakes I've ever eaten.
The food at Heirloom is certainly elegantly presented, but at times it's fussy and overelaborate. I used to love Mr. Kenney's Mediterranean food, especially at Matthew's on the Upper East Side and Monzu in Soho. His cooking was bold and vivid, using a plethora of spices, herbs—and garlic. It always had guts. I'd like to see him bring that sensuality to his vegetarian food.