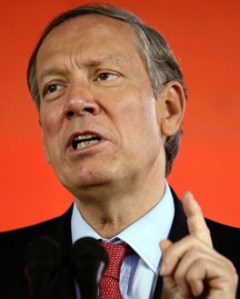 George Pataki's shelf life as Governor expires in less than a year. The same cannot be said of some of his appointees. They will be around for a long time, and there's little Mr. Pataki's successor can do about it.
Mr. Pataki will go down in history as a three-term Governor. In fact, however, his influence over policy and patronage will exceed that 12-year span.
For example, Joseph Buono, a former Republican politician, will be overseeing $650 million in annual spending at the state Thruway Authority until 2011. Joe Seymour, a loyal retainer of Mr. Pataki for 30 years, will be running the $2 billion budget of the New York State Power Authority until 2009. The Metropolitan Transportation Authority will remain in Republican hands after Mr. Pataki departs, as will New York's contingent on the Port Authority board. Pataki appointees will probably control the state's highest court until 2014, and will oversee the nascent, cash-rich Indian gambling industry until 2010.
And that's just the start.
When people speculate about Mr. Pataki's legacy, they usually focus on three issues: tax cuts, conservation and public debt. Forgotten is a more concrete legacy—a series of key appointments that will give Mr. Pataki's friends and allies control over areas of policy and patronage well into the term of his successor. Aides to Mr. Pataki say that the Governor is determined not to repeat what many see as a mistake of his predecessor, Mario Cuomo, in failing to lock in many of his appointees to key state institutions, particularly the state's vast system of public authorities.
Critics believe this will box in Mr. Pataki's successor, regardless of which party wins the Governor's office in November. "This is a tremendously threatening thing to the incoming Governor," said Assemblyman Richard Brodsky, a Westchester Democrat who has been a relentless critic of the public authorities. "The authority system will remain this enormously undemocratic—both big 'D' and small 'd'—hole in the middle of the government."
A spokesman for Mr. Pataki, David Catalfamo, said the Governor is simply fulfilling his constitutional obligations to make appointments, and called the criticism "ridiculous."
Designed to insulate policy from politics and to give state agencies the ability to borrow money independently, the state's 700-plus public authorities include everything from the Dormitory Authority, which has more debt than most states, to obscure regional bodies like the Ogdensburg Bridge and Port Authority. The agencies have been a steady source of scandal and a perennial target for criticism. They're a deeply political, high-stakes arm of state government where political appointments are the norm, and where lobbying and patronage are traditional. (A reform bill that Mr. Pataki signed last week will increase their transparency—and also add a new set of appointive positions for the Governor to fill.)
Allegations of the "abuse" of authorities are equally traditional and bipartisan. But for many Democrats who served under Mr. Cuomo, the story of his last months in 1994 is one of missed political opportunities and what many—including aides to Mr. Pataki—see as a tactical mistake by the former Governor.
The name they remember is Peter Stangl, Mr. Cuomo's chairman of the Metropolitan Transportation Authority. His term had expired, along with two other commissioners, and instead of reappointing him, Mr. Cuomo simply left him in place as a "holdover," a status that one former Cuomo aide said gave the administration more control over its appointees.
When Mr. Pataki shocked the political establishment by defeating Mr. Cuomo in 1995, he was able to sweep aside Mr. Stangl and other key holdovers, putting his stamp on state government far more quickly than he would have managed otherwise.
Mr. Cuomo didn't respond to a request for his views of the end of his term, but his son Andrew, now a candidate for State Attorney General, defended the failure to push through last-minute appointments to state boards.
"It's not highly ethical," Mr. Cuomo said. "You want to institutionalize patronage, and you want to handcuff the future administration from implementing its philosophy and its vision."
(Not that Governor Cuomo passed up the chance to make a few midnight appointments. Two days before his departure, he put three of his aides on the state's Unemployment Insurance Appeals Board. Mr. Pataki's spokeswoman at the time, Zenia Mucha, called the appointments an "outrage.")
Others in both parties defend the system, and the Governor's prerogative to do what is, after all, enshrined in state law.
"This is the way things are supposed to be designed, so people have some institutional protection and aren't just subject to the whims of their political leaders," said State Senator Eric Schneiderman, a West Side Democrat.
What is unquestioned, however, is Mr. Pataki's sweeping authority. Last year, he submitted 250 nominations to the State Senate, according to a comprehensive list provided by a state official on the condition that he not be named. The Governor's office put Republicans and conservatives in positions that range from important policy posts to low-paid patronage jobs that will allow workers to spend enough time in state government to collect taxpayer-supported pensions.
The appointees include Republican Party activists who will remain in place after Mr. Pataki's term expires. Mallory Factor, a conservative who oversees New York's influential Monday Meeting, was confirmed last year to a three-year unpaid term on the State Banking Board. Oleg Gutnik, a former Republican candidate for the New York City Council, was confirmed to a six-year term on the state's Minority Health Council, which carries no salary but reimburses for expenses.
There are also valuable paid posts available. Last year, Mr. Pataki re-appointed Candace Finnegan, whom the Albany Times Union once described as his wife's "best friend," to a post on the Workers' Compensation Board, at an annual salary of $90,800. Her term will run until Dec. 31, 2012. The Governor also raised eyebrows last year by appointing an executive chamber staffer, Caroline Ahl, to a $90,800 post on the state's Civil Service Commission, a body that oversees the state workforce. The former Assembly Republican leader, Charles Nesbitt, was confirmed last year to a term with seven years remaining as president of the state's Tax Appeals Tribunal, at a salary of $126,167, despite complaints from Democrats that he lacked relevant experience.
State officials said they expect some of this year's key fights to focus on appointments. Thirteen of Mr. Pataki's nominees remain unconfirmed by the Senate, including Ms. Ahl. Mr. Pataki and State Senator Joseph Bruno are in a fight over the composition of two influential boards: the Public Employment Relations Board and the New York State Racing and Wagering Board. The chairs of both boards will shape state policy into the next decade, and both of Mr. Pataki's nominations for the posts remain unconfirmed.
The fights speak to the two kinds of power that Mr. Pataki will continue to wield after his term ends. The Public Employment Relations Board fight is a policy fight, with the labor unions setting themselves against Mr. Pataki's choice for chairman, Michael Cuevas.
The board, known as PERB, serves as an arbiter in disputes between the state and public-sector unions, whose leaders are unhappy with the way it has been run in recent years.
"It's become a [Republican and conservative] board, and the decisions that have been handed down by PERB are increasingly against unions," said State Senator Diane Savino, a New York City Democrat close to labor who raised objections to Mr. Cuevas' nomination. "You don't want to get stuck with these people."
A Sure Bet?
The N.Y.S. Racing and Wagering Board, by contrast, is a plum of Albany's extensive lobbying industry, where—as in Washington—Indian tribes and their backers invest millions in legislation with the hopes of making billions in new casinos. Mr. Pataki has nominated his former Parks Commissioner, Bernadette Castro, to fill the position, but her confirmation has been held up over Mr. Pataki's attempt to remove her predecessor, a former State Senator, from the board.
Officials of the State Senate and the Governor's office said they expect the sides to reach a deal on confirmations shortly, and that the flow of confirmations should soon resume.
Democrats, meanwhile, regard the appointments to the state public authorities as a burden on Mr. Pataki's successor, who, they assume, will be Democrat Eliot Spitzer, the current State Attorney General.
"It's terrible for poor Eliot," said one prominent Democrat.
And Mr. Brodsky offered a prediction: "These Soviet-style bureaucracies are going to show their ability to survive an election."