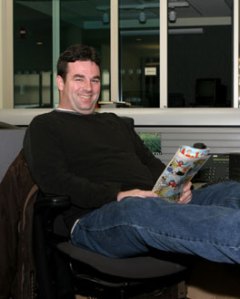 A fan tentatively approached Roger Clark in East Harlem one recent Friday just after 6 a.m.
"I loved it when you took your shirt off in that Japanese bathhouse," she said.
"Thank you," said Mr. Clark, a little mortified, a little thrilled.
Mr. Clark is the morning feature reporter for NY1, which gets about 53,000 viewers in the New York metropolitan area every morning from 6 a.m. to 9 a.m.
He's usually out on the streets during those hours, eating, dancing, taking trapeze lessons, riding draught animals, interviewing commuters on rainy days, asking them to sing their favorite songs about the rain. So he often finds himself face-to-face with a stranger who remembers the time his pants fell down during a surfing segment last summer, or when he chased turkeys around Staten Island one Thanksgiving; or who suggests with genuine concern that he should maybe try to lose a few pounds.
It's clear on camera most of the time that the 38-year-old Queens native is hardly an Adonis. But no television magic could mask that fact when, reporting a week's worth of segments from Tokyo this fall, he had to remove his shirt in that bathhouse and mug for the cameras.
"I had to show my hairy chest," he said, "which I'm very self-conscious about."
The bathhouse attendant asked if he wouldn't also like to remove his shorts.
"Hell, no!" said our hero and, wearing a pair of flowered swim trunks, dunked himself into a steaming tank.
Mr. Clark is everyman's newsman. He speaks in plain, unpunctuated English. He wears long johns. He watches Battlestar Galactica. He still sometimes forgets to face the camera. He pulls out his battered notebook and consults it visibly on air. Sometimes his voice squeaks into a really high pitch while he's talking. He stutters; he squints. ("I'm a spaz," he told his audience during a recent segment at a trapeze school in Williamsburg.) During the transit strike, he had too many Cokes one morning (he doesn't drink coffee), and the camera crew had to put sandbags on his feet to make him stand still. And his signature style in interviews is on display when he asks questions like: "What the heck is that?"
The viewers love it.
Mr. Clark is among the most discussed topics in the NY1 viewer-feedback forums. "Hello," wrote a viewer named Maria Cristina in a somewhat typical Dec. 11 e-mail to the station's Web site. "Just a little note to let you know that Mr. Clark is adorable! He is funny, humble and has a good personality."
Mr. Clark is so humble that he doubts his own humility.
"I sometimes think I overmodestize my modesty," he told a reporter. For someone this humble, what exactly spells humiliation? He won't take his shorts off and he won't put on make-up. But there's little else he won't do.
"Roger's game to try anything," said NY1 morning anchor Pat Kiernan, the on-air Felix to Mr. Clark's sometimes-bumbling Oscar. "He's also proven to us he's not got the greatest coordination of anyone in the species."
He recalled a segment where Mr. Clark had to mount an elephant for a parade down Flatbush Avenue.
"When he was making his way up that elephant, I remember saying, 'Roger, do you want me to talk for awhile while you climb up there?'"
"He's kind of a schlumpy guy," said Steve Paulus, the general manager of NY1, who hired Mr. Clark to be the station's Staten Island reporter in August 2001. "He's a classic New Yorker. Not in great shape. He grew up in Staten Island and Queens. He can relate to people. You're just not gonna see Roger in a trench coat doing one of those reporter stand-ups. Ever."
"There's not that veneer of a journalist, a newsman—kind of, you know, 'I'm afraid to show them anything but a professional façade,'" Mr. Kiernan said. "But Roger is a pro, and he gets his facts right."
If it's generally taken for granted that the reporter who weathers the rainstorms and transit strikes, who talks to the loonies at parades who dye their poodles green or dance around Harlem in several layers of tulle, will—with hard work and a little luck—be promoted out of the job, Roger Clark is the guy who got promoted into it.
"I'm sure there are people out there watching saying, 'This guy's a schmo. What is he doing?'" Mr. Clark said later, just prior to chasing two donkeys, three camels, five sheep and Mayor Bloomberg down Fifth Avenue, shooting B-roll for his parade package, which would air on NY1 throughout the afternoon. He was wearing an orange headdress with mirrored silver disks and a black and gold silk scarf at the time.
Three hours later, when the Three Kings' Day Parade had finally come and gone, he shot some interviews with school kids outside El Museo del Barrio, which hosted the parade. One little boy named Elvis mistook him, off-camera, for another local news personality.
"Do I look like Sam Champion?" Mr. Clark guffawed.
Later, he was concerned that this profile be balanced—so he provided NYTV with more than one viewer letter documenting his flaws.
"I believe that your correspondent, Roger Clark, is possibly the worst news reporter I have ever witnessed on television," wrote "Nicholas," a "long-time viewer" of NY1, in an e-mail to the station on July 26, 2005. "His speech is sloppy, his story telling is simplistic yet somehow confusing, and his [sic] is generaly [sic] unprofessional in his behavior on camera. How has this man maintained this position in your company for so long? It's as though he's had no professional training in communications or media and you hired him anyway."
In fact, he's had a lot of professional training.
He was born into a "big bowling family" in 1967; in the 70's, his dad, a cab driver who has since become a flower-delivery man, interspersed weekend family-league nights with clandestine trips with his son to the racetrack, where Mr. Clark formed his first career aspiration: to become a horse-race announcer.
Disappointment came early, when he wrote an essay about his newly minted career plan in the third grade and his teacher reacted by suggesting that an 8-year-old shouldn't be going to the track.
Still, he did well in school, if not with his classmates. He was "chunky—I never considered myself fat." His enthusiasm for sports wasn't tamped by his lack of real aptitude. "I wasn't exactly picked on," he said. "I got a hard time from people. I never knew what it was. Maybe I just had a look on my face or something."
In seventh grade, he discovered his love for drumming when he acquired drumsticks (but no drum set) and began practicing on phonebooks and textbooks at home. His parents declined to buy him a set, and his junior-high-school band teacher declined to promote him to eighth-grade band. "Roger," the man said, "you have no rhythm." He and Jon Artz, a friend from the Central Queens Y summer camp, formed their first band in middle school.
"Roger playing drums is kind of like … Do you know who Buddy Rich is?" said Mr. Artz. "You could say Roger's like Keith Moon on speed. He was the hardest-hitting drummer. We were always scared he was gonna break the skin of the drum. He's got more energy than a bunch of kindergarten kids."
He was accepted at Stuyvesant High School after scoring one point above the minimum on the entrance exam.
"I always like to say I was the dumbest kid in the whole school," he said, still twisting his shoelaces. "But I don't really think I was."
That, and "I was probably the only nerd who had a football jacket."
In two years on the squad, he participated in a total of 18 plays. He was also a baseball player and a shot-putter on the track team, neither memorably.
For graduation, he asked for a surfboard; he didn't get one. "What are you gonna do with a surfboard in Syracuse?" his parents wanted to know.
By then, his ambition had moved beyond the racetrack. He remembered watching a space-shuttle launch on television and narrating its ascent, shouting over the on-air commentators, for the benefit of his family.
Mr. Clark chose Syracuse University after he learned that Bob Costas, Marv Albert and Ted Koppel had gone there. He arrived on campus in the fall of 1985, which is approximately when his affirmative vocabulary seems to have frozen (common responses to interviewees and editors include "swell," "neat-o" and "cool beans"; he will curse occasionally, but only when no one's listening).
Immediately and without interruption for the next four years, all career ambitions were abandoned for an all-consuming love affair with that most torturous of mistresses, rock 'n' roll. ("I never missed a class or anything, but you know.")
He formed a band called Early Jitters, later renamed the Slip. Their "classics" included "Hotel," "She Was From France," "The Ice Cream Song" and a popular ditty called "What Are You Doing in a Hardware Store?"
Despite a memorable showcase night at CBGB, where a dozen college buddies came to see Roger play on a real drum set lent by someone from his college marching band, Mr. Clark returned to his earlier ambitions after graduation.
A page job at WNEW in New York led to an on-air job at WDOS in Oneonta, where he met Carrie Soucy, a reporter for a local weekly newspaper. He called her up to go to the WDOS Christmas party with him, but she never got the message. Both went their separate ways.
For Mr. Clark, WDOS begat WGNY in Newburgh, which begat WFAS in White Plains, which begat WPDH in Poughkeepsie, which begat News Center 6 in Wappingers Falls. Between Oneonta and Newburgh, there was a two-year bout of homesickness, which led to a stay at his grandmother's apartment in Rego Park and a stint as a clerk at a liquor distributor in Astoria.
It went so well that Mr. Clark nearly abandoned broadcasting for good. "I was on the verge of being the next liquor salesman for Greater New York Distributors," he said. But the clarion call of news sounded, and lo, Mr. Clark found himself trekking once more upstate, to a $15,000-a-year job reading headlines.
In Newburgh, Mr. Clark met and married his first wife, a teacher. It lasted three and a half years and ended amicably. "She didn't think I was making enough money," he said.
Her parents helped him pack, and they all went out to dinner that night.
The first time Mr. Clark appeared on television, as an anchor and reporter for News Center 6—a TV station so local its correspondents could probably forget the cameras and just yell—an assistant taped his earpiece cord to the back of his neck because it was missing a clip to fasten onto his suit jacket. The tape came loose right after the start of the broadcast, and "the whole time I had a black wire dangling on the side of my head," he said. "I looked like a total schmuck."
Not long after, he learned that NY1 was looking for a Staten Island borough reporter. Mr. Clark spent part of his childhood in Staten Island after his father moved there. He took the station's news quiz and missed only one question. (He didn't know the ferry was free.)
Mr. Clark was offered the job but hesitated. He'd fallen in with a group of bikers in Poughkeepsie, drinking with them at roadhouses and crowd-surfing with them at Ozzy Osbourne tribute-band concerts. Would moving to Staten Island be too jarring?
"I had become upstate-ified," he said. "Countrified."
But to NY1 he came, in August 2001. He moved in with his father and stepmother, who lived in a one-bedroom apartment in Staten Island, and began taking the express bus into work each morning.
Any early ambivalence he felt was dispelled by Sept. 11, when Ms. Soucy saw Mr. Clark on television in the days after the attacks and sent him an e-mail. They began to date.
He proposed earlier this year, at a park near their home in Astoria. Ms. Soucy said he still has a habit of grabbing a fake microphone and announcing news and sporting events over the television, without the help of the mute button.
"The personality that he has on air is pretty much his personality," she said. "He comes down from that a little, I guess. He's just a real guy."
Shortly after meeting Ms. Soucy, Mr. Clark began substituting for general-assignment reporters as often as he could. "It was such a tease," he said, and he longed to be moved to the morning feature beat.
That promotion finally came in 2004. Now, Mr. Clark can hardly imagine a job he would rather do—except maybe more of the same, on a national or global scale.
"Part of me wants to be known," he said, "but a little part of me keeps pulling me back to be a regular guy. It's not like I'm going out to Bungalow 8 or somewhere. But there's always this fight in my head about notoriety. I always want to be that kid from Queens. But sometimes I want to command respect also."
On the morning of the Three Kings' Day Parade, he conducted a live interview with civic leaders dressed as two of the three kings (the third was in the men's room).
During the interview, Mr. Clark listened patiently as the two kings told the story of Christmas, a story he had researched that morning on the way to work and recalled in minute detail on the trip uptown. When they got to the part about the gifts the wise men brought to the baby Jesus, Mr. Clark looked into the camera and aped bafflement.
"What's frankincense?" he wondered. "And myrrh"—which he pronounced mere—"what the heck is that?
"We'll find out," he said, tantalizingly.
"There's a lot of cynical and jaded people in TV news," Mr. Clark said later. "And I just don't understand why they're like that. I mean, this is a great job!"