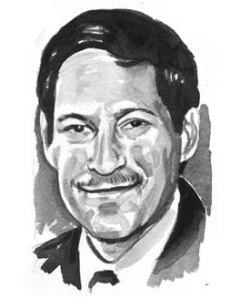 When politicians and policymakers concern themselves with the public's genitals, the results are usually bad.
But there are exceptions. Sometimes officials must act on issues that relate to the most intimate areas of the body. When an adult does something to the penis of an infant that risks brain damage or death, the need for intervention should be beyond argument.
Just such a situation has arisen in New York. But rather than take decisive action, the authorities have dodged and dissembled.
The furor concerns a crude element of the circumcision ritual that is still practiced by those on the fringes of Orthodox Judaism. The rite, known as metzitzah b'peh, has, thankfully, been abandoned by the vast majority of Jewish people, including many Orthodox Jews.
Roughly translated as "oral suction," metzitzah b'peh involves a practitioner, or mohel, applying his mouth to the circumcision wound on the infant's penis and sucking the blood away. Often the mohel needs to do this several times before the bleeding is stanched.
Let's be generous and set aside the fact that anyone who did such a thing unprotected by the cloak of religion would soon find himself questioned by police.
The health dangers of the practice are grave. City health officials say that, since 2004, five cases of type-1 herpes caused by metzitzah b'peh have been discovered.
Type-1 herpes is the strain of the disease associated with cold sores. Most adults carry it. But it can be lethal to babies and small children because their immune system is so underdeveloped. One of the infected children has died. Another shows evidence of brain damage.
News of three of these cases first came to widespread attention early last year. It seemed blatantly obvious that the people charged with protecting public health in the city—Thomas R. Frieden, the commissioner of the Department of Health and Mental Hygiene, and Michael Bloomberg, the Mayor—should take swift and forceful action.
Neither man rose to the moment. Though the courts restrained one mohel from carrying out oral suction, the city's broader approach was timorous. The Health Department made a point of noting that it had no plans to ban or regulate the practice.
Even the city's mild efforts irked fundamentalist leaders to such an extent that a meeting with Mr. Bloomberg was arranged in August. The following day, the Mayor sounded meek in his radio broadcast:
"We're going to do a study," he said, "and make sure that everybody is safe—and, at the same time, it is not the government's business to tell people how to practice their religion."
The additional two cases have since come to light. City authorities still resist the idea of a ban. Dr. Frieden wrote an open letter to the Jewish community last month. In it, he noted that "there is no reasonable doubt" that oral suction has been responsible for several herpes infections. But he added that he preferred "educating the community" to any more definitive move.
The soft strategy shows no sign of working. A leading Orthodox rabbi, David Neiderman, remained defiant in an interview with The New York Times last week. "We chose America because of religious freedom," he said. "That's why we are here. There is no compromise on this issue, because we know it is safe."
Rabbi Neiderman's confidence about the safety of the rite doesn't stand up to scientific scrutiny. His ideas about religious freedom are equally dubious.
Total liberty applies to religious beliefs. It does not apply to religious practices, which are subject to civil law.
Mr. Bloomberg was, in one vital sense, wrong to proclaim that government has no business telling people "how to practice their religion." Freedom of religion doesn't include the freedom to commit child endangerment or any other crime. Erosion of that principle is a recipe for barbarism.
Another important detail of the dispute has not yet generated the outrage that it should.
The Times reported that Orthodox leaders at a recent meeting had made four demands of city health authorities. One was that the commissioner should resign. The second was that the city should stop its current attempts to educate the Orthodox community about the dangers of metzitzah b'peh. The third was that it should stop investigating possible cases of herpes. And the fourth was that it should stop investigating any mohel suspected of transmitting the disease.
There, in a nutshell, was a typical example of the kind of thinking that unites religious fanatics of all persuasions. They rail against scrutiny, inquiry, even rational thought itself. Their message: Don't ask questions. We are right because God says so.
No civil authority should bow before such nutty fundamentalism. Nor should it try to broker a compromise.
"This is one of the most delicate issues I've ever had to deal with," Dr. Frieden mused last week.
No, it isn't, Dr. Frieden. Zealots are putting the lives of babies in danger. So stop them.