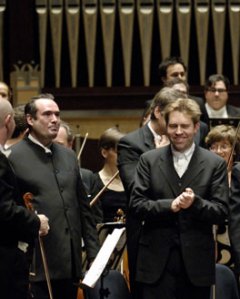 In the great piano concertos of Beethoven, Brahms, Tchaikovsky, Ravel and Bartók, the driving impulse is a kind of competition for eloquence. The piano declares itself with fierceness, tenderness or loneliness, only to find its sentiment amplified or elaborated upon by the orchestra. The orchestra suggests a new sentiment and the pianist responds, as if to say: "You're being pompous—let me show you the power of simplicity." When the piano takes off on a solo flight of fancy, as in a virtuosic cadenza, you can be sure that before long, it will be pulled back to reality by the strings, the woodwinds and the brass. The climax may come with a jubilant joining of all concerned, but there's often the sense of a hard-won truce, or at best that things have ended in a tie.
Now comes a new piano concerto (a real rarity these days) by Marc-André Dalbavie that eschews competition altogether. The piece had its American premiere on Jan. 5 in Cleveland, Ohio, performed by the splendid Norwegian pianist, Leif Ove Andsnes, and the Cleveland Orchestra conducted by James Gaffigan, an assistant conductor who was substituting for the ailing Franz Welser-Möst. It's the most exhilarating example of the form I've heard in years—a display of no-contest concerto writing in which everyone wins, especially the audience.
Two years ago, in January 2004, I traveled to Cleveland to hear Pierre Boulez conduct the Clevelanders in Mr. Dalbavie's Concertate il Suono, an all-orchestral work that separated the players into little clusters throughout Severance Hall. The piece was a mesmerizing exercise in unity achieved through disunity—a merging of 100 voices that hovered in some mysterious atmosphere between celestial harmony and rude cacophony. With his Piano Concerto, which was given its world premiere at the London Proms last August, the music has rushed to earth, as if the 44-year-old Frenchman were a downhill racer doing the slalom of a lifetime.
Here are my notes, written during the first of what I hope is many hearings of this marvelous work:
"First movement (allegro): Orchestral growling in the deepest registers—some primordial place of pre-tonality. Arresting declaration by piano ('I'm here!'), which then takes off on a vertiginous descent of double octaves. Octaves diminish to single scales, then ascend a little way back up—like the spray when a waterfall strikes the river ledge: Czerny on a tear. Rude burst of brass (cautionary note?). Swirl of orchestral color. Gorgeous buildup of overlapping sounds. Everything begins to connect, turn on itself, even pause to hold its breath (haze of strings), yet remains purposeful and transparent. Both time and space expand, shrink, according to a new creator's law. Somehow the opening descending figure is always visible, like Saarinen's St. Louis Arch. Ears, eyes, nervous system constantly engaged—the little yelp from the brass; the sweet clarinet doodle. Piano dances like a dragonfly, taking on color and energy from the orchestra and giving it back in return. Movement ends with a resounding flourish of the opening downward run.
"Straight into second movement (andante) without pause: The piano alone in a little rising figure—a somber, pensive reverse echo of the previous descents; silence of orchestra is palpable. Violas and cellos enter almost imperceptibly—amber glow from stage left, gradually irradiating the violins. Another yelp from the garish horns; piano returns to the downward skitter—right hand only—then tries out some Shearing-like chords that cloud the journey with a touch of blue. Interplay between the 'conscience' of the piano and the 'universe' of the orchestra: not confrontation, but mutual enlightenment.
"Straight into third movement (presto) without pause: Piano on a roll: tidal surges up and down keyboard; orchestra booms big chords at its own speed—slower but not foot-dragging. Piano resumes the old racing descent; strings and winds decide to join in the downhill fun. A brusque march (what's this—Mahler?); then a coda in which piano and orchestra lose all moorings (kids at recess) before everyone joins hands for a final run down that hill, hitting bottom with a mighty unison bang."
The scintillating interweaving in the concerto was inspired, as is often the case with Mr. Dalbavie's music, by an extra-musical source: Faulkner's The Sound and the Fury, which is narrated by the principal characters' distinctly different voices. The composer's intention was not to tell the story prismatically, in the manner of, say, Kurosawa's Rashomon, but rather to replay that downhill run with changing colors and contexts so that it always sounds new. Indeed, the concerto is only the heftiest entry in an ongoing piano cycle, which also includes a piano solo, a piano trio with horn and a piano quintet with winds. In each of the works, the run is both catalyst and still point. In a program note, Mr. Dalbavie said, "Each of these piano pieces is, in a sense, the same music, but it doesn't sound like the same music, because the different colors of the instruments change it." To paraphrase T.S. Eliot, in the beginning is the end and in the end is the beginning.
If this sounds pretentious or abstruse, the Cleveland performance was nothing of the sort. Mr. Gaffigan, a cherubic young man of 26, was fearlessly in charge of the extravaganza, which was bookended to telling effect by Debussy's early tone poem Printemps, all color and light, and Beethoven's Fifth Symphony, grandly declarative in the old-school way. He's a conductor of real promise, combining muscular energy with unabashed lyricism.
Mr. Dalbavie had Leif Ove Andsnes in mind when he composed the concerto, primarily because of the 35-year-old Norwegian's extraordinary subtlety of tonal palette. His fleet pianissimos made themselves felt, rounded and limpid, even when the orchestra was going full tilt. Like the Clevelanders, he's incapable of making an ugly sound. No one sits at the keyboard with such unassuming naturalness as Mr. Andsnes. Observing how his whole upper body seems to curl symbiotically into the big instrument, I was reminded of an encounter several years ago at Carnegie Hall during the intermission of one of his recitals. A young man introduced himself as a boyhood friend of the pianist's, and when I asked whether his old pal had always played with such apparent effortlessness, he replied: "Yes—he was just like this as a boy. He had a wonderful teacher in Norway who told him that the most important thing about playing the piano is to obey the law of gravity—to sort of fall into the music."
Which leads me to suggest that perhaps Mr. Dalbavie should turn to another literary source and give his downward-racing concerto a title that fits it to a T: Gravity's Rainbow.