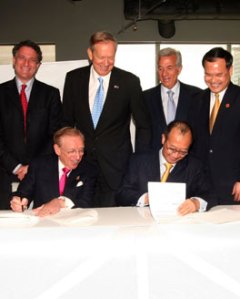 In June 2004, Larry Silverstein was invited to drop by the downtown headquarters of the A.I.G. insurance company and meet about 30 Chinese business executives who were in town for a conference.
It was to be a sort of Ground Zero junket, a marketing affair—and the first demonstrably successful one in the World Trade Center's almost three-year afterlife.
After breakfast, Mr. Silverstein loaded them on a bus to take a tour of his new treasure, 7 World Trade Center. Wearing hard hats, the executives took the hoist to the top of the building, which was then about 40 floors high, and which had no windows. Wind whipped around them on a gorgeous clear day. One of them, Lun Feng, the head of a real-estate company, thought, "This is the place."
The place, that is, for Chinese-owned companies to establish their much-anticipated beachhead in the United States' economy.
Thus began a year-and-a-half-long courtship between Mr. Feng and Mr. Silverstein—and one that involved dozens of other people and entities as well.
Indeed, the mood when the tentative deal was announced on Jan. 24—for Mr. Feng's company, Beijing Vantone Real Estate Co., would rent five floors of Mr. Silverstein's tower—was positively festive.
Reflecting on the fact that to rent out five floors of a single building on the former World Trade Center site had required the approval of a foreign government, interventions and international marketing trips by the Governor and his senior aides, significant incentives from him and Mayor Michael Bloomberg and months of negotiations, seemed uncouth.
Already 300,000 square feet at Ground Zero rented; only 9.7 million square feet to go!
The agreement, while nonbinding, was undertaken in such a public setting, with dozens of witnesses, including Governor George Pataki, that it has gained an air of inevitability.
"It clicked in [Mr. Feng's] imagination," recalled Kathryn Wylde, the president of the Partnership for New York City, a nonprofit organization of business executives that helped arrange the 2004 visit. "The concept he had been thinking of—to create a center in New York, with a China club, a business headquarters—he knew it would be perfect to do it here, because symbolically it would be an important statement about the role of China in helping America in its recovery from a terrorist attack."
Mr. Feng, passing through the lobby after the signing, indicated that his and his countrymen's interest in the redeveloped World Trade Center stretched beyond 7 World Trade; he told reporters through a translator, "This is phase one. Together, working with Larry Silverstein, we are looking forward to phase two, which is the Freedom Tower."
The China Center, as Vantone's project is called, will occupy floors 48 through 52 of the first new building on the former site of the World Trade Center. It will serve various purposes, including temporary office space for Chinese companies establishing commerce with this country. About 800 people are expected to work there.
Mr. Silverstein would not discuss the rent, but a source said that the developer would receive between $50 and $55 a square foot. Vantone will pay about $10 a square foot less than that figure once all the state and city incentives are computed. Late last year, a source said that Mr. Silverstein was asking for $60 a square foot for the top floors of the building. Still, Vantone's rent is said to be the highest amount ever paid per square foot in lower Manhattan.
It is also a welcome announcement for a building that has stubbornly refused to rent. Mr. Silverstein's other two tenants, Ameriprise Financial and the New York Academy of Sciences, are leasing a floor and a half combined. Mr. Silverstein is taking a whole floor for his property company. Minus the ground floor, that still leaves about 43 floors to go.
The opening date of the 1.7 million-square-foot building has now been pushed back a month to April.
The luncheon signing, closed to the press, was a chance for all the various participants to celebrate. Four months after Mr. Feng's tour of 7 World Trade, Deputy Mayor Dan Doctoroff, in Beijing to meet members of the International Olympic Committee, spent a morning with the executive, as well as China's deputy minister of commerce, Ma Xiuhong.
"We told them New York is an ideal location, because it has a large Chinese population, because of its centrality in the worlds of media and finance, because being in New York has for centuries been the place where people and businesses get established," Mr. Doctoroff told The Observer. "What this deal does is, it gives us a very significant beachhead with other Chinese companies because it will be a place for other companies to launch their efforts to do business in this country, and as a result they will end up setting up their own headquarters here once they expand."
In May 2005, about 20 New York executives, including Mr. Silverstein, traveled to Beijing during the Fortune Global Forum, and tried their best to move the Vantone project further along. Together they met with Ms. Ma, the deputy minister of commerce, who, under Chinese law, has to approve any investment in a foreign country. Her role, as well as the fact that now Vantone has to market its space to potential subletters, was the reason why the term-sheet signing, usually a secretive affair, was undertaken with such publicity.
Mr. Silverstein was not one to complain that world trade is not as unfettered as some globalization advocates—The Economist magazine, for example—would like. The formal ceremony signing, attended by the general counsel of China stationed in New York, gave him a chance to impress other potential tenants with an important victory a month before the lease will actually be signed.
Ms. Ma came to New York in June, and at a luncheon at investor Henry Kravis' office on 57th Street, with John Cahill, the Governor's advisor in lower Manhattan, and Andrew Alper, the president of the city's Economic Development Corporation, in attendance, she announced that China would approve the foreign-investment request.
"She indicated that China today has $800 billion in U.S. treasuries and it is going to begin to reinvest some of that money back in the United States," Mr. Silverstein told reporters after the term-sheet signing. "And one of the initiatives we are seeing here today is the result of that decision."
Governor Pataki followed in September with a visit of his own to Beijing, in which he led a delegation of 18 New York State companies in meeting with government and university officials about expanding trade in general—and also meeting with Vantone officials. "This was a small part of it," the Governor said in the 7 World Trade Center lobby, with artist Jenny Holzer's electronic message board doing test runs in the background, "but obviously a very important part."
Charles Gargano, the Governor's chief economic aide, standing nearby, added, "What we tried to do was tell them what the future was going to be in lower Manhattan. They are not sure what they hear about security and all that stuff. The Governor assured them there would be a tremendous amount of infrastructure built and that Freedom Tower was moving forward. He gave them a progress report and really made them feel comfortable. They said it might take another year."
It took less than four months. Around Jan. 20, Mr. Silverstein felt that the deal was coming together, a source said, that the terms were nearly finalized and the preliminary agreement could be signed the following week, when Mr. Feng was going to be passing through New York on a prearranged visit.
After he and Mr. Silverstein put their names on the four copies of the term sheet, the crowd, which included Governor Pataki, the general counsel of China and several other public officials, applauded, wished one another a happy Chinese New Year, and feasted on their choice of tea rolls or roast beef and horseradish sandwiches.
Mr. Doctoroff's aggressive role in aiding Mr. Silverstein contrasts with the Bloomberg administration's hard-hitting refusal to extend more help for the developer to build subsequent buildings at the World Trade Center site. The Mayor has refused to approve $1.67 billion in low-interest Liberty Bonds for Mr. Silverstein, and has suggested that other developers should have a chance to build on the site instead.
Mr. Doctoroff's quote in the term-sheet press release seemed downright jovial to some observers. "I congratulate Larry Silverstein for securing such an important new tenant," it said in part.
"Listen," he later told The Observer, "I think we all share the same goals for lower Manhattan. We may have different perspectives on how to achieve them."