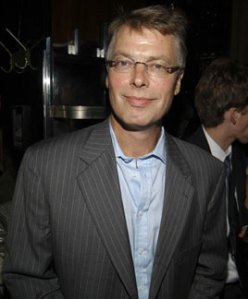 Just asking: What new entry in the crowded and antagonistic celebrity-glossy field is making rivals polite and circumspect?
"We wish them the best of luck," said American Media editorial director Bonnie Fuller and her boss, David Pecker, through a spokesperson on Feb. 7.
Ms. Fuller and Mr. Pecker were responding—or not responding—to the planned Feb. 9 debut of Page Six, the magazine.
Having long since severed its bonds to the actual sixth page of the New York Post, the rough-and-tumble daily gossip column is now transcending newsprint completely, in the form of a 76-page spin-off magazine.
The pilot issue, with Angelina Jolie on the cover, is to be distributed as a free insert with the newspaper, and will come with 38 pages of ads, from companies including BMW, Coach and Bacardi.
"For disparate people in New York, Page Six is a first-read in the morning," said Us Weekly editor in chief Janice Min. "They have a built-in and highly addicted audience. People will want more of it."
Like most people in the industry, Ms. Min had not seen a copy of the magazine yet. Post Poker, this ain't: The Post has suppressed its normal high-volume publicity strategy in favor of a more tight-lipped approach.
Page Six overlord Richard Johnson, who holds the title of editorial director on the magazine's masthead, was guarded about discussing most aspects of the contents, saying that Post editor in chief Col Allan had told him to keep the magazine under wraps.
Mr. Johnson did say that the magazine would differentiate itself from the crop of other celebrity magazines by focusing on its home turf. "We tried to make sure we have a lot of New York content that wouldn't fly in a national supermarket tabloid," he said by phone Feb. 7. "We focused on New York stories. There's certain people that people in New York care about."
To that end, Mr. Johnson said, the magazine will cover the local society scene. A section entitled "Social Studies" includes a spread on the erudite-socialite-hipster scene of the Accompanied Library, while a piece called "Tale of the Tiaras" compares the lineage, loves, pet projects and bankrolls of the Hilton and Hearst girls.
The magazine will also include an interview with a Victoria's Secret model, a roundup of new nightclub openings and a service package previewing Hamptons real estate.
Oh, and blind items.
Ms. Min said she expected the New York emphasis to help Page Six stand out among the national celebrity titles. "They're not trying to be Us," she said. "They can be a bit naughtier. They write about socialites and business people. They don't have to appeal to Ohio or California or other states."
The magazine will be about the same trim size as Us Weekly, at 8 1¼4 by 10 1¼2 inches. It closed Jan. 31, with the Post printing 900,000 copies of the glossy.
Despite the 10-day lead time, Mr. Johnson said the magazine will still be able to break news. "We often hold items and bank them for the weekend," Mr. Johnson said, "so this is no different."
He added that the magazine won't contain things like the popular Sightings, which would be dated by the time the magazine hit newsstands.
And Mr. Johnson said he has no intention of losing the un-leisurely tone of the newsprint version.
"We wanted to make sure no one mistook us for The New Yorker," Mr. Johnson said. "We avoided stories jumping from page to page. I don't think there's anything more than two pages."
Likewise, the magazine is wholly a Post effort. Mr. Johnson said the idea arose after the Post gauged the popularity of its year-end Page Sixy Awards, which ran in the newspaper.
Instead of building a new publication from the ground up, Mr. Johnson assembled the masthead in-house: The editor is his fellow Page Sixer Jared Paul Stern, and the all-Post affiliated staff includes Steve Garabino, Christopher Shaw, Nichole Faux and Jeffrey Slonim.
In another bid to rein in costs, Page Six briefly considered purchasing unpublished items from the now-defunct Radar magazine.
"We made a decision we wanted to generate our own material," Mr. Johnson said, explaining why the idea was shelved. "I don't want anyone accusing us of picking up sloppy seconds."
Mr. Johnson said there are no plans for a second issue, let alone a freestanding newsstand title, until the Post has had a chance to see how the debut is received.
The recent history of tabloids venturing into magazine publishing isn't bright. Last year, the Daily News abandoned its short-lived 25 Hours magazine after the project failed to catch on with advertisers.
"They bit off more than they could chew," Mr. Johnson said. "If you try and do something fast and dirty, it comes out dirty. This is clean. I wouldn't want to have to do this every week. It's a lot of work, just going through every page and making sure you have the names right."
●●●●●
"Hey!" a rotund man in an olive-green overcoat trilled above the drone of Times Square traffic. "You're the Carpetbagger!"
David Carr, the New York Times media columnist turned video blogger, summoned the passer-by—Stanley Piotrowski, a 72-year-old retired computer executive—to join him on the concrete triangle where Broadway joins Seventh Avenue. There, Mr. Carr and two assistants were shooting a segment for the newspaper's Carpetbagger blog. "I've met my public!" Mr. Carr said as the camera rolled.
Three months ago, Mr. Carr, 49, was mainly visible to Times readers as a byline on the left-hand side of Monday's business section. Now he's joined the ranks of reporters who are reinventing themselves as pixilated personalities in the paper's latest bid to meld its old journalistic mission with the capabilities of the Web.
"His demeanor is very unlike a news broadcast of any kind," Mr. Piotrowski said in a follow-up phone conversation. "He reminds me of an old uncle of mine, actually. As a senior citizen, this is the kind of guy I like to sit next to at a bar and bullshit with."
Does that make nytimes.com the Good Gray Watering Hole? When Times publisher Arthur O. Sulzberger Jr. began touting a "platform-agnostic" approach to the news, the implication was that his newspaper planned to present its signature product in whatever medium was most convenient.
"We do what we do," said deputy managing editor Jon Landman, who has been overseeing The Times' Web and television operations for six months now. "We try and make our stuff authoritative and fair-minded and all the good qualities people associate with our paper. These are not things that are specific to a form."
But The Times' foray into Web video has so far been distinctly un-Timesian, both in method and in results. Working on the fly, with minimal editorial supervision, the video bloggers have struck an oddball tone—less Newspaper of Record, more goofy morning show.
"All of a sudden, we're becoming NY1," one Times staffer said.
One of the earliest video pioneers at nytimes.com was technology columnist David Pogue, whose short segments about gadgets have drawn a bemused following. To open one recent segment about the iPod Nano, Mr. Pogue danced spastically in silhouette to parody Apple's signature ads. Illustrating the Nano's diminutive size, Mr. Pogue stuck one into his daughter's copy of A Little Princess as a bookmark, wedged it under the leg of a wobbly table while dining with his wife, and, with the camera zoomed in, had a nurse insert one into his mouth as a tongue depressor. Mr. Pogue closed the segment with a breezy, "Rock on, dudes!"
Mr. Pogue said via phone that it takes about four hours to film and edit each of his two-to-three-minute video bits. "The stakes don't feel that high, and that's a blessing," Mr. Pogue said. "Maybe that's what's allowed me to be a goof-off. I don't have the weight of the world on me."
Mr. Carr described the sensibility of his own Web work as "Access Hollywood meets The Colbert Report." He said that he thinks up the themes for his video segments, which are tied loosely to the Academy Awards, shortly before he hits the sidewalks with a two-person crew—camera and boom microphone—to accost Times Square passers-by, sometimes with a prop like a poster board plastered with photos of Oscar nominees. There's no script, and the production values are limited, at best.
"In terms of improving the show, we do it at our own peril," Mr. Carr said, standing outside the Times building on West 43rd Street before the shoot began on Feb. 6. "If we took a more professional tack, people would laugh at us for the wrong reasons. It's best, for what we're doing, to be transparent."
The recent balmy spell had snapped and a biting wind was cutting through midtown, leaving Mr. Carr fretting that would-be guests might be deterred. But out on Times Square, he found a stream of willing participants: giggling teenagers from Dublin, a pair of middle-aged women from New Orleans and a sketch comedian from New York.
"The thing about TV is, people are attracted to the glow," Mr. Carr said. "They don't care whether it's Danish TV or Web TV or what."
Yet with Mr. Piotrowski, who said he'd been watching the Carpetbagger segments for several weeks, Mr. Carr had risen beyond mere man-followed-by-a-camera status. He was a celebrity.
"It doesn't matter how many thousands of people you get clicking on your blog," Mr. Carr said. "Until you meet your first fan. That's what matters."
A Times spokesperson said that since Mr. Carr's blog, which includes both written pieces and the video segments, launched on Dec. 6, it has generated some 326,000 page views.
And Mr. Carr already has fans inside the building. Colleagues now call him "the Bagger" as he walks through the newsroom. On his way to the shoot, a fellow Timesman approached him in the lobby. "Hey, I love your blog and videos," he said.
Along with their demi-celebrity, Mr. Carr and Mr. Pogue enjoy unusual editorial freedom relative to staffers toiling on print projects. Mr. Pogue said that editors have yet to tell him to tone down his routine. "They've never said, 'Oh, you're going too far," he said. Mr. Carr's video segments are self-generated, with little oversight beyond editing by a Web producer.
"It doesn't feel like television," Mr. Pogue said of his video work.
Not being like television is a good thing for some newsroom denizens. "If you saw how people came into the building every day, you'd see why they'd have an aversion to TV cameras," one Times staffer said.
Joe Sharkey, The Times' business-travel columnist, said he's gotten reviews from some of his closest fans since embarking on Web video last year.
"The downside is that I've traveled a lot over the past few years and gained about 25 pounds," he said. "My mother called me and said, 'Wow, you've been putting on weight.'"
"If someone isn't good-looking, [that] doesn't have to do with the soul of The New York Times. It never will," Mr. Landman said. "Is David Carr a marquee television face? I don't know. But he's great on video."
Mr. Landman said Web video remains distinct from television programming. While broadcast journalists primp before going on camera, Mr. Landman said the Web journalists aren't being judged on their visual appeal.
But the Web video and regular television projects have already started to converge. Mr. Pogue just finished taping a pilot for the Discovery Times channel called It's All Geek to Me, a 30-minute program that Mr. Pogue described as a cooking show for gadget lovers. If it gets greenlighted, it will begin airing this fall.
And The Times' Web video presence continues to expand. Beyond the personality-driven programming, The Times is also expanding its video newsgathering. During last year's Paris riots, reporter Craig Smith delivered a sober on-camera assessment from France.
Reporters on assignment are gradually being equipped with digital video cameras to capture footage to accompany their print pieces. Shanghai-based reporter Howard French has already tested the technology. Soon, Mr. Landman said, The Times will weave video directly into online articles, so viewers won't have to click to a new page to view video content.
Mr. Landman has been encouraging Web-print cooperation. The idea for Mr. Carr's blog, for example, originated in The Times' culture department—Mr. Landman's old posting.
Mr. Landman said more blogs will be forthcoming. But despite the freewheeling appearance, he said, assignment decisions will be made with the same scrutiny that editors use to allocate beats.
"We are going to treat blogs as things that need to be edited, and responses need to be screened," he said. "We're not in a position to say to anyone who wants one, 'Go for it.' We sure want to say yes a lot more than no.
"It's no different than anything else," Mr. Landman said. "The enthusiasm for this stuff is great. But there is a danger that this supply of ideas can outweigh the supply of resources to execute them."
—G.S.