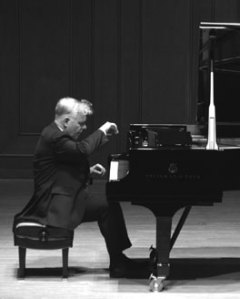 Who is today's best American pianist? In a poll of New York music lovers and critics, the names most frequently mentioned would probably be Emanuel Ax, Yefim Bronfman, Richard Goode, Garrick Ohlsson, Murray Perahia and Peter Serkin. Few would think to nominate Stephen Kovacevich.
And yet, among the 72 keyboard artists selected by Philips Classics for the landmark "Great Pianists of the 20th Century" series, Mr. Kovacevich is the only American with an active career to be celebrated with not one but two volumes of recorded work. Since the 1960's, he's produced one admired album after another on two major labels, Philips and EMI, including an exceptionally vital account of all 32 Beethoven piano sonatas, which EMI released in 2003. Even so, when Mr. Kovacevich made a rare New York appearance recently at the Metropolitan Museum of Art, the audience numbered no more than a few hundred people.
The small turnout is easily explained. The Met is currently presenting a fascinating run of recitals by distinguished, relatively unfamiliar pianists—but as far as I can see, the series has gone almost entirely unpublicized. (I'm eager to hear the next two artists: the superb French pianist Mark Laforet on Feb. 2, and the Irish Beethoven specialist John O'Conor on Feb. 23.) It's a sign of how little pizzazz the museum puts into its concert and lecture program that one must approach the auditorium through a deserted cafeteria with upturned chairs on the tables. Moreover, the program notes contain not a shred of biographical information about the performer. They don't treat Van Gogh that way.
Another factor is that Mr. Kovacevich, who was born in San Pedro, Calif., in 1940, became an expatriate at the age of 19, when he went to England to study with the legendary British pianist Myra Hess. London, where he's revered, has been his home ever since. New York concertgoers are provincial about favorite artists: If you don't turn up with some regularity or have a massive publicity machine behind you, you're nobody.
And then there was something oddly ill-defined about Mr. Kovacevich himself. Reports circulated that he suffered from more than the usual performance anxiety. Whenever I heard mention of him, it was most often along the lines of "Wasn't he once married to Martha Argerich?" (He was indeed the third husband of the most charismatic woman pianist of our time.) Or: "Didn't he used to be Stephen Bishop?" Well, that was his first professional moniker—the surname was that of his stepfather. Some years later, he added his own name and became Stephen Bishop-Kovacevich. And then, about 10 years ago, he simplified that mouthful to Stephen Kovacevich. Equivocating about your name is not a good career move.
In the album notes to Mr. Kovacevich's complete set of Beethoven sonatas, the EMI producer John Fraser calls the pianist "an artist of almost self-punishing honesty and integrity." Judging from my first live experience of Mr. Kovacevich's artistry, a more accurate description would be self-effacing—in the best sense of the word.
Mr. Kovacevich's program—played with an unruffled focus that got to the emotional and lyrical core of the music—offered an embarrassment of complementary riches. His opening piece, Berg's Sonata, established that we were in the presence of a pianist whose voice travels easily between introspection and extraversion without false drama. There was no preciousness in this crystal ball of early modernism (or late Romanticism), only a steady illumination of the way in which, as in Proust, musing becomes feeling.
The next piece, the first in a set of four Beethoven Bagatelles from Opus 126, brought to the fore a quality I noted throughout much of the recital—gentleness. I grew up listening to recordings by Dame Myra and hearing stories about how her lunchtime recitals had raised Britain's morale during World War II with her indomitable poise and purity. Her ghost was present in her protégé's playing of these exquisitely unfrivolous trifles—one could imagine them lifting the composer's spirits during his last dark years.
Another quality that Mr. Kovacevich learned from his mentor is a sense of spaciousness. Too often I've felt rudely jerked through Beethoven's multi-chambered Sonata No. 28, Opus 101—the gateway to the futuristic last four sonatas. But in this case, the pianist maintained such clear-eyed purposefulness that the progress from tenderness to sternness, gravitas and jubilant resolution was as easy to follow as Ariadne's thread. The tempo marking for the opening movement is "Allegretto, ma non troppo," which suggested something else about Mr. Kovacevich: For all the heart-filling presence of his playing, he's an artist of great self-containment, allowing nothing to become "troppo"—too much.
If Beethoven's Hammerklavier Sonata is the Everest of the piano literature (and Mr. Kovacevich's scaling of it on disc is a hair-raising tale of triumph over adversity), Schubert's Sonata in B-Flat Major seems to traverse the whole of early 19th-century Central Europe, illuminated by the embers of the composer's last days on earth. Mr. Kovacevich devoted the program's second half to this valedictory masterpiece, and rarely have I been held so rapt by the quality that Schumann noted in the questing music of his beloved predecessor—its "heavenly length."
Mr. Kovacevich's mastery of the pedal cast the nearly 40-minute work in a hazy nimbus whose shadows and flashes of light reminded me of the atmosphere in Rembrandt's The Polish Rider at the Frick. Just as the painter caught the young man's profound uncertainty about his destination by conveying the sense that he's moving forward and backward simultaneously, the pianist, with delicate adjustments in pulse and rubato, captured Schubert's final ride as a journey into timelessness. When it was all over, my companion, a poet who had kept his eyes shut throughout the performance, made a remark that summed up Mr. Kovacevich's extraordinary playing: "There was nothing between us and the music. It's as if he wasn't even there."