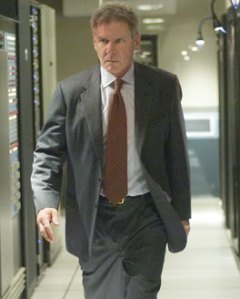 I guess everyone has to start somewhere, but a Bernard Malamud novel-into-film starring Snoop Dogg? To quote Dorothy Parker, "What fresh hell is this?" The 2006 kind, I'm afraid, that pretty much demonstrates how low movies have sunk in these desperate times. But let's forget about The Tenants, a grim look at two bums fighting for space in a graffiti-splattered slum dwelling in Brooklyn waiting for the wrecker's ball—one of a glut of new movies with budgets that look like they could never have exceeded a shopping excursion at a Wal-Mart clearance sale.
Let's move on uptown to Harrison Ford in Firewall, the kind of breathlessly paced, temple-pounding action adventure that Clark Gable or Robert Mitchum might happily have tackled in the great days when they turned out movies that were still fun and coherent. Firewall is not great, and it's not always coherent, either. But I had a swell time. In my book, star power, slick production values and a fat budget that can make an explosion look like more than a stunt still count. You get plenty of all three in Firewall.
No more sarcasm about how the big stars are aging badly. I no longer care if Robert Redford has a face like the map of Utah, or if Elizabeth Taylor looks like she just swallowed her dining-room table. Bring me some icons, please. Harrison Ford is aging too, but so what? It's happening to us all. And even if he seems a bit long in the tooth for the punishing physical agony he endures, I'll bet he could pass a stress test with flying colors.
In Firewall, he Indian-wrestles a script that pits him against state-of-the-art criminal technology, and it's a thrill to see a real human win. He plays Jack Stanfield, a computer-security specialist who investigates risk and fraud loss in a big Seattle bank, where he has built a respected career designing the most effective anti-theft computer systems in the industry. His specialty is firewalls.
One day a debt collector walks in and accuses him of gambling away $95,000 of his company's money online. Huh? Jack is a button-down family man with a successful architect wife (Virginia Madsen), a 14-year-old daughter and an 8-year-old son. He's not a gambler; he's never even heard of this company. You think it's going to be a pulse-beater about identity theft (an idea whose time has come in a vulnerable age when just turning on your computer puts you in harm's way). But the alleged "debt collector" (Paul Bettany) is really a cold-blooded preppie killer who leads a gang of brilliant computer hackers planning one of the biggest robberies in history. He confronts Jack in the parking lot at gunpoint and forces him to drive home, where his gang has already invaded the premises, changed the password on the alarm system, cloned the cell phone and taken the family hostage. The "gambling fraud" was just a scam to get inside the bank. The real purpose of all these terror tactics is to force Jack to design the software that will relieve the bank and all of its branches of $100 million of its richest investors' assets. Jack and his wife are both resourceful and clever, but every attempt to get out of the dilemma or notify authorities is thwarted by the genius mercenaries, every escape route blocked, every friend and ally eliminated.
While Jack is at the bank, monitored by hidden cameras, the problems on the domestic front thicken. Wouldn't you know the daughter is a sex kitten who narrowly avoids gang lust and the son is both asthmatic and allergic to peanuts—knowledge of which the gang cunningly takes advantage in order to bend Jack to their will. Mayhem ensues. To tense things up even more, the entire film takes place during one of Seattle's worst storms. The suspense centers on Jack's ability to transfer a fortune into the gang's foreign accounts without the bank finding out, and save his family's life in the process. How he does it, you'd have to be the inventor of Microsoft to figure out.
By the time Jack gets hopping mad—and I mean Harrison Ford, jawbone-setting, eyes-narrowing-to-slits mad—the movie gets hopping loopy. When Jack scales a building like Spider-Man and turns the tables on the hacker felons, the movie no longer makes much sense. Finally, when the only way he can locate his family's secret whereabouts is through the collar on the family dog, which looks like Daisy in the Blondie and Dagwood movies, I just gave up, sat back and decided to enjoy the ride.
Some of the snafus and red herrings border on comedy, but the movie never relaxes its grip on the nerves. For someone who misses his old electric Smith Corona typewriter, I don't even pretend to understand what all the techno-babble is about. But I was not bored, and that, in what passes for cinema today, is really saying something. The production values are first-rate, the script by Joe Forte seizes and holds attention, the direction by Richard Loncraine does more than move people from one place to the next like chess pieces. It really expands a vital sense of people in peril.
And the acting has the spit and polish of military boots. Harrison Ford has been doing the furrowed-brow bit for such a long time it's hard to know if he can act or not, but his charisma is undeniable. Paul Bettany as the smoothly shaved, elegantly speaking upscale crook makes for one of the coolest, most ruthless villains since Robert Walker in Strangers on a Train. And Virginia Madsen is moment-to-moment believable as the wife and mother who will do whatever it takes to fight for her family's survival.
Ultimately, Firewall is another technology thriller about the familiar evils, dangers and ultimate devastation that the Internet can cause—the kind of movie I never understand. It should be reviewed by Bill Gates. But unlike so many others, it kept me alert, terrified and royally entertained.
Nanny McPhee is a British milkshake that features a sensational group of artists wearing Halloween makeup to scare and charm little kids too young for Harry Potter and too old for "The Cat and the Fiddle." Written by and starring Emma Thompson in the title role, the film chronicles the adventures of seven obnoxious, hyperactive children who are the offspring of a handsome, befuddled and widowed undertaker named Mr. Brown (Colin Firth). His children have already driven away so many nannies that the Nanny Office is closed. And then, like a lightning flash, Nanny McPhee, who is Nanny No. 18, arrives at his Victorian household, an ugly crone with a bulbous red nose, a face like a pot of acid covered with warts and black moles, and one protruding front tooth, like a fang.
Observing the children run amok, ripping the heads off their teddy bears with a guillotine and hiding the baby in a pot of lentils ready for the daily soup, this half-nanny, half-witch sets about her chores. Using a bit of magic from a vast cauldron of British fairy tales, she must set things right and find a suitable wife for Mr. Brown, who must marry within 30 days or his imperial old dill pickle of a draconian aunt (Angela Lansbury, of all people) will cut off the purse strings that keep his family afloat. It looks like the prime candidate is the ghastly Mrs. Quickly, a vulgar, social-climbing neighbor who hates children, but Nanny destroys that option with a full-out garden party in which the pink cakes and purple pies become weapons. He's really in love with Evangeline, the pretty scullery maid (the enchanting Kelly Macdonald), but it takes some doing—and a lot of full-out special effects—to make him realize it.
Under Nanny McPhee's supervision, the rowdy brats shape up, brush their teeth, say their prayers and fly their kites over the White Cliffs of Dover. With every triumph, another of Nanny's hairy moles disappears. By the end of the movie, she has the looks and charm of Mary Poppins, and so has the movie.
Adapted with an old-fashioned stylishness by Ms. Thompson from the popular children's book Nurse Matilda Goes to Town, it's a throwback to a gentler era of classic children's films like The Railway Children. The cast is amazing, but I must admit I was a bit freaked out to see Ms. Thompson, Derek Jacobi, Imelda Staunton and especially Angela Lansbury (crimped face with the nose of a falcon) looking like trolls spooking up a kindergarten on All Hallows' Eve. Still, the kids will love the candy-box sets and costumes like confectionery-shop windows, the whimsy and farcical grotesqueness of it all. Personally, I loved the butter-cream frosting. Kirk Jones directed, like the Mad Hatter's Tea Party.
Back in the 70's, when the Apple was ablaze with after-midnight watering holes, a shy, nervous matron with a heartbreaking voice and a keen ability to interpret lyrics like Mabel Mercer developed a cabaret cult. Allergic to the praise and attention of critics and audiences alike, Joanne Beretta disappeared for 30 years. Now, she's back, doing a series of Friday-night solo concerts at Danny's, in the middle of Restaurant Row on West 46th Street, and the lines form on the street outside.
Warm and witty, she's no Peggy Lee, but time and life have been kind. When the voice reaches for a note beyond her range, it doesn't get stuck in a crack. It just melts, like a snowflake. She is blessed with purity, plus an honesty that illuminates the lyrics of whatever songs she's singing. Her sensitive accompanist, Franklin Roosevelt Underwood, lends tasteful support on the 88's. Unfortunately, in my opinion, not all of the songs in her current repertoire are worth the effort.
When I saw her in 1971, in rooms like the Duplex and Reno Sweeney, she could unplug an IV with wrenching anthems like "Lazy Afternoon" and "Lilac Wine." She loved standards, no matter how obscure. Like Mabel Mercer, Janice Mars and Sylvia Syms, she could always be relied on to guide, instruct and educate with wonderful songs that were off the beaten track.
Now she seems totally disinterested in things like harmony, melody and classics from the Great American Songbook. On "The Little Gray House," a great work by Kurt Weill and Maxwell Anderson, the old magic is back, but such excursions are rare. Mostly you get stuff like "Roy Rogers," a vile and stupid waste of time by Elton John, introduced as a tribute to her grandmother, who loved cooking, gardening and cowboy movies, but who would probably have hated this song.
Turning to love songs, she sings "For All We Know," but I'll be damned if it's not the wrong "For All We Know," a worthless collation of meaningless words by three writers I never heard of, not the timeless jazz classic by J. Fred Coots. I don't mind a little Joni Mitchell once in awhile, but she wrote much better songs than the confusing "Just Like This Train," and Tom Rapp's moronic "Rocket Man" makes no sense at all. Judy Collins, Bob Dylan and Lee Hazlewood are not the Gershwins, the Bergmans, or Rodgers and Hart. A 70-minute recital of second-rate tunes, unvarying tempos, depressing, dirge-like lyrics and the utter seriousness of it all add up, in the course of a whole evening, to a stifling sameness. From the Beatles to "These Boots Were Made for Walking," performed as German lieder, you've got to admit one thing: The word "eclectic" is her middle name.
But not until her encore, a rapturous "Again" that reminded me of the chain-smoking baritone of Ida Lupino, who introduced it in the 1948 film noir Road House, does Joanne Beretta really reveal the depth of what she can do. Hey lady, throw us a crumb of Kern, a soupçon of Alec Wilder or a pinch of Cy Coleman. I urge you to experience Joanne Beretta to see what the possibilities are. But with an artist this special, all of the songs she sings should be as special as she is. I like Joanne Beretta's heart, I like her humor, I like her politics. But boy, would I like to get my hands on her repertoire.