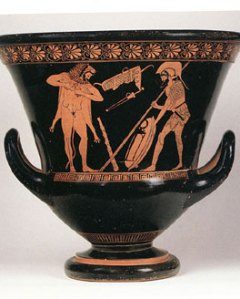 In the hushed and sunlit Greek and Roman galleries at the Metropolitan Museum of Art, a stunning black Greek vessel sits under glass. On its 2,500-year-old surface, the cupbearer Ganymede pours wine into his master Zeus' bowl; on the reverse, Herakles and his nephew Iolaos gird for battle.
The Calyx krater, a vessel for mixing wine and water attributed to the Eucharides painter, is one of many prized antiquities on loan to the Met from Shelby White, herself a mythical figure in New York's philanthropic circles. The museum certainly hopes Ms. White will bequeath it to the permanent collection.
But the Met is likely to have a battle on its hands for this krater, and at least seven other highly sought-after pieces in Ms. White's collection. It won't be a competition with other museums or archaeological institutions, but with Italian prosecutors.
The krater is one of several objects named some time ago in documents obtained by The New York Observer, in which Italian prosecutors charge that several key treasures in Ms. Shelby's collection were mined illegally from Italian soil.
And now, even more of Ms. White's collection is coming under investigation.
On Monday, Paolo Ferri, a leading prosecutor in the Italian investigation, told The Observer that his team had unearthed fresh evidence on Jan. 31 linking new items in Ms. White's collection to the Aboutaam family, the owners of the Phoenix Ancient Art gallery and the target of several investigations and convictions in Egypt and New York. (Ali Aboutaam, the defendant, was convicted in Egypt, but the conviction was overturned; his brother, Hicham Aboutaam, pleaded guilty in New York to a misdemeanor federal charge of falsifying documents related to an ancient vessel the brothers sold at their Manhattan gallery.)
"Now we have new documents through Aboutaam," said Mr. Ferri. "We have photographs and paper trails that link even more of the Levy-White collection to the Aboutaams and [Giacomo] Medici [an Italian dealer presently appealing a 10-year prison term on art-trafficking charges.] The connection is very strong."
He would not specify which new pieces in Ms. White's collection were coming under scrutiny as a result of the Aboutaam evidence.
Ms. White, who sits on several of the city's boards, occasionally reports on her rich and powerful friends for The New York Times, and is invariably referred to as a tough customer, vigorously refutes the Italian accusation and refuses to acknowledge the investigation until she is officially approached about it.
"Let me put it this way: We bought in good faith, we published everything, we supported archeology, and we supported conservation," said Ms. White. "We acted in good faith, and if we did anything wrong, I am prepared to address that."
A spokesman for Phoenix Ancient Art, noting that the Italian accusations were unspecific, said: "We cooperate with any government making an inquiry into our collection. In fact, our premises have been open to Italian authorities for years. It has always been, and remains, our policy to repatriate any object that is determined to have been wrongfully exported."
The investigation into Ms. White's collection seems to keep expanding. The stock of old evidence that Italian investigators are using becomes more dangerous to Ms. White's collection as more of her pieces receive widespread notice.
That is sure to happen as more than a dozen pieces in her collection—which has been admired by curators as one of the most impressive in the world, even as it has been disparaged by archaeologists as plundered treasure without provenance—are displayed at the Met, where she is a trustee. She has also donated $20 million to create a new Roman Court at the Met, which will bear her and her late husband Leon Levy's names and is scheduled to open in the spring of 2007. Indeed, the Met is counting on her collection to both rebuild and stock the new wing, even as the greater exposure to the public appears likely to increase the collection's exposure to foreign claims of ownership.
Nor has the Met's own permanent collection been safe from Italian investigators. On Feb. 2, after decades of pressure from Rome, the Met's director, Philippe de Montebello, announced an agreement with the Italian Culture Ministry to transfer legal title of some of the Met's most important objects to Italy in return for long-term loans of works of equivalent beauty and importance. The pieces included a sixth-century B.C. krater attributed to Euphronios (the infamous "vase" of much recent newspaper coverage).
Mr. de Montebello, in a Feb. 7 interview with Charlie Rose, said he was convinced by the emergence of a number of documents "of all sorts of patterns of activity, dealers, middlemen and so forth," which made it "sufficiently clear to us that the likelihood was pretty high that this object had been, in fact, indeed illicitly removed, that we felt it ought to be returned."
But the evidence that helped sway Mr. de Montebello to reverse more than 30 years of Met policy—during which time Italy sent various subpoenas to the Met through the United States Justice Department—comes in part from the same trove of proof that led the Italians to investigate Ms. White.
And in archaeological circles, those connections are poisonous to the Met.
"There is a dubiously close relationship between the trustee of a museum who happens to be a collector, the generosity of building a wing, and the museum's possible acquisition of that trustee's doubtful objects," said Colin Renfrew, the former director of the University of Cambridge–based McDonald Institute for Archaeological Research.
"It's like rattlesnakes staying warm and bundled in a ball," said Thomas Hoving, the former director of the Met, who openly admits to having suspected that the Euphronios krater he bought for the Met, and which the Met is now giving back, was looted. "A museum doesn't need this constant embarrassment. [The Italian investigation] has changed the collecting of antiquities in this country forever. Good."
Many antiquities watchers are wondering what impact the investigation will have, if at all, on these careful negotiations between the Met and Italy over the Euphronios krater and a collection of third-century B.C. Hellenistic silver. The Italians say it will make no difference whatsoever, and the Met, which will send officials over to Rome to finalize the deal on Feb. 20, suddenly doesn't seem to want to get so close to Ms. White's jewels.
"Any discussions between the Italians and Shelby White about her collection are really between them," said Met spokesman Harold Holzer, who called Ms. White one of the Met's most generous and informed trustees. "And just as she hasn't commented on the Met's discussions with Italy, we can't comment on the discussion that she may be having."
"It's done," said Giuseppe Proietti, a senior official in charge of cultural heritage for the Italian government. "The Met has sent the letter. They must sign, of course, but they are coming."
But Italian investigators stressed that this in no way meant Ms. White was off the hook.
"It doesn't change anything regarding Shelby White. These investigations are coinciding. We can't do everything at once; we have to take each case one at a time," said Mr. Ferri.
"The investigation isn't over," added Gen. Ugo Zottin, who heads the Italian military police's Unit for the Defense of the Cultural Heritage.
Reached by telephone this week, Ms. White refused to comment on the provenance of the pieces detailed in the Italian investigation, or any connection her art collection might have to the Aboutaam's antiquities dealership.
Mr. de Montebello also seems to want to avoid getting too close to the goods. While he told Mr. Rose that Ms. White and her late husband were "great collectors of antiquities and great philanthropists," he also made it clear that "frankly, the Metropolitan, like most honorable institutions, does not want to hold on to material that has been improperly acquired."
The Medici Code
Ms. White and her late husband, a successful financier and philanthropist, started their aggressive bid to acquire one of the world's most important collections in 1975, when they bought a Roman marble bust for $1,300 at auction. The antiquities bug bit hard, and the couple, reportedly worth more than $500 million, found themselves with an expensive hobby and a Sutton Place South palace increasingly populated by ancient vases, Roman portrait marble busts, bronze statues and gold jewelry.
High-end dealers were thrilled about the sudden emergence of another power couple in the antiquities market, much like the people Ms. White has called her "dear friends": fellow New Yorkers Barbara Fleishman and her late husband, Lawrence. The couple donated their collection to the Getty.
But since then, the Italians have charged that the Fleishman collection contains many stolen pieces. The donation has played a central role in the case against Marion True, then the antiquities curator of the J. Paul Getty Museum in Los Angeles. She has since been removed from that position and is now standing trial in Rome on charges of antiquities trafficking.
Not everyone has been pleased about the conduct of the antiquities market since the arrival of the Levy-White collecting juggernaut.
"The scholar's view is that they do promote trafficking: When there is a very demanding purchaser who places a great quality on uniqueness, the market adapts," said Malcolm Bell III, a professor of art history at the University of Virginia and the vice president for professional responsibilities at the Archaeological Institute of America. "It's very likely that almost everything in the collection is looted."
By 1983, when the United States joined an international treaty that allowed foreign countries to request that the U.S. ban the illicit import of their archaeological materials, the couple had dug in as major players in the antiquities world.
They poured money into an important archaeological excavation site in Israel, and collected what several antiquities dealers and archeologists called an incomparable collection of marble portraits. In 1985, the couple bought from Sotheby's a sixth-century B.C. Attic black-figure neck amphora, attributed to the Bucci Painter, showing a ploughman on one side and a tree with birds on the other.
The Italian investigators charge that the piece was looted and that Robin Symes, a well-known London dealer who is now bankrupt, was behind its sale. Indeed, most of the objects under the scrutiny of Italian investigators were sold to Ms. White and Mr. Levy by dealers they since have come to consider as traffickers in stolen antiquities. Mr. Symes sold what the Italians believe to be a stolen statue of Aphrodite to the Getty in 1986 for $18 million.
But a 1995 raid by Swiss police and Italian carabinieri on the Geneva warehouses of Giacomo Medici, an Italian dealer sentenced to a 10-year prison term on art-trafficking charges, was the dam break in the Italian government's investigation into looted antiquities.
Italian officials said that Mr. Medici, who is appealing his conviction, was the point man for the country's tomb raiders and looters, and that he sold freshly excavated artifacts to dealers, or laundered them through Switzerland or auction houses like Sotheby's, to give them a false provenance that made it easier for museums or private collectors to buy them.
That was one way of getting around Italy's tough 1939 law, which says that any ancient artifact found in a dig belongs to the state.
According to documents from the Italian investigation, photographs of looted antiquities found in the warehouses match some of the objects in Ms. White's collection: "One can affirm with absolute certainty that the eight works examined were fenced by Medici and sold by him, directly or through a third party, to the Levy-White Collection," the Italians allege in court papers.
In addition to Messrs. Medici and Symes, who was sent to prison for two years in January 2005 on a contempt charge, the Italians are also looking at Robert E. Hecht Jr., an American based in Paris who sold Mr. Hoving the Euphronios krater in 1972 and is currently standing trial in Rome with Ms. True of the Getty, both on charges of antiquities trafficking.
"There is a group of dealers where doubts have been expressed. One could link together Aboutaam and Symes, and Hecht and Medici, where any serious museum would be cautious in purchasing antiquities from them. And the same is true of collectors," said Mr. Renfrew.
But the couple, apparently unfazed by criticism that almost all looted antiquities passed through such dealers' hands, went on amassing a world-class collection. While hard-line archaeologists argue that collectors like Ms. White deny scholars a chance to see and understand artifacts in their historically correct context, she and her supporters contend that without public-spirited collectors, some of the world's great treasures will simply disappear from public view.
"Objects are going elsewhere—to Japan and Europe and the Middle East," Ms. White complained to Reason Magazine in April 2005. "All we've done is make public and private collections more vulnerable to claims from foreign countries. At the same time, we've made it harder for Americans to see the glories of the past."
Bad Company
For the public viewing of her masterpieces, 1990 turned out to be a watermark year for Ms. White. First the couple bought a two-handled krater, which was also signed by the painter Euphronios but is different from the one the Met has agreed to return to Italy, for $1.76 million—a record for a Greek vessel sold at auction.
Then the Met, keen to establish an even closer relationship with the keeper of one of the world's fastest-growing collections, made Ms. White a trustee. In September, the Met mounted Glories of the Past: Ancient Art from the Shelby White and Leon Levy Collection and published a handsome burgundy coffee-table book edited by famed antiquities curator Dietrich von Bothmer, with a foreword by Mr. de Montebello.
"The creation of the great museums of the world—the Metropolitan Museum is no exception—and their continued existence and well-being owe much to a special breed of individual: the collector," Mr. de Montebello wrote.
"In the case of people like Shelby White, it's not as though she is hiding anything," said Frances Marzio, a curator at the Museum of Fine Arts in Houston. "She is lending things internationally, publishing things. I don't see any deviousness; she funds excavations. If you don't put things out there, how will we learn about their history? You take a risk by putting things out there. People could claim it."
And that's exactly what happened during the 1990 show.
The Turkish government argued that one of the exhibit's marquee pieces, half of an A.D. 170 sculpture known as Weary Herakles, was illegally excavated in 1980 from a site in southern Turkey. The Turks had the bottom half, and they wanted the top back. The couple refused. The Italians, too, eventually took notice of the exhibit. Documents from the investigation cross-reference the photographs published in the catalog with Polaroids seized during the 1995 raid.
Three years after the show, the couple ran into more trouble: They acquired a second-century bronze-and-silver miniature model of a leopard, one of more than a dozen objects in the collection that were suspected of having been looted from Roman ruins in England. The couple eventually donated the pieces to the British Museum.
Then, in September 1995, the earthquake struck and hidden antiquities rose to the surface, as Swiss police and the Italian carabinieri raided four of Mr. Medici's warehouses in Geneva. It was the looting mother lode: The police confiscated thousands of artifacts, documents and photographs.
"As the investigation to get back looted objects developed, the names of some big smugglers kept coming up with the big buyers," said Gen. Roberto Conforti, who headed the Italian military police's Unit for the Defense of the Cultural Heritage at the time. "We talked about Shelby White a lot during the raid in Geneva. Her name flowed through the investigation."
But in New York, Ms. White's name was being praised by the Met. In the same month as the Swiss raid—which would, for many archaeologists, ultimately cast her collection in doubt—the museum announced a $20 million gift from Ms. White and Levy to help fund the new Roman Court.
The donation solidified Ms. White's lofty place at the museum and her ascension to cultural royalty in New York. Her prestige only spread two years later, when the Shelby White–Leon Levy Program for Archaeological Publications was established at Harvard to support archaeological research from sites in the Aegean, Anatolia, Balkans, Levant and Mesopotamia. Since then, over $6 million in grants has been awarded to more than 100 scholars.
"Shelby is as careful as people can be," said one New York dealer who has deep experience in the trading and selling of foreign antiquities. "What Shelby is doing is what every curator is doing: She is trying to purchase authentic objects. The question of title was not the question we would rack our brains over. People make up provenances— you never get proof. It's hard to get proof."
That attitude caused certain institutions, like the Department of Classical and Near Eastern Archaeology at Bryn Mawr College, to refuse Ms. White's grant money. But Ms. White clearly had no qualms about the dealers she collected from, even though Italian officials think she was running with a bad crowd.
One summer night in 1999, the couple hosted a dinner party in a rented house in the hilly Italian region of Umbria, and invited Mr. Symes and his partner, London antiquities dealer Christo Michailidis, who, according to the Los Angeles Times, played a pivotal role in Ms. True's dismissal from the Getty because he helped set up an improper real-estate deal for her in 1995.
In a maudlin twist, Mr. Michailidis fell down the villa's steps, hit his head on a radiator and died in the hospital the next day. His death sparked an eventual fight between his wealthy shipping family and Mr. Symes, which contributed to the dealer's ruin.
By 1999, the Levy-White collection had become a lightning rod for archaeologists who argued that rampant collecting indirectly fueled the looting and destruction of archeologically precious sites. Two British archaeologists, David Gill and Christopher Chippindale, conducted a study in which they concluded that 93 percent of the objects in the Met's Levy-White show had no known provenance.
That only added to the outcry when President Bill Clinton nominated Ms. White to the Cultural Property Advisory Committee, which was established to stem the illicit trade of foreign antiquities to private collectors—the very thing she was accused of doing.
The August 2000 announcement prompted a maelstrom, especially from the Archaeological Institute of America, but Ms. White enjoyed the staunch support of Senator Daniel Patrick Moynihan, who told the National Press Club in Washington in 1995 that "I'm in love with Shelby White—say it anywhere. I want the world to hear it."
"I've had broad experience as a collector and archaeologist," Ms. White said at the time. "I'm aware of the various archaeological sites. I go on digs every summer. I'm involved in publication in the field. I serve on the board of the Metropolitan Museum of Art, and I want to be helpful."
But the opposition, coupled with bureaucratic red tape, held up the nomination just long enough for the Bush administration to take office and cancel all of Mr. Clinton's pending appointments. So Ms. White went back to the acquisitions board at the Met, and helped plan for the nearly $180 million expansion of its gallery space, to display up to 5,000 more objects. The grand opening is planned for the spring of 2007. "Everybody is very excited about it," Mr. Holzer said.
But it's unclear if the Met is so excited about what was once considered one of the finest collections of all.
"Single people must be held responsible by law for knowingly acquiring looted works," said Mr. Proietti, the Italian Culture Ministry official. "But if the management of the Metropolitan, or any other museum, buys those pieces that they know we think belong to Italy, it becomes their responsibility too."