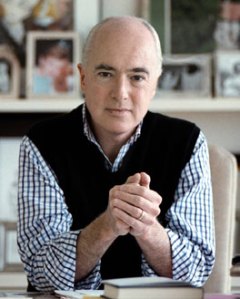 "[I]t's really hard to match you," eHarmony.com founder Neil Clark Warren tells Atlantic writer Lori Gottlieb in the magazine's current cover story. "You're too bright. You're too thoughtful. The biggest thing you've got to do when you're gifted like you are is to be patient."
David Bradley, The Atlantic's owner, appears to be taking that advice to heart: The magazine still has no editor in chief, despite a months-long search.
The Atlantic is now ensconced in its second-floor suite at the Watergate, having completed its move to Washington from its 149-year home in Boston. The new March edition, with Robert Doisneau's dorm-room staple Le Baiser de l'Hôtel de Ville on the front, was the first one fully assembled in D.C.
The accompanying editorial changeover, however, is on a slower schedule. Rather than showcasing a rebuilt masthead, the current issue of The Atlantic includes no masthead at all.
Most of the previous staff—including Cullen Murphy, the monthly's top editor—took a buyout rather than making the trip south. Facing that much turnover, Mr. Bradley set out last summer on a "listening tour" to find new talent, including a new editor to run the magazine.
But while Mr. Bradley has been building out the lower and middle levels of the staff himself, no change has happened at the top.
"There's no new developments on the editor front," Atlantic spokeswoman Julia Rothwax said. "David has the luxury to take his time with the editor search."
Last week, Mr. Bradley traveled with the magazine's business staff to St. Bart's for a weeklong series of meetings.
In the meantime, Mr. Murphy is still editing pieces part-time out of Boston, and editor-at-large Robert Vare is editing from his home in Litchfield, Conn.
Mr. Bradley has a history of deferring top-of-the-masthead moves. Officially, The Atlantic hasn't had an editor in chief since Michael Kelly left the post in September 2002. Mr. Murphy, the managing editor, took on Mr. Kelly's duties without being granted the accompanying title.
Now that pattern has repeated itself. Mr. Murphy has been succeeded as managing editor by Atlantic veteran Scott Stossel, 36, who is overseeing the day-to-day operations.
"Under Scott Stossel's leadership, we've been rebuilding the editorial machine in D.C.," Ms. Rothwax said.
So what does that leave for a new editor to do?
The rest of the magazine's brain trust has already been assembled by Mr. Bradley, in the course of his extended consulting-and-recruiting tour. Last summer, he poached Economist deputy editor Clive Crook to be a senior editor with The Atlantic and an editorial advisor across his other publications. Former New York Sun senior editor Robert Messenger joined The Atlantic last month as a deputy managing editor. Joy de Menil, who edited Atlantic correspondent Robert Kaplan at Random House, has signed on as a senior editor.
In the writing ranks, Mr. Bradley lured away New York Times reporter Amy Waldman to be a Los Angeles–based senior correspondent. And Washington Post staff writer Hanna Rosin, who is on book leave, has also signed on as a correspondent.
But the editor-in-chief opening has been filled by nothing but rumors, several of them established as fruitless. Speculation inside and outside The Atlantic has named candidates including Newsweek International's Fareed Zakaria, New York Times columnist David Brooks and Newsweek's Jon Meacham.
Mr. Zakaria and Mr. Meacham were traveling and unavailable for comment, but Mr. Brooks said he hasn't been offered the position and has no plans to leave The Times.
"As much as I'd like to fan the idea that there's a bidding war for my services, no job has been discussed," Mr. Brooks said by phone Feb. 13.
Another name to float up has been that of New Republic editor Peter Beinart, who has already demonstrated that he can run a long-established D.C. magazine with a strong-willed boss.
"I've never discussed the job with anybody," Mr. Beinart said by phone Feb. 14. "This is the first I've ever heard of the topic. It's a rumor I've never heard myself."
One of Mr. Beinart's New Republic predecessors, peripatetic star editor Michael Kinsley, visited the Atlantic offices last month. But after some early buzz, Mr. Kinsley has been out of the running.
"I have not been offered it," Mr. Kinsley said by phone Feb 14. "I've talked with David Bradley a lot, and I'm not going for it …. We've talked about journalism, not jobs."
And The Atlantic appears to be settling into an editor-less routine. "With Scott running the magazine, there's been a lot of continuity in the staff and culture from when Cullen ran it," an Atlantic staffer said.
●●●●●
Layoffs could be coming at Time magazine as soon as next week, now that the deadline for voluntary buyouts has passed.
On Jan. 30, Time managing editor Jim Kelly said he needed to trim a total of 10 positions across three categories: correspondents, writers and editorial assistants. "If we do not have enough volunteers by Monday, Feb. 13, we will begin a process of involuntary layoffs," Mr. Kelly wrote.
Most Time staffers seem to have chosen the threat of the ax over Time Inc.'s buyout offer.
"I only know of one person who has taken the buyout," one Time staffer said. "I don't sense there's been a huge movement to take the package."
The offer, based on a complicated time-of-service formula, would offer payouts starting around seven weeks' wages for a first-year employee and ranging up to more than a half-year's pay for the most senior employees.
On Feb. 14, Mr. Kelly said he hoped to "mostly get there with volunteers," but added that he hadn't tallied the final number taking the buyout. "I don't know yet how it's shaking out," he said by phone. "I'll have a better sense by Thursday."
Overall, Time Inc.'s latest round of staff cuts is supposed to eliminate 26 editorial positions and 40 business-side jobs at the company. Some members of the staff have greeted the news—the second major reduction in two months—with anger. One pointed to New York magazine's pay survey, which listed Time Warner chief executive Richard Parsons' compensation at $23.5 million.
"If he cut his compensation by only 1 percent, the company would not have had to fire anyone at its flagship magazine," the staffer said. "And I'm talking about the 100 people before, as well as the people now being fired."
Mr. Kelly said that once the final count of volunteers is complete, decisions on layoffs would be made within a week.
—G.S.