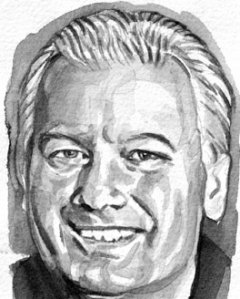 It might seem fair to say that Rich Conaty slips into a time warp every Sunday night from 8 p.m. to midnight. As the host of a program called The Big Broadcast, which airs at that time on WFUV-FM, Mr. Conaty plays and talks about music from the 1920's and 1930's—music made decades before his birth. Unsuspecting listeners trolling through the FM dial on Sunday nights are likely to do an audio double-take when they tune in 90.7, which is WFUV's frequency. Yes, that really is Ethel Waters and the Dorsey Brothers Orchestra you're hearing, and no, it's not really 1933. You just thought it was, for a moment.
Of course, Rich Conaty doesn't actually slip into a time warp when he's on the radio. In reality, Rich Conaty lives in a time warp, his radio show being just one manifestation of this curious lifestyle choice. After all, the man tools around his adopted hometown of Hudson, N.Y., in a 1950 Nash. And yes, the gold-and-maroon beauty—like the music he plays every Sunday night—is older than he. Mr. Conaty was born in 1954.
If there's a radio program like Mr. Conaty's in the New York market, I've yet to hear it. Sure, Jonathan Schwartz still brings us Sinatra & Co. on WNYC-FM on Saturdays and Sundays. And a few smaller stations, with signals only slightly more powerful than the cheap walkie-talkies my kids play with, still feature occasional music from the swing and big-band era.
But most of the songs you'll hear on Mr. Schwartz's show are just a little too current for Mr. Conaty's taste. Rich Conaty's music is from the Jazz Age and the Great Depression, from Coolidge Prosperity through F.D.R.'s second term. "Like a lot of kids, I used to stay up at night with a radio under the covers," Mr. Conaty said. "At that time, a lot of the people from the 20's and 30's were still around, and I'd hear some early Mills Brothers and early Bing Crosby." He got hooked, happily, and has never let go.
This Sunday, Feb. 12, and the following Sunday, Feb. 19, Mr. Conaty may expand his reach just a bit. To commemorate the full moon on Feb. 12 (hey, everybody needs a gimmick every now and again) and the Feb. 19 birthday of astronomer Nicholas Copernicus ("All right," says Mr. Conaty, "he's more of a sun guy, but he certainly saw the moon"), Mr. Conaty is putting together a play list of songs about the moon. The earliest recording he's found thus far dates to 1911, entitled "Turn Off Your Light, Mr. Moonman." The latest under consideration is a 1940 recording of "How High the Moon"—pretty modern for this show, but hardly the last good moon song worthy of note. Just around the corner in 1942, dangerously close to the millennium, lurks the Bing Crosby and Dorothy Lamour duet "Moonlight Becomes You," from The Road to Morocco. Granted, 1942 is a little late for Mr. Conaty, but sometimes you just have to compromise.
Mr. Conaty has been doing this sort of thing since he was an intern at the Hofstra radio station, WRHU, in 1971, when he was about to enter his senior year at Monsignor McClancy High School in Queens. He went to Fordham University, which runs WFUV, and later went on to meet and work with the greats from the old WNEW-AM. "I hosted Milkman's Matinee on NEW," he said, without feeling the need to explain to a fellow young geezer why that was important. "I was terrible. I sounded like I was 12 years old"—he wasn't much older than that, actually—"but I think people thought there was something endearing about this kid playing old music."
In the early 1980's, he got a chance to fill in, briefly, as host of Make Believe Ballroom, made famous by the legendary William B. Williams. When the old WNEW-AM died, WQEW took up the cause of old standards. Mr. Conaty moved The Big Broadcast from WFUV to WQEW for several years, but QEW gave up the ghost, too, in the late 1990's. The station now serves as a promotional platform for Radio Disney, which exists to educate 8-year-olds in the fine art of crass consumerism and the empty-headed worship of celebrity culture.
Mr. Conaty rejoined WFUV in 1997, just in time to take advantage of—ironically enough for this cultural throwback—radio's latest breakthrough, the World Wide Web. "It's amazing—through the Internet, we have listeners all over the world," he said. "I got an e-mail the other day from a guy who listens to the show in Sydney. I've heard from listeners in Hawaii. The technology has been a godsend for the show."
And for Rich Conaty's devoted listeners as well.