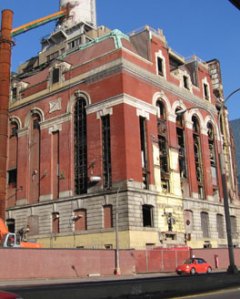 In late 2004, the real-estate developer Sheldon Solow was wrapping up his $600 million purchase of the Consolidated Edison plant on the East River. It featured startling views and represented one of the largest raw spaces left in Manhattan. The only problem—or at least the first one he would have to take care of—was that the United Nations wanted to erect a 35-story tower of its own on a park directly to the north of his property. Such a move would cut off breathing room for any skyscrapers he would build himself.
So Mr. Solow fought back. He lavished money on state Republicans and hired one of Albany's best-connected lobbyists, whose clients have included Philip Morris and the New York Yankees, to block a bill in the State Senate that would have paved the way for the U.N. tower.
The bill died, pummeled by anti-U.N. rhetoric led by Senate Republicans.
It is hard to say how much of an impact Mr. Solow made, but at the very least his Cablevision-like techniques—taking a land-use fight normally reserved for City Hall all the way to Albany—underscores just how protective the developer has been of his interests, and how willing he is to pay to preserve them.
Mr. Solow, who built the 9 West 57th Street building in the 1970's, partnered with Fisher Brothers to submit the winning bid for the Con Ed site and later bought his partners out, selecting Richard Meier and David Childs as the architects.
The developers talked from the beginning about building a mixed-use project, but early on, nearby residents questioned whether any commercial tenants would lease space almost a half-mile from the nearest subway. That is how the U.N. comes in—both as potential tenant and as an enemy.
Some time before November 2004, according to Gary Tarnoff, one of the developer's land-use attorneys, Mr. Solow's company held a meeting to interest the U.N. in his project. While it's not known what was discussed, Mr. Solow basically could have extended two options: The U.N. could lease space in one of the buildings that he was building, or the U.N. could swap the site where it was planning to build—Robert Moses Park, between 41st and 42nd streets on First Avenue—for a piece of Mr. Solow's property.
That same fall, four companies that were either explicitly controlled by Mr. Solow or listed the same building address contributed $25,500 to New York Forward, a controversial political-action committee founded by Senate Majority Leader Joseph Bruno and used to fund state candidates. The contributions were all made on the same day, Sept. 16, 2004, in a move that would have maximized their impact. The contributions were tallied from public filings for The Observer by Common Cause New York, a watchdog group. (New York Forward was shut down in November 2005 as a result of a lawsuit filed by state Democrats.)
Also around that time, a lobbyist named Brian Meara talked with Steven Sanders, then the local State Assemblyman, about the Con Ed project.
"That conversation morphed into a brief conversation about Sheldon Solow's interest in Robert Moses Park, as well as about the possibility of some kind of alternatives to providing the U.N. with additional space that would involve perhaps the Con Ed project," Mr. Sanders, who is now a lobbyist, told The Observer. "I remember saying to Brian that it was my impression that the city had pretty much committed to that course of action."
Mr. Sanders added, "That had to have been before November 2004."
Mr. Meara wouldn't say whether he was working for the East River development at the time of the conversation, and whether he spoke with other legislators. Mr. Meara didn't sign a lobbying contract with Mr. Solow until Nov. 15, 2004, according to records online. He registered it with the Temporary State Commission on Lobbying on Nov. 23, specifically mentioning the Senate and Assembly bill numbers for the U.N. expansion.
A spokesman for the lobbying commission said that Mr. Meara would have violated the state lobbying act and could be subject to a civil fine had he agreed to represent Mr. Solow and waited more than 15 days to register. Mr. Meara, when told of the comment, said, "He's wrong."
Mr. Meara said that his conversation with Mr. Sanders didn't count as lobbying because he wasn't attempting to influence legislation. "I had no idea there was a bill until Steve Sanders told me there was," he said.
The United Nations Development Corporation, a state-chartered agency, had made a presentation to the community board two years earlier, promising to replace Robert Moses Park with an esplanade along the East River. Despite local opposition, the bill—which would have subjected the U.N. expansion to regular city review but would not have given a final go-ahead—seemed likely to pass later that fall.
The New York Post's Nov. 18, 2004, editions ran with the headline: "Pols Give Hush-Hush OK for U.N. Expansion," saying that legislative leaders from both parties had agreed to pass the bill, and that the Republican Senate was to vote on the measure that day. That morning, however, State Senator Martin Golden, a Brooklyn Republican, raised objections, alleging that the international body was incompetent and anti-American. His line of reasoning gathered steam: The New York Sun called the U.N. "little more than an anti-Israel conspiracy," and the New York Post called it "an institution whose membership virtually without exception doesn't even try to disguise its contempt for the United States." Proponents countered that the bill had nothing to do with ideology, that it was just—yawn—about land use, but to no avail. The bill continued to falter, until even the sympathetic New York Times, on Dec. 3, declared it all but dead.
Of course, considering the campaign contributions and Mr. Meara's lobbying, maybe it was about land-use after all. It's hard to say what impact Mr. Solow's intervention made.
"It would be flattering me to say I had anything to do with it," Mr. Meara told The Observer. "I think the New York Post and The New York Sun could take a lot more credit for it. I was just asking around what people thought the process was when it died."
Senator Golden, for his part, said that he had never met Sheldon Solow and that his opposition had nothing to do with Mr. Meara's intervention.
"It was to be a bill that we were going to pass that day," he said. "I objected to it, and as we discussed it, we put more light on it. Why should we do anything to help the U.N.?"
But Megan Quattlebaum, associate director of Common Cause, said that even a little lobbying can make an impact when the opposing side doesn't put up much of a fight. The only registered lobbyist working on behalf of the U.N., Sander Lehrer, was paid $24,691 in salary and expenses for the latter half of 2004, according to filings online. Mr. Meara, by contrast, collected $67,500 from November 2004 until March 2005, when he said he abruptly lost Mr. Solow as a client.
"You have a lot happening at the same time," Ms. Quattlebaum said. "You have a member giving you this message, and you have the lobbyist, and then you have the campaign contributions. This was a full-out lobbying and campaign-contribution press."
Mr. Solow's project, which faces city review over the next year, calls for 6.2 million square feet of developed space that would cover more than four riverfront blocks between 35th and 41st streets. In November, Mr. Solow filed an application with the Department of City Planning to rezone the area from manufacturing use to a commercial designation that would permit substantial residential development. Just 1.1 million of 6.2 million square feet would be devoted to office space. Six of the towers would be apartments, with enough room for an estimated 7,760 new residents, according to the application. About 3.4 acres would be privately owned, publicly accessible open space.
Members of the local community board oppose the proposed project, arguing that the buildings, which would range in height from 578 to 864 feet tall, are too large and that the entirely market-rate project is offensive. "They are obviously trying to turn it into a rich person's ghetto," said Charles Buchwald, co-chairman of the community board's Con Ed subcommittee.
The Con Ed complex itself, which consists of power facilities and an office building, is being gradually dismantled. The U.N., according to spokeswoman Vivian van de Pierre, is considering building two low-rises on its north lawn, and leasing 200,000 square feet nearby, in order to accommodate a renovation of the Secretariat building.
As for finding a tenant, one of Mr. Solow's attorneys, Sandy Lindenbaum, said that he's trying the U.N. again.
"Nothing would make us happier than to have the U.N. as a tenant, or one of the tenants, in the commercial building at the north end of the site," he said.