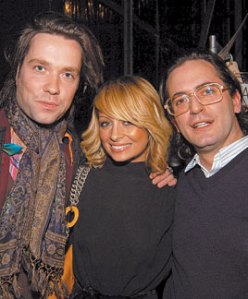 These past five days in Bryant Park, the anyone-can-be-a-celebrity theory embraced and air-kissed—with tongue!—its own cousin, the anyone-can-be-a-clothing-designer theory.
The errant lovers weren't even paying attention during the lip-lock anyway. They were too busy keeping their chins down and their eyes wide for the strobe-like love of camera crews.
Ahoy, it's Olympus Fashion Week, attack of the fall '06 collections—and the Heathers who love to be loved in the vicinity of wildly expensive, never-to-be-worn clothes.
True, the gorgeousness is there, both in cloth and flesh—but analogy casts a fog over it all. Could Lindsay Lohan and Nicole Richie really be to Marc Jacobs as Jackie Kennedy was to Oleg Cassini? And if so, whose fault is that?
Wait, wait! We know! It's all of ours … isn't it?
Are we dead yet? Is this purgatory? Chug-a-lug, Donna! You're gonna need something stronger than York Peppermint Patties—the official candy of Fashion Week!—and Aquafina water—ditto!—to make it through to Friday, Feb. 10, when Project Runway's 9 a.m. season-finale show/taping kicks off the final day. Ah, reality. Oops—reality show!
Hey. Lookie. Nicky Hilton really is blonde again.
—Choire Sicha
Feb. 2, 7 p.m.: At Capitale on the Bowery, Kelly Rowland, who is not Beyoncé, but is formerly of Destiny's Child, sat pretty in a green V-neck dress, fingering the Miss Sixty gift bag. It included a promotional postcard for Kelis' new album, Kelis Was Here. The paparazzi blinded Nelly Furtado—uh, last album released in 2003?—who wore an elegant gold-and-pink lacey strapless number. Then Kelis was here; she made her way inside, exuding womanliness in cleavage and curls, as Jamie McCarthy, photographer and oft-subject, came down the aisle to snag his chance. Michelle Williams, who is also not Beyoncé, but is also formerly of Destiny's Child, sashayed in to join the orgy of pictures, dressed in a demure bright dress and a wide rimmed hat.
Who was going to publish these photos?
—Riva Froymovich
Feb. 3, 9 a.m.: On Friday, it was pouring rain, everyone was fro-ing out, people wanted to know what time the bar opened, caffeinated publicists passed out the new Tab Energy drink. Bleurgh!
"I'm already unhappy and it's just the first show of the day!" griped a photographer.
Backstage, at Kenneth Cole, in Reality Corner, American Idol's Carrie Underwood was holding court: "Kenneth Cole designs for women with curves," blah, blah, blah.
Carson Kressley and his hair took interviews separately. He was looking more understated than usual in a slim suit and skinny tie. The Queer Eye said, "I once went to a black-tie event wearing camo fatigues with a tuxedo jacket, which I thought was really cool; but apparently they looked like I was wearing camouflage chaps and had no pants on."
The photogs camped out by two empty seats—one reading "Angie Harmon" and one reading "Michelle Williams." Would Oscar-nominated Michelle Williams bring her new spawn, Matilda? Would she have lost the baby weight yet?
Alas, Michelle Williams had either gotten a serious tan or she was actually, once again, the Michelle Williams from Destiny's Child, because that's who showed up.
After that debacle, it was all on Ms. Harmon to bring the star power. Across the aisle, an InStyle reporter was asking the actress something riveting about her handbag. The handlers started shooing everyone to their seats, so the rest of the gossip reporters thrust tape recorders toward Ms. Harmon hoping to catch something, anything. But InStyle swatted our recorders away!
Minutes later, we were in the process of kicking someone out of our seat, when we felt a tap on the shoulder. It was our gal from InStyle. "Excuse me," she said, "but could you, like, not use that handbag quote please?"
—Noelle Hancock
10 a.m.: A very young fashionista gazed longingly at the editors occupying the front row at the John Bartlett show. "I want to be an important person, too!" she whined. "But I don't want be old, though."
"S'riously!" her friend agreed. "I wanna be, like, 25 at the latest."
The place smelled like a barn, thanks to the mulch runway on the floor, with a painted pastoral scene acting as the backdrop. A bearded model crunched down the catwalk, carrying a satchel of wood. More testosterone types followed. It was Seven Brides for Seven Brothers chic.
Looking thoroughly stupendous was New York dandy Patrick McDonald, who had accessorized his plaid Vivienne Westwood suit with an orchid-and-yellow handkerchief, topped with a red fedora. "Someone called me the 'Willy Wonka of fashion,' which I think they meant in a bad way," he said. Mr. McDonald takes two hours to get dressed every day, and confessed he was once awarded Worst Dressed of the Week by Star magazine. "Can you imagine?! I was judged by a guy named 'Goomba Johnny.' Someone named 'Goomba Johnny' should really change his name before he dictates how other people dress."
—N.H.
Noon: After ascending to Yigal Azrouël's seventh-floor show, the elevator doors unfolded upon a wall of glass. Beyond it, 12 models lounged on tattered vintage chairs, against walls or ladders, arrayed in blacks, grays, creams and maroons.
"Everything is together, everything is crazy! I like to deconstruct pieces! I like the juxtaposition of evening and daytime!" Mr. Azrouël said.
—Nicole Brydson
3 p.m.: Is there anyone not yet "aware" of heart disease? Perhaps the Red Dress Collection "heart-disease awareness" benefit show informed the last of the ignorant.
The tents were a sauna. Hair stylists furiously fought the frizz on America's Next Top Model Nicole's hair. And what was she doing there?
"Ummmmm, I don't know," she said. "Something for Pantene Pro-V and VH1," she said.
Who did her chic tan leather three-quarter-sleeve knee-length jacket?
"Ummmmm, I don't know." She turned to one of her baby-sitters. "Who did it?"
"Tommy Hilfiger," the woman replied. "She has to go change for the next look. She'll be back."
What's the next look?
"Ummmmm, I don't know. What is it?" Nicole chirped. She reappeared in a shimmery, striped, dark blue Ginny H. sweater dress.
"Where are we going for Lindsay?!" shouted the ringleader of Lindsay Lohan's posse, as the "musician" stormed backstage.
Then Curious George made a surprise appearance—on Laguna Beach star Jason Wahler's T-shirt. "He's a celebrity!" shouted Mr. P.R.
Mr. Wahler escorted himself to the front tent, where someone explained his "celebrity" status to a P.R. girl. Mr. Wahler plopped down next to girlfriend and Laguna Beach co-star Lauren "L.C." Conrad in row one. He showed no reserve about licking her tongue throughout the show.
Backstage afterward, Lee Ann Womack, who brought her daughter Aubrie, said that a clothing line of her own may be in her future. Her plans for Fashion Week included: "Sass and Bide, Tracy Reese, Kenneth Cole this morning. I think that's it."
"Are you doing Manuel on Friday?" a bystander shouted.
"Uh, no."
"Manuel is having a fashion show on Friday."
"Oh, I didn't even know—there you go! See, I know nothing! I know nothing. I'm telling you guys—they put me in the car and send me places."
—Amy Odell
7 p.m.: John Varvatos' genuinely exquisite collection worked in a palate spanning the spectrum from brown to cocoa to taupe. It was an alliteration extravaganza: Sumptuous suedes! Luxurious leather! More luxurious leather! Spit-shiny boots! Still, even an uncomfortably good-looking man with a deconstructed haircut couldn't save the "man poncho." And really, can anyone abide a man wearing a wrap?
Once again, there were Laguna Beachers L.C. and Jason—holding hands! So instead we turned to Details editor Dan Peres and asked the question everyone else has already asked: So is Details totally gay?
"There will always be people who pick up a copy of Details and find that it's a little too gay, but our readers, both gay and straight, are very comfortable with our content. And everyone else, as far as I'm concerned, can go screw themselves."
Mr. Peres married willowy actress Sarah Wynter last August in a private ceremony in her native Australia. Is he whipped? "Oh, absolutely 100 percent! I love being whipped! I have no issues of embarrassment, either. Marriage is so terrific."
He was dressed in a natty navy suit and pink-striped tie. Hmm. Has marriage given him more hetero street cred? "Unfortunately no, but if my wife is a beard, I've done really well for myself!" he laughed. "And I'm happy if people confuse me for a gay man. It's a compliment these days."
—N.H.
7:30 p.m.: When offered passes to Gen Art's after-party, an editor said to the GenArt press desk, "I'd love to flatter you, but … I'm exhausted." What? Honey, it's only the first day.
—Christina Ho
9:00 p.m.: The nice thing about Kimora Lee Simmons' Baby Phat show is you get to see actual black people inside the tents—besides Alek Wek and Andre Leon Talley.
Still, since he was right there, Andre Leon Talley wore a long, enveloping coat that sort of gave the impression he was being fumigated for termites. "Tonight is a celebratory moment in fashion," he said. "I think Kimora is extraordinary. Her line resonates a real urban glamour."
The Vogue editor-at-large appeared on The Oprah Winfrey Show last September to discuss his struggles with weight. "Being on her show was one of my highest achievements of last year. Oprah is my Svengali," he trilled. "People now come up to me in airports and malls"—malls?!—"asking, 'Aren't you that guy on Oprah?'"
On that show, Mr. Talley, now so slim, had famously said, "Miss Anna don't like fat people." So was Ms. Wintour pissed? "Anna was so proud!" Mr. Talley said. "The whole office watched it in the conference room."
Oddest pairing ever: Fran Drescher chatted up songwriter Denise "I Am" Rich. Janice Combs wasn't fooling anyone in a fuchsia wig.
In a move that, were this not the upside-down world of fashion, would have kept some anti-defamation group busy for months, most of the models had been made up to look "Asian." They clomped down the runway in shiny corsets, leather pants and plunging leotards, just like grandma used to wear.
—N.H.
Feb. 4, 1 p.m.: At Alice Roi's show, the front row was not geared toward cosseting stars so much as welcoming family, children, friends and John Bartlett. But the crude dynamics of celebrity are hard to reverse.
All attracted far less attention than Tim Gunn: The Parsons fashion-department chair has now, thanks to Project Runway, become a recognizable celebrity himself. With effortless good humor and impeccable pinstripe, he received a stream of greetings and compliments, many strangely deflected through the speaker's child-puppet: "This is my daughter Frankie"; "Say goodbye to Mr. Gunn"; "My daughter just loves your show"; "Can she have your autograph?"
—C.H.
2 p.m.: Ever wonder how pictures end up in Vice magazine's "don'ts" section? The E and F sections at the Alexandre Herchcovitch show were quick to learn.
Girl No. 1: ginger blonde, long, slightly curled hair; skin-tight orange Lycra bodysuit concoction; and a gigantically oversized—Williamsburg would collectively gasp—brown leather belt/bodice.
Girl No. 2: curly/dreaded brown hair; "shirt" of neon yellow, green and orange intertwined shapes (dove, flower, leaf?), which looked to be pasted to her body; a train of pasties emerged from the lower back; torn-up jeans à la Kurt Cobain, beneath which turquoise boots peeked out for some air. Think Hackers.
From across the roo drifted their soul mate. Fake eyeglasses—a magician at a 5-year-old's birthday party—and a crooked baseball hat, loud orange parka jacket, baggy jeans tucked into calf-high boots.
One of the girls enveloped the victim in a long embrace as the cameras flashed around them.
—N.B.
2:30 p.m.: "I hate sports," nasalized a tall blonde with an oversized tote bag to her identical friend. They were waiting in a D.M.V.-like line for Tracy Reese. "So I got these boots that I looooove. They're like brown and …. " ¡No mas! ¡Basta! ¡Silencio!
Inside there was the usual jostling for position, people bettering their seats with the rationale of "so they'll kick us out, so, whatever." A scrum of photographers surrounded a pretty blonde wearing a Tracy Reese dress in purple and gold, who obligingly smiled and expertly posed. Who is that?
"I have no idea," said a bespectacled photographer. "I'm just following the pack."
"I'm guessing it's a socialite," said a fellow with rakish hat and notepad.
Moments later, a frazzled-looking reporter asked if we knew who it was. Speculation was that she was Elizabeth Rohm.
"Was she in that movie Troy?" asked someone in the cheap seats.
"She's in Law & Order," someone said. O.K.
Oscar winner Marcia Gay Harden sat ignored, until she consented to pose with Ms. Rohm.
There they were, the scourge of the year: Jason Wahler and Lauren Conrad of Laguna Beach. Photographers cheered as they kissed for the camera. The universe started to bleed.
Revered comic writer Paul Mooney took his seat, as did The Josephine Baker Story's Lynn Whitfield and David Alan Grier. Vibe magazine's sassy editor in chief Mimi Valdez slipped into the front row; she eschewed stilettos for sneakers.
"Is Tracy Reese black or something?" whispered someone.
After the show. "Oh wow. I mean, there is so much going through my mind," said America's Next Top Model winner Naima, clad in a gold beaded Tracy Reese dress. "I would call it girly-chic, but I don't even know if that covers it."
"Who is that? How do you spell her name?" asked a middle-aged reporter.
—Sara Vilkomerson
7 p.m.: "It's all about pretty FEMININE things," said Lauren Ezersky. "I love Josh and BRY-an, I guess it's just BRY-an now for some TIME. I like Tuleh. They show such pretty CLOTHES. There's not much more reason than THAT you know.
"You know, it's the third day, and I need some, like, TOOTHpicks, you know, to keep my eyes open …. That's a good quote. I need TOOTHpicks. For my EYES.
"I used to LIVE for clothes, I don't anymore. This is like a big PARTY. I never go OUT anymore, so this is like when I party, I see everyone, then I go underGROUND.
"I used to HAVE to HAVE something, you know, and if I couldn't afford it, I would charge it and pay it off later. Now I'm SMARTER, less VICTIM-Y. I used to be sort of a VICTIM, but then you kind of find your own STYLE.
"Yeah, I used to be flam-BOY-ant, though. I mean, I'm still QUASi-flamboyant. But, people wouldn't stop in the STREET and be HORR-ified—I mean they might stop and maybe LOOK, but they wouldn't be, y'know."
—C.H.
8 p.m.: Why are Badgley Mischka, the high priests of gorgeous, chasing Donatella's clientele? One theory—they are trying to aim younger, hipper, harder-edged. But they don't have their finger on that drug-fuelled pulse. Rich women don't aspire to look like that. Neither do rock 'n' roll principessas, or even young Hollywood, except to the extent that young Hollywood has no idea what it's doing beyond each trying to out-crass the others, exact proof of which resides in the celebrities who attended the show, most notably the Olsen twins and a Gastineau girl.
The only demographic to which this look could be pitched are medium-priced prostitutes in the former Soviet states—which, come to think of it, is a potentially brilliant casting idea for the twins' next project.
Meanwhile, Kelly Rowland, yes, of Destiny's Child, attended in a blaze of gorgeous irrelevance to the clothing presented. Before and after the show, flashbulbs and reporters trailed her, asking crucial questions about the collection such as "Ms. Rowland, what's next in your career?"
—C.H.
Feb. 6, noon: Jill Stuart was not above having a few stunt celebrities in attendance either: witness Miss U.S.A. and Miss Universe, who both arrived late.
But the presence of actress Marcia Gay Harden was a bit outside the fishbowl. She was there less as an advertisement and more just to shop. "To be honest," she said backstage after the show, while pointing to Polaroids of some of her favorite looks, "though I knew of [Jill Stuart] and I knew a few looks, I wanted to know more, so I came to educate myself." Was she wearing Jill Stuart? "No," she said—"but I will."
—C.H.
3 p.m.: There was Janice Dickinson at the show of kooky cartwheelin' designer Betsey Johnson. We asked the model turned viper when was the last time she did a cartwheel. "This morning." Yeah, right. "Really! I wake up with a cartwheel every day just to get my old blood moving." She was looking impossibly skinny in a black sequin bolero and described Fashion Week as "off the hook."
Ms. Johnson's line kicked off with lingerie in her trademark "saloon whore" style, followed by dresses the color of Skittles. There was a royal blue silk frock with hints of yellow and fuchsia that Wonder Woman would've worn to prom.
"These are clothes for girls-at-heart, not ladies-at-heart. Betsey's a girl," said flame-haired costume designer Patricia Field, who says that people mistake her for Betsey "all the time."
UNBELIEVABLE. On her right, yes: Jason and L.C. of Laguna Beach were making out again.
"Do you know who you're sitting next to?" we asked.
Ms. Field glanced at them. "No," she said.
—N.H.