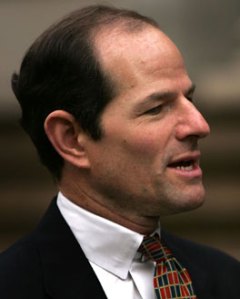 The black Ford Crown Victoria that Eliot Spitzer uses on official business is Car Four, ranking him automotively behind the Governor, Lieutenant Governor and State Comptroller. His driver, a retired cop, is cruising in from Suffolk County on the Long Island Expressway, where the city's skyline comes into view. The State Attorney General picks out his favorite building.
"See the Empire State Building? Directly to the right of it," he says, picking out a big, brown condominium building, the Corinthian. "The one with the curvilinear windows. My dad built that building in the late 80's. I lived on the 49th story."
Most rich politicians try to emphasize their man-of-the-people traits—real or imagined—like their ability to jam knishes (Nelson Rockefeller) or hot dogs (Michael Bloomberg) into their mouths. But Eliot Spitzer seems to have no political worries, and no personal neurosis, about his privileged upbringing. As he told a group of real-estate brokers earlier that morning, if he'd lost the 1998 election, "I'd probably be in real estate right now, which is what my dad does."
Leaning into the podium with a comfort that isn't quite charisma, he continued: "He tells me every now and then, you know, 'Look, your downside risk is capped—you can always come back into business if you need to.'"
If there's a rule in politics requiring wealthy candidates to downplay their multimillionaire origins, it's one of many that Mr. Spitzer blithely breaks. He often talks about the need to close hospitals, an assertion that surely must break some other rule of campaign etiquette. And he invariably leads with a joke about how he has been accused of threatening Wall Street eminences.
There's no self-doubt apparent in the Attorney General, no internal struggle. He has all the interior darkness of Ronald Reagan.
"He's very smart, but he's very simple," said an old friend and mentor, Lloyd Constantine. 'There's a kind of tedium and boredom about him. He always orders the same thing at restaurants. We play tennis. He serves and volleys. Hard serve and he comes to the net. If I pass him five times, he'll come a sixth time."
Mr. Spitzer isn't particularly Reaganesque in the specifics of his biography—the man went to Harvard Law, after all, and nobody has accused him of being a distant father—but there's a bit of the Gipper in his blend of utter confidence and resistance to psychological insight. Reagan was a maddening subject for biographers—so much so that his authorized biographer, Edmund Morris, resorted to fiction in his book, Dutch.
No reporter has yet spent the kind of time studying Mr. Spitzer that Mr. Morris spent with Reagan (including, certainly, this one), but he has happily submitted to dozens of newspaper and magazine profiles.
They all bear a certain similarity.
"Every time a reporter comes and says, 'I want to write a profile,' it seems kind of boring and pointless. They all come out the same," said Rich Baum, a canny, farm-bred former legislator from Orange County who is Mr. Spitzer's closest political aide. "He is what he is. There's no guile, no secret agenda."
This seemingly uncomplicated mixture of confidence and optimism has allowed Mr. Spitzer to put himself into the top tier of American politicians, expanding the role of the State Attorney General's office into a kind of national regulatory authority. It has allowed him to take on titans of industry, and to give and receive public punches without ever appearing personally shaken.
Now, as he launches a campaign for Governor, it has set him off on a distinctly unorthodox track, and raised some alarm within Democratic political circles. He announced his candidacy months earlier than is traditional. His aides said it was because he didn't like to pretend that he hadn't made up his mind, but critics said it made him a target. The campaign has on staff four policy advisors, but it still hasn't hired a media consultant, a guru to steer the campaign's "message."
His tactics have been unusual: He recorded telephone calls to a million New Yorkers in January, to the widespread puzzlement of the professionals who considered the blitz way too early. He managed to anger Harlem's political bosses even in the process of choosing one of their sons as his lieutenant governor. And in a party that has come to worship the notion of "rapid response" to criticism, Mr. Spitzer's slow comeback to the charge that he had threatened an elderly, prominent Republican investment banker, John Whitehead, set off alarm bells. Words like "cocky," "unsophisticated" and "passive" form a buzz around his nascent run.
"They've turned a coronation into a campaign," grumbled one Democratic veteran.
But everyone should have such problems. Mr. Spitzer has maneuvered himself into a dominant position in the polls—so much so that he has been accepted as the Governor-in-waiting by insiders from both major parties. And he isn't exactly resting on his lead, out of touch with the demands of a statewide campaign. One recent morning, he spared time to take a long car ride from Suffolk County to lower Manhattan to discuss his campaign with a reporter.
"If by passive they mean I'm not picking fights with those who also are running, O.K., that's fine. I'm not in it to engage in that way," Mr. Spitzer said. "I'm in it to say to the public, 'Here's what I've done. Here's what I stand for. Look at the record. Look at the support I've garnered.'"
Mr. Spitzer has come to be the candidate of a win-hungry Democratic establishment despite the fact that his personality isn't particularly suited to the backslapping and gabbing of politics. "He was not somebody who was glad-handing or had his heart set on going into politics," said Clifford Sloan, a Harvard Law friend. "He's very comfortable with himself."
In place of the need for love that pushes some people into politics, Mr. Spitzer has a kind of distance, a self-sufficiency that his fellow politicians—experts in human nature that they are—sense instinctively. Mr. Spitzer has it all: money, brains and a clear shot at the Governor's mansion. He would never say it, but they all know it: He doesn't need them.
"The thing you have to know about Eliot is that he's an aristocrat," says a prominent Democrat. "He's like, 'He-ello,'" the politician continued, imitating an upper-class accent and miming a Queen Mum wave.
Mr. Spitzer doesn't defer to the political experts, either. One former aide describes him as a "control freak." He used to write the scripts to his campaign television ads, although he has said he won't do that this year. His disdain for professional political wisdom will be proven either refreshing or foolhardy.
"Those handlers … can sap creativity," he said, "because by having been involved in so many campaigns, sometimes there's a conveyor-belt quality to what things look like and how they sound. Frankly, in seven years in office, I haven't had a longstanding relationship with any political consultants." He makes a partial exception of his pollsters at the Global Strategy Group—not that he has been working them to death. "I don't know if we've done more than one or two polls over seven years," he said.
This disdain for guru-dom doesn't prevent Mr. Spitzer from the occasional correspondence with one of the era's most controversial gurus, Dick Morris. "His dad was my dad's lawyer," the candidate explained. He still takes the Clinton apostate's calls occasionally. Mr. Spitzer said he wasn't sure if another notable New York guru, Fernando Ferrer advisor Roberto Ramirez, was still on his campaign's payroll. According to the most recent campaign-finance filings, he is.
And while Mr. Spitzer has been endorsed by hundreds of elected Democrats—500 political and labor leaders were set to rally with him at City College on Feb. 1—he has few close friends in politics.
Small Inner Circle
"At the end of the day, the people who are going to be making the decisions about the campaign [are] me, my wife, a couple close friends," he says, adding in Mr. Baum and Ryan Toohey, his campaign manager, who got his political start traveling with the candidate in 1998.
The friends are mostly outside the small world of New York politics. There's Bill Taylor, a roommate during Mr. Spitzer's undergraduate days at Princeton University who founded Fast Company magazine. Then there's Mr. Sloan, who is an executive at the Washington Post Company. His closest political ally is probably Bill Mulrow, an investment banker and longtime player in Westchester politics who ran for State Comptroller in 2002.
"These are the people who I trust to talk to," Mr. Spitzer said. "And then, around the state, there are obviously political people."
Political people—a different category. Some of them feel the distance. It has rankled Representative Charles Rangel of Harlem, the dean of the city's Congressional delegation. He is a man who expects deference, and he hasn't appreciated Spitzer prosecutions on his Harlem turf. After the now-resolved spat over Mr. Spitzer's choice of David Paterson as his lieutenant governor, Mr. Rangel described Mr. Spitzer as "the world's smartest man." He didn't mean it as a compliment.
In spite of this, or perhaps because it, Mr. Spitzer works at politics with unflagging patience. For example, on Jan. 30, he was on the steps of City Hall, repairing his relations with the Harlem power brokers.
Out in the sun on a weirdly hot winter's day, with former Mayor David Dinkins sweating behind him, Mr. Spitzer smoothed over a potential rivalry between Mr. Paterson and Leecia Eve with a speech in praise of Ms. Eve's talents and her campaign—a political ritual he performed diligently but without fluency. He described her campaign as "exquisite" twice, slipping into the wooden language that sometimes traps him when he tries to talk like a politician. (He says "this great state" a lot, too.) He's better on the issues: He can talk with clarity about the need for the Peace Bridge from Buffalo to Canada, or the third branch of the Long Island Rail Road, or the reform of the process that creates state legislative electoral districts. (Incumbent Democratic legislators may not enjoy his plan to make their seats more competitive, but Mr. Spitzer seems unworried. "I say, 'Look—you'll still win if you're a good candidate,'" he shrugs.)
"He compensates for that lack of the gift of the gab by wrapping himself in the issues," said political consultant Hank Sheinkopf, who worked for Mr. Spitzer on the 1998 race. Having lost the Democratic primary for Attorney General in 1994, Mr. Spitzer displayed his stomach for tough politics in his next go-round, savaging a primary opponent, Catherine Abate.
A Matter of Manners
After the City Hall press conference, Mr. Spitzer stood alone in the sun at the bottom of the building's steps, waiting patiently for a photograph with Ms. Eve, who was chatting with her father, an upstate power broker, a few feet away. If Mr. Spitzer felt he had anything better to do—to talk to his lawyers about any of a dozen major pending cases, or fight back against document requests from his main Wall Street enemies, Ken Langone and Dick Grasso, or check in on his three daughters— he hardly betrayed it. His left hand tapped on the pocket of his pinstripe suit, the only mark of some suppressed energy.
To outsiders, this looks like discipline. His friends call it "manners" and trace it to Mr. Spitzer's upbringing, the youngest of three children in the household of Bernard Spitzer, a self-made multimillionaire who maintained the highest intellectual standards, even at the dinner table.
"Bernie Spitzer does not suffer anybody who is not polite or who is not courteous. He's an old-fashioned New York intellectual gentleman," Mr. Constantine said. The younger Mr. Spitzer clearly adheres to a certain code of behavior and expects others to do so as well. For example, The Observer called the elder Mr. Spitzer, who is 81 and parries well, to talk about real estate and politics. "You're trying to establish a connection between the risks in developing buildings in the New York area and Eliot's campaign for Governor?" he said. "I don't think I can establish that kind of relationship." The brief conversation was followed by a polite call from a Spitzer aide, who said the Attorney General would prefer reporters not to call his father directly.
Mr. Spitzer's sense of decorum isn't necessarily shared by colleagues who are more natural politicians, people like Bill Clinton or Mr. Spitzer's occasional local rival, Senator Charles Schumer. Even surrounded by his campaign aides—virtually all of them, for some reason, a head shorter than his six feet—Mr. Spitzer is not one who sucks air out of the room. He makes his way politely, quietly through a crowd, causing a minimum of fuss.
So there's something personal, and elemental, about the unexpected threat of a primary challenge from a natural-born pol, Nassau County Executive Thomas Suozzi.
The big, handsome son of a Long Island power broker, Mr. Suozzi is a charismatic showman whose grasp of the details of policy hasn't always matched his smooth presentation. Addressing a West Side political club recently, he said he'd never heard of the Urstadt law, a major focus of New York City's tenant politics, which gives control of the city's rent regulation to the state government.
Mr. Spitzer has chosen not to respond to his rivals' jabs in general, but at a Martin Luther King Jr. Day rally, he was forced to stand with a fixed smile as Mr. Suozzi led an appreciative crowd in a round of singing "Ole, Ole." He was asked later if Mr. Suozzi's scene-stealing performance made him nervous.
"We all have talents," the Attorney General smiled.
He took a more direct line on Mr. Suozzi's proposal—echoed by many politicians looking for money to spend on planned projects—to finance the various projects by cracking down on Medicaid fraud.
"It's worst than glib—it's false. It's simply not going to be possible," he said of the notion that there are tens of millions of dollars to be wrung from cracking down on Medicaid fraud. "Nobody has recovered more money than has my office from Medicaid fraud. But anybody who says we're going to be able to balance the budget, lower property taxes and pay for [court-mandated education-spending increases] and incremental education spending based on those recaptured dollars isn't being honest with the public."
Mr. Spitzer said that only a tiny share of Medicaid bills come from the kind of small shops—crooked dentists and the like—who personify the crime. He has a lawyerly caution with the word "fraud." If there's really enough of it to pay for all those programs, he said, you're basically accusing major health-care institutions of being criminal enterprises. In a recent speech in Albany, he laid out harder, more complex solutions, like reducing the state's responsibility for paying for nursing-home treatment and changing the tax code to encourage people to save for long-term care.
It's among the first of many policy proposals that will make up much of his campaign. Another, floated to the real-estate agents in Long Island, involves restructuring the state's tax code. Like all candidates, he's promised to reduce property-tax burdens, a top issue across the state.
Taxing real estate "is just conceptually a bad tax to rely on," he said. "If we could, over a 10-year time horizon, wean ourselves from a property tax, move toward [more reliance on] income tax—that would be a good thing to do."
It would be good for suburbanites, but also for the industry that is "in my blood," as Mr. Spitzer says of real estate, and which he sees in some ways as a metaphor for his own ambitions.
"I like builders," he said, still looking west on the L.I.E. "I think that there is a risk-taking nature to anybody who's in that world, an appreciation for putting capital into a project and seeing something tangible that emerges from it, that I have tremendous respect for. Look at the skyline. There's a story behind every building. There's risk. There's people who made a ton of money, and people who lost a ton of money."
It won't be clear until November, at least, what Mr. Spitzer has won and lost. But his affinity for risk could make it a long, interesting year.