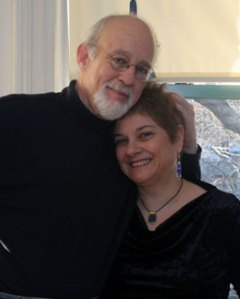 Shelley Yeffet and Charley Wininger
Met: May 2000
Engaged: July 29, 2005
Projected Wedding Date: Oct. 22, 2006
When Shelley Yeffet's marriage of 18 years ended in divorce, she was understandably reluctant to get back in the dating game. She began a relationship with a cop, but found it lacked a crucial element. "You know how you pat a dog on the head and go, 'Nice dog'?" said Ms. Yeffet, 53, a registered nurse at Forest Hills Hospital. "That was his idea of affection. I was like, 'Uh-uh.'"
She read about a lecture on male-female relations to be given at her local YMHA and figured why not? The evening's expert was the bald and bookish Charley Wininger, psychotherapist and noted relationship guru. "He was not handsome in a Robert Redford type of way," Ms. Yeffet said. "More like a professor."
One of Mr. Wininger's talking points was: "You can meet anybody anywhere."
"I liked that," Ms. Yeffet said. "I was always thinking, 'Oh, you have to go online,' or 'You have to answer personal ads.' Never thinking there could be this guy out there just waiting, standing on line in the subway or in a bagel place." Or under the hot fluorescent lights of your local YMHA ….
Two days later, Mr. Wininger called Ms. Yeffet to try and get her to come to a workshop in Brooklyn. "I was like, 'Brooklyn? That's a foreign land!'" said the woman from Long Island.
She did attend his next lecture at the Y, though, approaching the podium at the end. "I stopped seeing that cop," Ms. Yeffet told Mr. Wininger.
"Oh, why is that?" he asked.
"He wasn't giving me what I wanted."
"What was that?"
"Affection." She turned on her heel and left.
"I'm an affection-philiac," said Mr. Wininger, who is 56. "I love to give and receive affection; it goes very deep for me. I thought we'd make good lovers." (Whoa, we're flashing on that Saturday Night Live sketch …. )
Two days later, he called her, and they arranged to meet at a Thai restaurant near his two-bedroom apartment in Clinton Hill. "I did the ultimate no-no," Ms. Yeffet said, "I slept with him on the first date. I figured, you know, if it's going to work, it's going to work. I'm not a kid, where if he doesn't call me, I'm like, 'Oh my God, I can't live without him!' It was a very long date, and very intense."
"I thought, 'O.K., it will be more than a fling—I give it six months,'" Mr. Wininger said. Then they had another date, just as intense. "I thought, 'All right, maybe a year.'"
But it took him a while to declare his feelings.
"I don't use that word loosely," he told the Love Beat, meaning "love." "But I realized that in spite of myself, I was falling madly in love with her."
He hung a photograph of Ms. Yaffet above his mantel. "After three weeks, the picture started to have this subliminal tug on me," Mr. Wininger said. "I looked at the picture, and myself in the mirror, and back at her, and I said to myself, 'You're in love with her, aren't you? Naaah.' Then I said, 'Oh yes you are!'"
Why was he so reluctant to admit it?
"She wasn't an overeducated intellectual, which is what I've always gone for," said the shrink. "She wasn't someone who's had 20 years of therapy, like I have; she wasn't satisfying my expectation for a relationship to be full of drama. She wasn't this, she wasn't that. All she was doing was making me happy."
On their second anniversary, Ms. Yeffet moved into his apartment. "There were times I wanted to say to him, 'Charley, I want to get married,'" she said. "But I didn't, because I know Charley, and I know how men are."
On their fifth anniversary, the couple was strolling around Times Square when Mr. Wininger suddenly turned to her and asked, "What's your favorite musical? Mine's always been West Side Story." Then he began belting out "Somewhere." After a few moments, they came across five men in suits with copies of The New York Times blocking their faces, who then lowered their papers and finished the song.
"Isn't there something you want to say to this lady?" one of the men asked Mr. Wininger.
"I'd rather let the sign say it for me," he said.
"What sign?" shouted the men.
"That sign!" yelped Mr. Wininger triumphantly, pivoting Ms. Yeffet around to see an electronic billboard bearing their photo and the words "Will you marry me?"
They will wed at Candela, an Italian restaurant in Union Square. The ceremony will be co-officiated by husband-and-wife team Revs. Laurie Sue Brockway and Vic Fuhrman.
Met: Nov. 16, 2002
Engaged: Sept. 17, 2005
Projected Wedding Date: July 22, 2006
It was a miserable day—wet and rainy—but Evan Schwartz had a girl on his mind, so he left his Park Slope, Canadian-hippie-filled commune ("A lot of flesh and a lot of hair," he said) and headed to a prom-themed party in Crown Heights. A bearded, slightly shaggy art teacher at the Bronx High School for the Visual Arts, Mr. Schwartz donned a pink shirt covered in butterflies and dangled a loose tie from his neck for what he called a "half-assed John Travolta" look.
At the fête, he accidentally bumped his arm against a bubbly woman with waist-length brown hair and a frilly purple-and-blue prom dress—one Hannah Wise. "Um, do you want to get by me?" she said with mock irritation.
"Yes."
"Well, there's a fee for that."
"What's the fee?"
"Whatever," Ms. Wise said, turning back toward her friends. The light was low, the room was packed, and in the corners, booze-spiked slushie machines whirred away.
"It had that feeling of the after-prom party where the parents are absent," remembered Ms. Wise, 32, the director of project management for the I Have a Dream Foundation. "There was an adolescent feel to the whole night, and I was in an adolescent mood."
Later in the evening, Mr. Schwartz and Ms. Wise hit the dance floor.
"What's your name?" he asked, having completely forgotten about the girl he came to see.
"Stacy," she said, "Don't tell anyone, but I'm not supposed to be here. I snuck in. I'm actually only 14."
Mr. Schwartz responded that his name was Tony, and that he had a limo waiting downstairs.
They boogied and bantered wittily like this until 1 in the morning, at which point Mr. Schwartz accompanied Ms. Wise and four girlfriends for herbal tea at one of their apartments. One of the gals hit on him, to no avail. "She did it to see if he was really into me," said the trusting Ms. Wise.
The following week, the two dancing fools met for dinner at the Chelsea branch of the inexplicably popular Mexican restaurant mini-chain Mary Ann's. They had planned to go to Joe's Pub afterward to hear Calexico, an Arizona-based band, but Mr. Schwartz failed to get tickets for the late show, so he handed over a mix CD of their music instead. "I want to listen to it with you," he told her, so they returned to her one-bedroom, also in Crown Heights.
"You're always welcome to come over," Ms. Wise said. "If you want to study, I can make you tea." (At the time, both were in grad school: he at Pratt for art education; she for nonprofit management at the New School).
Mr. Schwartz chastely mumbled something about Thanksgiving, his sister's wedding, etc. "I won't be able to call you for a while," he said.
"Maybe he doesn't like me," Ms. Wise was complaining to a friend the next day, and then her phone rang. Guess who?
"I'd like to take you up on that tea," came the voice on the other end of the line.
A year later, Mr. Schwartz left his commune to join Ms. Wise, and they adopted a 15-year-old orange tabby, Leroy. He would work in the kitchen on art projects for his students and she would read aloud to him from John Irving or Joyce Carol Oates. "I've heard, in a lot of relationships, moving in is not a bad thing, that it's actually a good thing," he said. "A lot of times, the guy is usually living in a much worse state than the woman is."
"I'm also older," Ms. Wise said (Mr. Schwartz is but a pup of 27).
One Saturday, as the couple was taking a habitual stroll by the Japanese Hill and Pond at the Brooklyn Botanic Garden, the art teacher popped open a ring box to reveal a vintage, gold-set, brilliant-cut diamond flanked by two smaller, triangular stones. "I love you with all my heart," he declared. "Let's grow old together. Will you marry me?"
They will return to the garden to exchange vows.