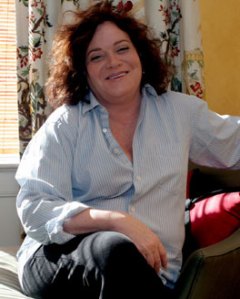 Last month, the editors of The New York Times Magazine proclaimed their contributing writer Daphne Merkin "one of the most daring and ruminative writers of our time" on the table-of-contents page. Ms. Merkin's brief essay in that week's issue plunged into a new and scary kind of cosmetic surgery for women: "These are cruel times for vaginas," she began. Before the Sunday-morning coffee had cooled, a collective male wail sounded at the sight of Ms. Merkin's musings on her own "labia majora," a cry that reverberated around the lady-blogosphere: Merkin! Daphne Merkin—the woman who, a decade ago, wrote about wanting to be spanked—had confessed again, this time with the full oomph of the Sunday Times, and its millions of readers, behind her.
"I would say my life was 'before' and 'after' that spanking essay," the 51-year-old Ms. Merkin said the other day of "Spanking: A Romance," published in The New Yorker in 1996.
The delicate flowers of literary New York might say the same.
Confessional essays have a comically devastating effect: Readers soak up the sensationalism and immediately distance themselves from the practice (or the act confessed). The apoplexy associated with this type of writing is as curious as the urge to do it. And what of the chronic confessor's highbrow career after many dispatches from the small, clammy world of "I"?
When Ms. Merkin, a prolific essayist and novelist, wrote "Spanking," she'd already established her credentials as someone who wrote about books and other such important things. This time, Ms. Merkin's deeply psychological essay told of her wealthy but withholding German-Jewish Orthodox family and chilly Victorian-Manhattan childhood, as well as her lifelong daydream of finding herself "thrust over a man's knee, being soundly spanked for some concocted misdeed." The fulfillment of this wildly subversive desire, she wrote, had resulted in marriage and, later, in parenthood.
But literary New York was shocked anyway. Outraged! Women felt betrayed; men mystified. She was a mother, after all. And this was their New Yorker. (Meanwhile, Ms. Merkin got propositioned by newly converted New Yorker subscribers across the country.) And thus the memoir-triumphant 90's continued to spawn even more mini-Merkins: cerebral writers who revealed their un–Upper East sides, only to be lovingly embraced by grateful editors of varying esteem. It was on this safe, literary stage that writers could expose some secret patch of themselves, thinking that this time they'd really break through the confessional bottom.
Well, hold on a minute, Toni Bentley. Because, first, there was Ms. Merkin.
"Daphne is a pioneer in so many things," said Ms. Merkin's longtime friend Chip McGrath, now a writer for The New York Times. "The famous spanking piece in The New Yorker probably inspired a lot of less-than-good imitations."
"I think it's helped her more than it ought to have," Mr. McGrath also said. "She's too well remembered for that. Women's magazines are always calling her, and I wonder if that's why and not because she's one of the best book critics around—which she is."
Smart writers of either gender who frequently indulge in their personal lives are received with equal parts fascination and scorn, their impulse to divulge considered either brave or lazy or narcissistic. Even if the disclosure is brilliantly written, the very impulse to broadcast one's secrets is analyzed by the chattering and healthily repressed as if it's a psychological disease.
Many editors, however, drool for that sort of thing. It's hard to pick up a newspaper or go online without learning of someone's hot sex with her hot husband (Ayelet Waldman, in her clucked-over, nanny-nanny-boo-boo New York Times Modern Love column) or, on the low end, a boyfriend's bad breath (Elizabeth Hayt in the New York Post column she acquired after unfurling her transparently ballsy memoir, I'm No Saint). The banality of the confession led a self-hating and opportunistic James Frey to dress up a lover's suicide with drama when the mere fact of it would have sufficed.
But his purging of shame, like so many others, was deemed penetrating. It took people places deep down inside.
As Ms. Merkin herself once asked in The New York Times Book Review about Catherine Millet's milli-partnered sex memoir, The Sexual Life of Catherine M.: "Is this really a place worth getting to?"
MS. MERKIN LIVES IN AN UPPER EAST SIDE BUILDING with a perfect lobby and an elevator operator. Her apartment, decorated in purples and oranges and cheerful curtains that recall the Polynesian Resort at Disney World, is almost completely lined with books—even the dining room, where the shelves are labeled by subject, the project of a former assistant. Her current assistant, Sasha, a recent Harvard graduate, answered the phone and ordered sushi, among other things. (When Ms. Merkin forgot a Wordsworth quote, it was Sasha she thought to ask about it.)
She and Ms. Merkin have a casual relationship, occasionally getting short with one another like mother and daughter. But Ms. Merkin, now divorced, has a real one of those: Zoë, who's 16, goes to private school and doesn't read her mother's work. (Her father, Ms. Merkin's ex-husband, is Michael Brod, a stockbroker; the two were married in 1988 and divorced in 1995.)
"When Zoë was young, we started a nonconformity club," said Ms. Merkin, dressed in plain black pants and a white button-down shirt and cardigan. She has thick, frizzy-curly black hair and speaks in fragments, one thought dissolving into almost visible ellipses, another sentence consuming the former like a wave. She was happy to point out a bookshelf in her study, one comprised almost entirely of literary erotica. And she asks a lot of questions, on everything from compulsive e-mailing to blog reading to whether one says "African-American" or "black." Political correctness is one of her "bugaboos."
"I think when people respond strongly [to confessional pieces], they're responding because they don't want to know and it's a very P.C. culture," she said. "One of the first pieces that was, for me, a step into this was the one about Hedda Nussbaum. Talk about being attacked!" In that eye-opening piece, for the now-defunct Seven Days, Ms. Merkin suggested that Hedda Nussbaum must have liked something about her abusive, sadomasochistic relationship with Joel Steinberg (who was convicted of killing their child). "People are more comfortable saying, 'That's them; this is me.' What's the Somerset Maugham quote—'the normal is the rarest thing'? … And your generation is more conformist."
The very act of another person writing about her private life, not to mention private parts, is grounds for other people's self-reflection on self-absorption ("I would never write/talk about that!"). Perhaps because it's become repetitive; but also because much of it isn't very good. The pathologically well-read Ms. Merkin—confessional writing has a long literary history—is quick to make distinctions.
"You need a degree of self-awareness," she said. "Enormous self-acceptance, to my mind, doesn't make for the most penetrating …. If you happily write this stuff and accept yourself, that kind of way of looking at it is alien to me. Not that I don't have moments of liking things about myself, but the shadowy is always very clear to me.
"I have very strong feelings about self-revelation," she continued. "It is an art. Tina Brown once said to me, 'The art of self-exposure is not simply catharsis.' When I write personally, I truly try and think: 'If I were reading about me, would I want to know this much? Have I gone on too much here?'"
Still, some avert their eyes. Ms. Merkin's fellow writers, for sure, haven't forgotten the spanking piece.
"Daphne Merkin's piece about her appetite for being spanked set the stage in 1996," wrote Elizabeth Benedict in a 2004 American Prospect story about fellow confessors David Denby, the New Yorker film critic (divorce/financial loss/Internet porn); his ex-wife, the writer Cathleen Schine (dogs/ divorce/incipient lesbianism); and Nation columnist Katha Pollitt (jealousy/heartbreak/Web stalking).
And in August 2002, Slate's Timothy Noah remarked on a correction that The Times published about errors in one of Ms. Merkin's book reviews. The headline blared triumphantly: "The Times Book Review Puts Daphne Merkin Across Its Knee."
But those are just the obvious and irresistible adolescent jokes, ultimately harmless. Ms. Merkin, however, did recall one tangible way that the spanking piece messed up her professional life.
"The instinct, if a woman writes about personal stuff, for some male readers, is to either frivolize it or kind of …. It's something to do with unease," she said. "I once wrote a piece for the New York Times Arts and Ideas section. I had gone to see [then–executive editor] Howell Raines, and I said I was writing something on the first psychoanalytic conference that's ever been held on sadism. I wrote this very clinical but feisty thing about the conference … but 'I' didn't enter it. I was going over it with the fact-checker at 7 Friday night—this was for Saturday—and he said, 'Wait a minute, I just got a call.' Five minutes later, it was the editor of the section, and she said it was just killed and that it was Howell's decision." (Mr. Raines didn't respond to a request for comment.)
"I wrote Howell an e-mail," Ms. Merkin continued. "And he wrote me that he was very sorry, but it had been brought to his attention that I had written a piece on spanking for The New Yorker. They were worried. I wrote back that this could only happen to a woman writer. Did anyone say no to Mailer after he knifed his wife?"
But, based on her impressive output, most editors don't say no to Ms. Merkin (and she said she's always pitching them ideas). Besides The Times Magazine, Ms. Merkin is a columnist for Elle. She publishes often in other venues on a wide range of subjects. "A lot of magazine editors have figured out she has trouble saying no," said Mr. McGrath. "On the one hand, she doesn't go to parties and seek the limelight, and on the other hand, she likes being a player intellectually."
In fact, Ms. Merkin's productivity is remarkable at a time when many magazines look like all-male reviews, save for the random communiqué from a woman on blowjobs or work-life balance. One could argue that women are unfairly penalized for baring their souls or, on the other hand, hired solely for such soul-baring. But Ms. Merkin manages to write about W.G. Sebald and Henry Roth, all while disclosing her experience of getting plastic surgery and discoursing on her own bad taste in men.
And she isn't shy about flashing her intellectual credentials: In a May 2004 article in The Times Magazine about turning 50, "Keeping the Forces of Decrepitude at Bay," she referenced Montaigne, Francis Bacon, Alice James (sister of William and Henry), Nancy Astor, Oscar Wilde, Zelda Fitzgerald, husband F. Scott and Nabokov—all in an article about being injected with Restylane and Botox.
"It haunted me … ," Ms. Merkin said of her spanking piece. "I was putting in this reference to Judith Butler in this thing I was writing about gender—I'm always trying, in these Times pieces, to drag in my academic interests. Because it's one thing to write very good reviews about Virginia Woolf, or to write really interesting pieces …. I think that women that have ascertainable intellect often don't go so near the subjects of the erotic, the romantic, the personal …. Unlike, say, a Mailer or an Updike—they never had trouble going in and out."
Once, women who wrote about women and feminine concerns were considered feminists. Now it seems that women writing about women are in danger of bringing down all of womanhood. If the very subject that a woman writes about suggests her level of seriousness—i.e., her feminist chops—sometimes this might not include the subject of self.
"Are you delicately asking me why I write about myself instead of hurricanes?" Ms. Merkin said at one point.
But Ms. Merkin likes writing about herself—as long as the work is sufficiently inquiring, she says. She's best known for her essay collection Dreaming of Hitler, but when she was 30 she published Enchantment, an autobiographical novel about her relationship with her mother. In it, the protagonist, Hannah, grows up as one of six children in a rich Orthodox Manhattan family (Merkin Concert Hall is named for Ms. Merkin's late father, Hermann, a private investor and philanthropist).
At that point, Ms. Merkin, a Barnard graduate, had been writing for years—she first wrote for Commentary in her early 20's. Diana Trilling was her mentor. When she was 21, Woody Allen wrote her a fan letter about her New Republic review of a Jane Bowles book. "He said, 'You're wasting your gifts on reviewing,'" Ms. Merkin recalled. The two became lifelong friends.
Later, after a job as an editor at Harcourt Brace Jovanovich, came Tina Brown's The New Yorker and the confessional age. Ms. Merkin had a film column and wrote many other pieces, including a stark essay about her various stays at mental hospitals. When David Remnick took over as editor in 1998, Ms. Merkin continued as a staff writer, then went on freelance contract, and eventually stopped writing for the magazine.
"The culture has become very journalistic, as opposed to one that was belletristic," she said. "Who would publish a Virginia Woolf today? I don't think inquiry into something is going to go somewhere. There isn't the daring for it."
Ms. Merkin, however, seems to have found a cozy home at The Times Magazine; in the last few years, she's written about author Alice Munro, the "literary Freud" Adam Phillips, the attractiveness of Samuel Alito and the allure of Camilla and Charles. Her last Elle column, on the heels of a profile of Madonna, was entitled "The Oldest Confession." She wrote: "Reading about other people's lives is a way out of the imprisonment of being immutably ourselves."
"I sit in therapy to this day and say, 'I get nothing—I don't get enough out of [writing],'" she said. "Years ago, a therapist said to me, 'What do you want out of it?' And I said, 'Love.' What man would say, 'What I want out of this is love'? They'd say, 'Admiration.' You can get admiration, which for many men is often the same."
Ms. Merkin is working on a novel about romantic obsession, something she started years ago. "Now that I seem to be past all romantic addiction, I'm writing from that important tranquillity," she said. "What was that Wordsworthian thing—'emotions suspended in tranquillity'? Something like that."